Krispy Kreme Is Bringing Back Free Donuts for 2021 Graduates
The "Graduate Dozen" is available to any high school or college senior graduating this year.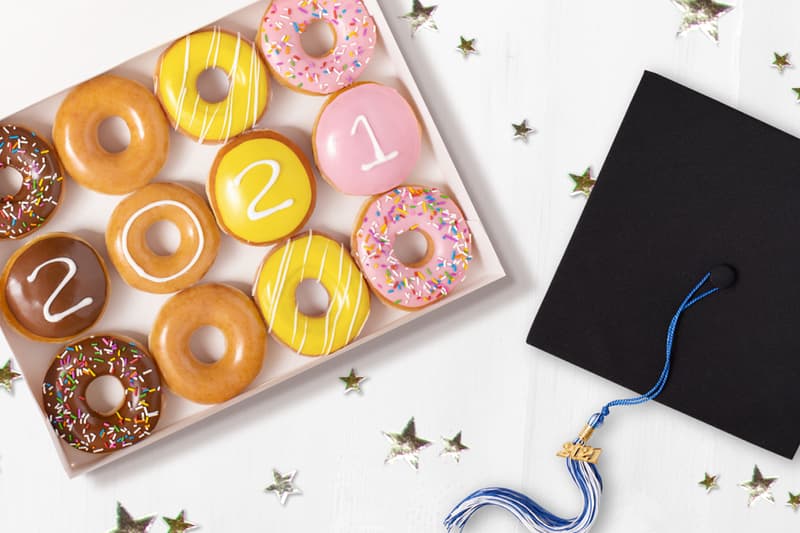 This academic year has been undeniably tough for students nationwide. Krispy Kreme has acknowledged the unprecedented changes and is celebrating all college and high school seniors this year with the return of the Graduate Dozen.
The beloved Krispy Kreme doughnut shop is giving out free donuts to any senior who comes in decked out in their Class of 2021 graduation swag. The graduate box of doughnuts is filled with ultimate fan favorites including the classic original glazed, chocolate iced dipped in sprinkles and strawberry iced with sprinkles. In addition to the staple flavors, the box comes with custom 2021 doughnuts where the delectably rich, chocolate iced Kreme filled doughnut is decorated with a "2", the original glazed in white iced features a "0", a number "2" cake batter filled doughnut and a strawberry iced Kreme filled with the fruity summer berry flavor finishes off with a "1" decorated on top. Rounding off the dozen is a yellow iced original glazed in white icing drizzle.
Families and friends of graduates can also purchase the limited-time-only Graduate Dozen donuts between May 10-16 either dropping by the shops, drive-thrus or ordering online while supplies last. Graduates will be able to get their free donuts on May 13.
Congratulations to the Class of 2021! Keep an eye out for those free donuts.
In other food news, Yoplait is bringing back a childhood favorite for those looking to get back a taste of '90s nostalgia.