Mikkeller Launches 'Game of Thrones' Inspired Beer in Celebration Of Show's 10th Anniversary
The Iron Anniversary IPA explores a new style of beer hyped amongst craft enthusiasts everywhere.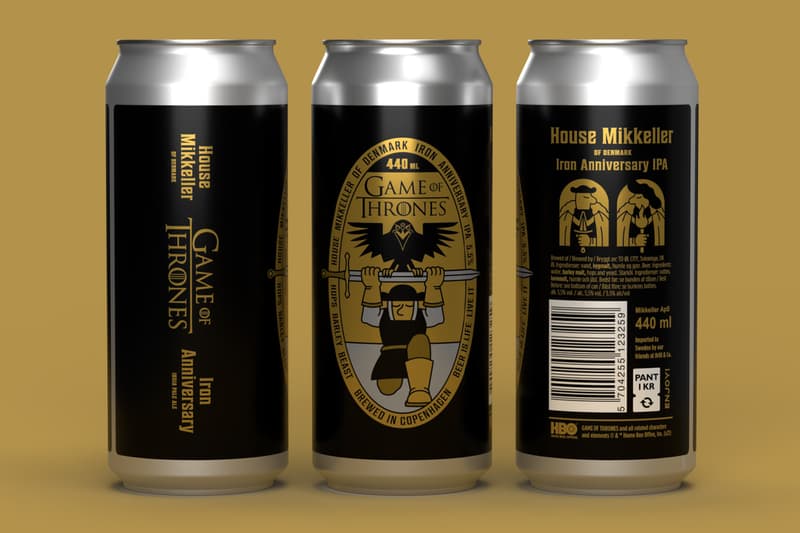 In celebration of HBO's critically acclaimed Game of Thrones series, craft beer company Mikkeller has joined forces with Warner Bros. Consumer Products to create a GoT-inspired beer.
Dubbed the Iron Anniversary IPA, the beer is brewed in celebration of the show's 10th anniversary this month. The brewing utilizes a relatively new style of beer that many microbreweries and beer enthusiasts have sought to love in recent years. The Iron Anniversary IP is a New England IPA, also known as NEIPA, and has an unfiltered appearance, giving it a hazy aesthetic. The haze translates to a velvety smooth mouthfeel, which complements the rich carbonation and medium body of the beer. The IPA maintains a fresh, bright aroma with hints of fruity notes, including pineapple, mango, peach, rose petals and even a hint of vanilla. Other flavors such as berries, papaya and passion fruit blend seamlessly with the tropical fruits' tasting notes.
The beer features one-of-a-kind art by Mikkeller's own art director, Keith Shore. In his designs, Shore has alluded to the iconic Game of Thrones title styling, as well as a crest, symbolic to the series' plot. On the back of the can, Shore denotes "House Mikkeller", which further emphasizes the collaboration for a GoT-inspired beer.
The Iron Anniversary IPA is available starting April 17 online at Mikkeller, as well as in select markets across the U.S.
In case you missed it, Shake Shack introduces new avocado and bacon menu.
DISCLAIMER: We discourage irresponsible and/or underage drinking. Drink responsibly and legally.