New Orleans Saints' Drew Brees Officially Retires From NFL
The QB retires after 20 seasons in the league.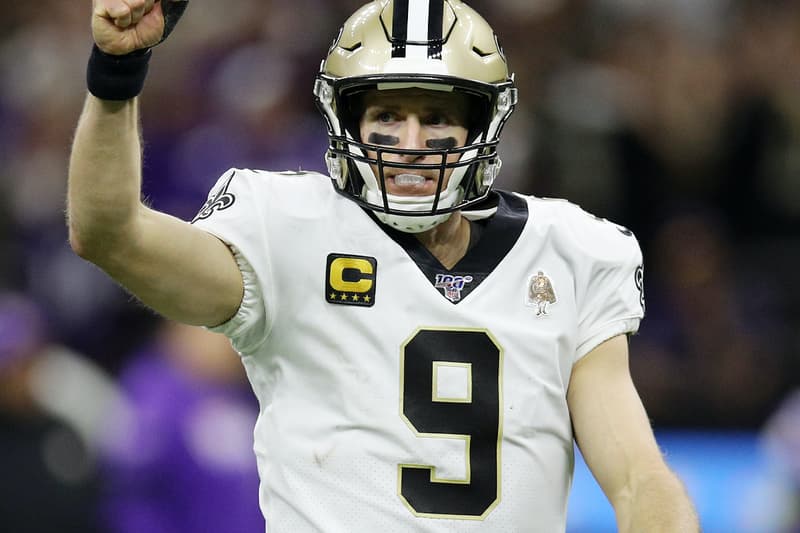 New Orleans Saints QB Drew Brees has officially announced his retirement from the league after 20 years. As one of the most prolific quarterbacks the NFL has seen play the game, the 42-year-old took to Instagram to share the news.
Brees' retirement message, which is evidently an ode to the game, New Orleans and football reads, "After 20 years as a player in the NFL and 15 years as a Saint, it is time I retire from the game of football. Each day, I poured my heart & soul into being your Quarterback. Til the very end, I exhausted myself to give everything I had to the Saints organization, my team, and the great city of New Orleans. We shared some amazing moments together, many of which are emblazoned in our hearts and minds and will forever be a part of us. You have molded me, strengthened me, inspired me, and given me a lifetime of memories. My goal for the last 15 years was striving to give to you everything you had given to me and more. I am only retiring from playing football, I am not retiring from New Orleans. This is not goodbye, rather a new beginning. Now my real life's work begins!"
In his 20 years in the NFL, Brees retires as the leagues' all-time leader in career passing yards with 80,358. He is also ranked second in all-time touchdown passes (571) with a completion percentage of 67.7 percent. Brees led the NFL in passing yardage seven times, as well as set the record for the most seasons (at five) with more than 5,000 passing yards. Though an impressive collection of stats, Brees will forever be known as the QB who helped to revive the Saints franchise, as well as the city of New Orleans in the wake of the devastating Hurricane Katrina.
Together with coach Sean Payton, Brees led the Saints to the NFC Championship Game in the first year, later winning the Super Bowl against the Colts for the first and only time in franchise history three years later. Brees was awarded MVP of that game. Brees has been named the NFL's Offensive Player of the Year twice in 2008 and 2011 and made 13 Pro-Bowls in his two-decade NFL career.
As Brees moves on to the "next chapter", the footballer leaves the line open for fellow 40-something QB Tom Brady to launch ahead of him in the pair's two most noteworthy races in the NFL record books. Though Brady has 10 more career touchdown passes than Brees, he still needs 1,155 passing yards to overtake Brees.
Check Drew Brees' Instagram post and how others have responded to the announcement on social media below.
View this post on Instagram
Congrats my friend on an incredible career. Thank you for the inspiration and dedication on and off the field! Look forward to seeing what's next @drewbrees https://t.co/2rDMn78OQD

— Tom Brady (@TomBrady) March 14, 2021
Amazing Career @DrewBrees
Legend.
Thanks for all you did for me & the game! ??#HOF

— Russell Wilson (@DangeRussWilson) March 14, 2021
Congrats brotha!! And thank you for all that you have meant to so many, including me. Welcome to retirement. https://t.co/VzNwUTZNac

— Lance Moore (@LanceMoore16) March 14, 2021
It was a pleasure to complete against you. Welcome to retirement. pic.twitter.com/aXD5pdjBbg

— Eli Manning (@EliManning) March 14, 2021
BREAKING: Drew Brees announces retirement after 20 seasons. pic.twitter.com/tWR6VHnnA8

— NFL (@NFL) March 14, 2021
"What an honor and privilege these last 5 years have been to be blessed with the opportunity to line up and play on the same team as you,"

- a thank you note from @CantGuardMike to @DrewBrees #ThankYouDrew pic.twitter.com/sfOdYeWtGI

— New Orleans Saints (@Saints) March 15, 2021
In other sports news, Cristiano Ronaldo and Lionel Messi are eliminated from Champions League Quarter-Finals for the first time in 16 years.