'Minari' Director Lee Isaac Chung Found Inspiration Close to Home
Ahead of winning a Golden Globe, Chung spoke to HYPEBEAST Korea about the process and inspirations behind his semi-autobiographical film.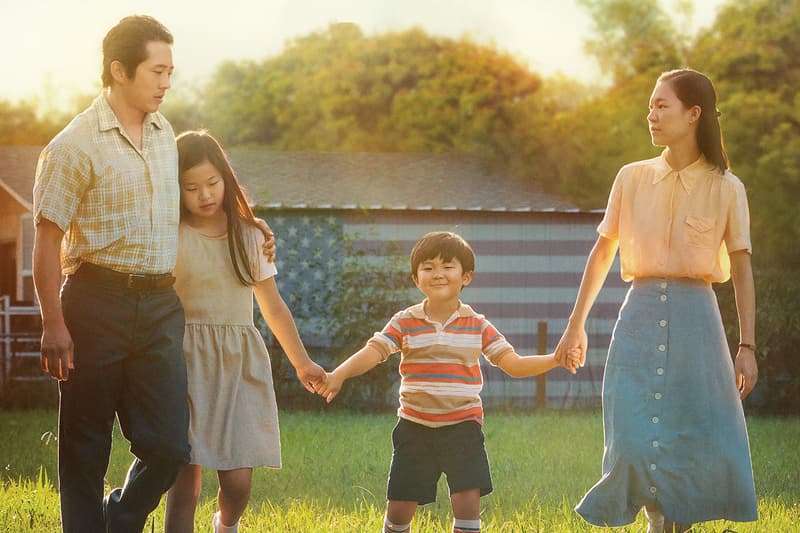 According to director Lee Isaac Chung, Minari was the story he felt compelled to tell. The semi-autobiographical film tells the story of a Korean-American family living in Arkansas, exploring moments of challenge, resilience and levity as they lay down roots in the Ozarks. Minari was a favorite at the 2020 Sundance Film Festival, taking the coveted Grand Jury Prize and the U.S. Dramatic Audience Award.
And at last Sunday's Golden Globes it won Best Foreign-Language Film, with some controversy as to fairness. Though Minari was filmed and financed in the U.S., it was ineligible to compete for Best Picture due to the 50 percent English language requirement. "[There's] fundamental problems like how we look at people and the way we think, that language makes somebody 'foreigner' and somebody 'welcome,' Chung told HYPEBEAST Korea. "I don't think that changing one awards ceremony will solve that problem. But I think it's a good thing for us to feel a problem and start talking about it."
Before the film released in Korea, HYPEBEAST Korea spoke with Chung to discuss the inspirations behind Minari, the unconventional filming process and his favorite films about family.
It's been about a year since the film movie was released at Sundance Film Festival. What do you thinking looking back?
When I think of the Sundance Film Festival, I feel like I'm in a really different world now in many ways. At that time, I heard that there was a "coronavirus," but I didn't know it would be such a massive thing. So, I originally planned to release the movie around summer. But since COVID-19, everything has changed and a really long and strange year has followed. The release of the movie was also postponed. However since the movie has attracted a lot of attention, I don't think it's a bad thing to be released now.
This film has been awarded at several film festivals. And not only the critics, but also audiences are giving good response.
I feel humbled that people are embracing the film. Looking back, I think that during the long period from 2004 to 2012, I thought about the critic more than the audience. My first movie Munyurangabo was invited to the Cannes International Film Festival and received a good response from the critics. Of course, it did not gain popularity in the public. But for some reason, I was always comfortable with that. I love film critics and film criticism.
But when I started working on Minari, I thought I should take a slightly different approach this time. I thought more about the audience. Mostly, I wanted to make a movie that I can share with my daughter. My daughter won't care what the film critics say. So, rather than taking too serious and intelligent approaches, I just wanted to make a movie about people. But even so, I didn't expect that there would be such a big response.
How was your daughter's reaction?
It seems that my daughter is only interested in funny scenes. (Laughs) When there are scenes of joking or teasing, she laughed and liked it. I think she enjoyed watching Dad's movie.
There was controversy that the film was unable to be nominated for the Golden Globe Award, due to foreign language requirements..
I think it would be good if such criticism could change. However, I don't think it solves the problems we might have. [There's] fundamental problems like how we look at people and the way we think, that language makes somebody "foreign" and somebody "welcome." We are all the same humanity, but I think there is still a long way to go from understanding it. I don't think that changing one awards ceremony will solve that problem. But I think it's a good thing for us to feel a problem and start talking about it.
To be honest, I have many different feelings about it. I wasn't expecting to be in this position that I would be a party to this controversy. However, the conversation that many people are having about this matter is really interesting to read.
What was the reason for making minari the main theme of the movie?
When I first came to Arkansas with my family, my grandmother actually planted minari. She found a beautiful place in a small stream below a pond and planted minari there and there, I spent a lot of time with my her. Minari itself has medicinal properties and purifies water; it grows well anywhere. So, when I think of my grandmother, the thing that always comes to mind is minari. You could say it's a symbol of my feelings toward my grandmother and my family.
I am curious about why this movie contains the story of the real family. This is your first autobiographical movie.
There is an interesting backstory. Back in 2018, I actually accepted a professorship at a university in Korea. I started teaching students at the University of Utah Asia Campus in Songdo, Incheon. Before I left for Korea, I had about six months to write a script. At that time, I thought this might be my final work; once you start working as a professor, you won't have time to work on a film. So I thought, if this is my last work, I'll make a movie with the most personal story. If I didn't make a movie of my life and quit my job as a director, I thought I'd regret it later.
However, that opened a whole new path.
Yes. I was in Songdo from September 2018 to May 2019. I was accepting that my job was to become a professor. Suddenly, I heard that Hollywood was interested in the script. I finished my teaching job early and left for the United States to shoot a movie. It's ironic that now I'm able to continue my career as a filmmaker again. The process of making a movie itself was like a "plot twist."
How was your job as a professor? I know you have taught students in Rwanda in the past.
Actually, my job as a professor was good. Those relationships with young people were really cool. It's also very rewarding to help students to become good filmmakers.
Minari was the first time you worked with Korean actors. Was there any particular difference from your previous work?
The actors are really great talents. The moment I took the first take with Yuh-jung Youn and actor Han Ye-ri, the acting was already perfect. It was such a great acting that I could not express everything in words. It was even more surprising considering the shooting site and conditions. Probably, I don't think people can understand how good they are if they were on set to witness them perform.
The filming period was only six weeks long. That's a very short period of time to make a feature film. I heard that the shooting environment was also poor.
We were able to complete the movie because we really did our best together. We spent a total of six weeks together, but the preparation period was a week, and production took place for five weeks. Actually every day we thought this is a challenge and we don't know if we could do it. In fact, there were several crises that would cause the film to be stranded, but each time someone rolled up their sleeves and we solved the problem.
As soon as the actors realized that there wasn't much time available, they thought they should be quick. "Palli Palli" (quickly in Korean) is a very Korean mentality. I often joke with people that the only way we made this film is because we're Koreans (laughs). Because we understand "Palli Palli." All the actors showed great concentration from day one.
In that situation, it's great to have an ensemble with great chemistry as a team.
We tried to be like a real family. We had a producer In-Ah Lee who came and helped out a lot to create a space for all the actors to be together. We would work together and prepare the script and eat meals together. It naturally became a family-like relationship. The duration was short, but we were together all day long. More than anything else, I feel the greatest pride in completing the film together in such a difficult environment.
Do you have any interesting episodes during the filming process?
When Youn Yuh-jung and Alan Kim were together, there was always something fun. The two are usually waiting in different spaces and then meeting when shooting. There were scenes where Youn Yuh-jung didn't tell Alan [what would happen] in advance, as a surprise to elicit a reaction and we filmed Alan's real response. For example, there is a scene where Youn Yuh-jung puts chestnuts in her mouth and spits them out and passes them to Alan. It was really fun when I filmed that scene. In addition to this one, there were a lot of other interesting parts in the scenes where Youn Yuh-jung came up with the ideas.
I'm curious about the work or director that first made you want to be a filmmaker.
The filmmaker who influenced me the most was director Wong Kar-wai. Around 2001, I started watching Wong Kar-wai's films and I fell in love with them. And I was taking a class by filmmaker Michael Roemer. That's my movie teacher. So I think Wong Kar-wai and Michael Roemer were two people who gave me this disease of filmmaking (laughs).
Minari is a movie about family. What other films with that theme have you enjoyed?
My favorite family films are directed by Yasujiro Ozu. His are really perfect. And actually, I think Steven Spielberg is also a director who makes a really good movie about family. I think director Bong Joon-ho's Parasite is a great family movie. I also love Edward Yang's Yi Yi.
It's still a bit early, but the popular anime, Your Name, I believe you're in charge of writing and directing the live-action film adaptation?
After showing the film at the Sundance Film Festival, I met the people from Bad Robot Productions. The producers watched Minari and said they liked it. I also expressed my desire to do something adventurous, and the conversation continued from the story of Steven Spielberg to the story of a live-action film. It's still in its infancy, so it's difficult to give specific details.