Jacob & Co Astronomia Descends From the Heavens For a Deathly Reminder
Stack of skulls took two weeks to carve from a 45g mound of solid gold.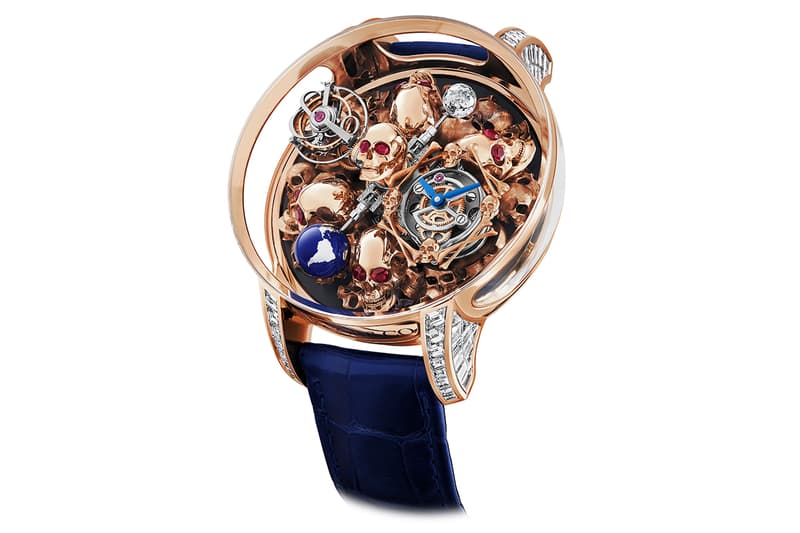 1 of 2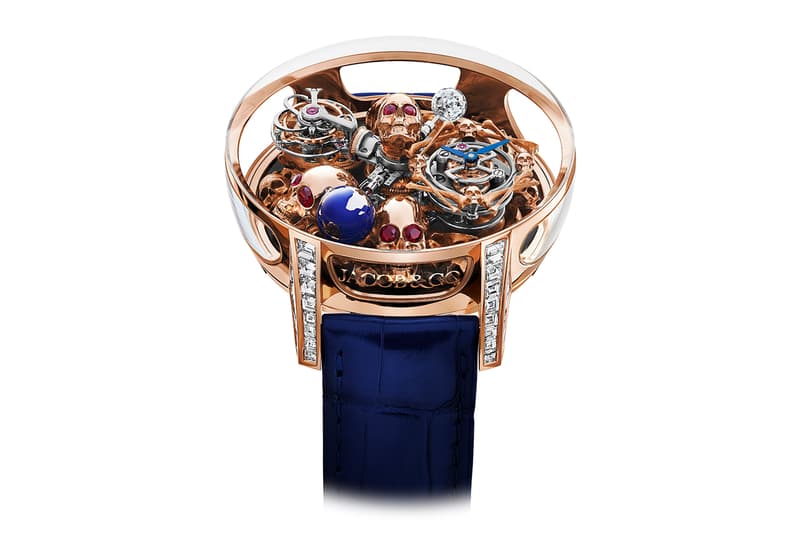 2 of 2
Jacob & Co. has brought its Astronomia down from the heavens for once with a one-of-a-kind vision of mortality.
The Astronomia Skulls paints its macabre tableau using 45gm of 18k rose gold inside the watch's vast 50mm showcase of a case and the end result represents something of a masterclass in hand engraving and polishing technique.
The piled up skulls, with their ruby-set eyes, serve as one of the more luxurious representations of a theme that has remained popular throughout the course of human history and certainly during the centuries that horology has existed as a pursuit, that of Memento Mori, or 'remember you die.'
The twin parallel concepts of human mortality and the inevitability of time have seen skulls appear on clocks and watches since the Middle Ages.
But this is still an Astronomia and as such still features a four-armed carousel with each arm holding a dial (here framed by skull and crossbones), a dual-axis tourbillon, a rotating blue-lacquered magnesium globe and a rotating 1kt Jacob-cut diamond, formed over the course of two weeks into a sphere using 288 facets. Uniquely for an Astronomia watch though, the carousel does not rotate because of the extra space occupied by the skulls. If that wasn't opulent enough the lugs are set with a further 6.1k of baguette-cut diamonds.
The engraving work took more than 200 hours over a six month period and the piece being created in sections, with the most prominent skulls high polished and those underneath given a more textured finished to give the impression that the skulls have been piling up over the centuries.
Only one Astronomia Skulls is being made and is available now via Jacob & Co, priced $880,000 USD.
Elsewhere in watch news, G-SHOCK drops the MT-G Blue Pheonix with rainbow IP colouring.