HBX Selects You Don't Want to Miss This Week
Featuring Stüssy, sacai, Aesop, LEGO and more.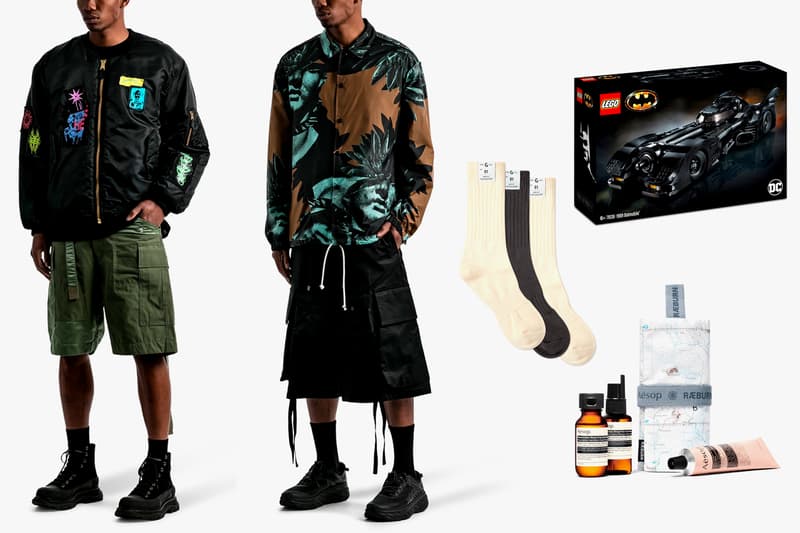 This week we are launching our HBX Select series that highlights the top offerings that help make up HBX's newest arrivals. Combing through the latest releases, we have picked out some of the best wares and accessories of the week.
Leading the inaugural list is a collage graphic marked Blouson Jacket from UNDERCOVER's Spring/Summer 2021 collection perfect for upcoming transitioning weather and the HBX exclusive Siberia Hills x FOSTEX GARMENTS MA-1 Bomber Jacket. Everyday wardrobe incorporations come in the form of VICTORIA's Chalk Queenhead T-Shirt, Stüssy's Hawaiian Jacquard Bryan Pants, the sacai x PORTER Mobile Pouch and Grocery's 3-Pack Socks. Rounding up the selection is the Aesop & RÆBURN Adventurer Roll-Up available in navy blue cotton, and for HBX customers a limited edition RÆMADE Roll Up crafted from 1960's aeronautical navigation map, and LEGO's rendering of the Batmobile from Tim Burton's 1989 Batman starring Michael Keaton and Jack Nicholson.
UNDERCOVER Blouson Jacket
Buy Now: $1,110 USD at HBX
Siberia Hills x FOSTEX GARMENTS MA-1 Bomber Jacket
Buy Now: $550 USD at HBX
VICTORIA Chalk Queenhead T-Shirt
Buy Now: $45 USD at HBX
Stüssy Hawaiian Jacquard Bryan Pants
Buy Now: $153 USD at HBX
sacai x PORTER Mobile Pouch
Buy Now: $331 USD at HBX
Grocery 3-Pack Socks
Buy Now: $32 USD at HBX
Aesop & RÆBURN Adventurer Roll-Up
Buy Now: $$93/$60 USD at HBX
LEGO Batman 1989 Batmobile
Buy Now: $285 USD at HBX