Sole Mates: Bubblekoppe and the Nike Air Total Max Uptempo
Bubblekoppe founder Justin Paul Ronné discusses his favorite Air Max silhouette just ahead of his page's 10th anniversary.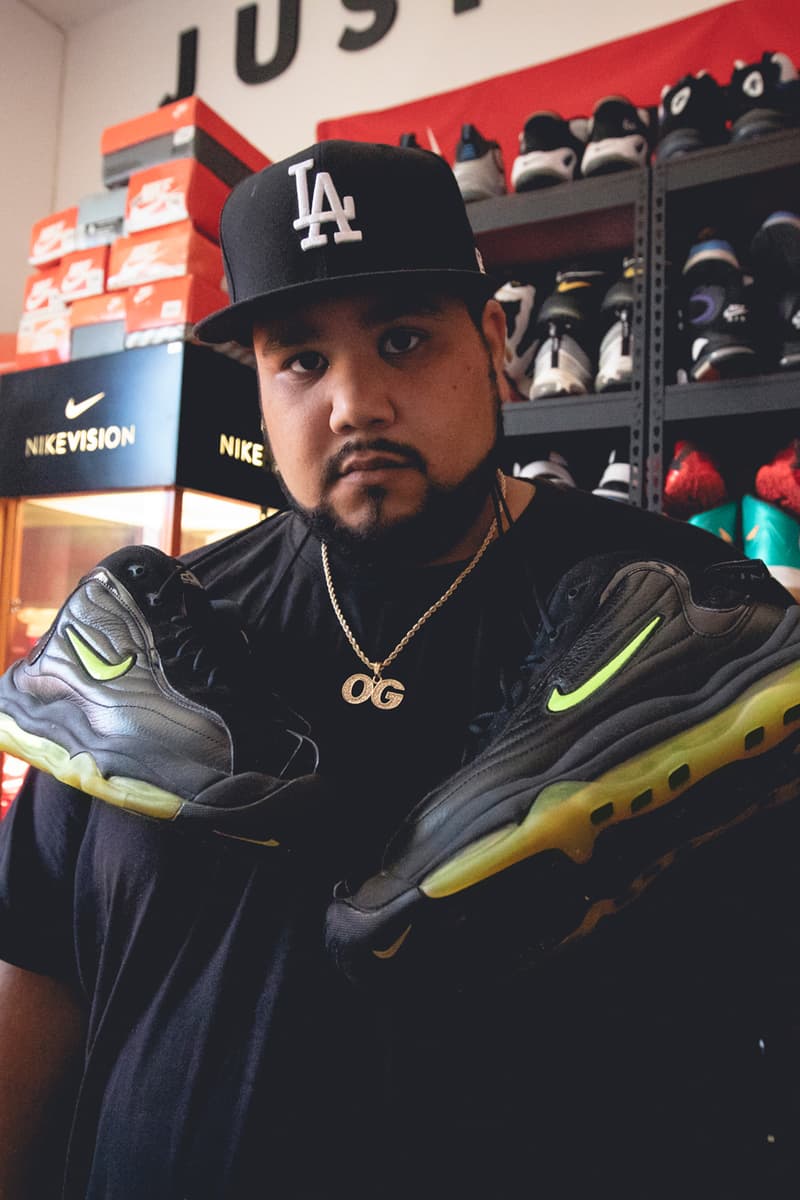 Sole Mates: Bubblekoppe and the Nike Air Total Max Uptempo
Bubblekoppe founder Justin Paul Ronné discusses his favorite Air Max silhouette just ahead of his page's 10th anniversary.
As Justin Paul Ronné tells it, he's been into Nike Air Max sneakers his whole life. Before starting Bubblekoppe — an Instagram page dedicated to "Air Max culture" — in 2011, Ronné was a kid growing up in Cape Town, South Africa who fell in love with sneakers the same way so many other '90s babies did: through basketball.
As Ronné watched Michael Jordan, Shaquille O'Neal, David Robinson, Penny Hardaway and others over the years, he began to pay more and more attention to what was on their feet. Though there was an abundance of compelling basketball footwear in the '90s, a young Ronné kept coming back to one specific type of basketball sneaker: Air Maxes. The pinnacle Air Max for him was (and still is) the Air Total Max Uptempo, a style that debuted in 1997, retroed in 2009 and 2020 and is most closely associated with NBA Hall of Famer Reggie Miller.
The Total Max Uptempo, other styles like the Air Pippen, Total Air Foamposite Max and even the occasional runner like the Air Tuned Max were extremely significant to Ronné. This love eventually lead to the creation of Bubblekoppe. Ronné told HYPEBEAST that his original goal in founding the page was to "create a space for people like me," and in the ten years since that thought came to fruition, Ronné has culled a loyal audience of almost 60,000 followers. This Air Max-loving community pays close attention to his page for Air Max history lessons, release info and the famed "Name the Bubble" segment.
Now, just around the corner from his page's 10th anniversary, the man behind Bubblekoppe is the latest guest on Sole Mates. Read on to hear Ronné discuss his days as a sneaker-loving youth in Cape Town, the deep personal connection he feels to the Air Total Max Uptempo, what sneaker culture is like in South Africa and more.
HYPEBEAST: What got you into sneakers?
Bubblekoppe: Basketball. I was a big fan of the NBA from a very young age. It was the '90s and everything was big, bold and in your face. Michael Jordan was a worldwide phenomenon, and there were many other basketball players with their own styles and unique personalities. It was all about the shoes and endorsements and I've been a student of the whole culture surrounding hoops ever since then.
So you originally gravitated towards the players, then found the shoes from there?
Very much so. Apart from being a big Jordan fan, I was a big Penny Hardaway, Charles Barkley, Dennis Rodman and Scottie Pippen fan. They were natural showmen and their shoe commercials were all wild and entertaining. Pretty much every sneaker brand had great offerings back then, but Nike was in another league entirely as far as I saw it.
Were you wearing these players' shoes as a kid?
I had a few nice pairs here and there, but mostly takedowns and mid-range stuff. My parents were not going to spend crazy money on a kid with growing feet. I really wanted pairs like the Air Max Penny 1, the Air Go LWP, the Air More Uptempo. I remember my dad brought some knockoff Air Jordan 10s home with him one day. I wasn't having any of that, and gave them to my cousin [laughs]. That's when the fire to get the pairs I really wanted was sparked.
"[Air Maxes] were a way to say everything without saying anything."

So Air Max sneakers were very aspirational to you at the time?

Yeah, man. Especially in Cape Town, where I'm from, Air Maxes were huge. They were a way to say everything without saying anything. People would always be trying to outdo each other with their footwear.

I'll never forget the first time I saw the Air Total Max Uptempo, my grail. I was at the mall with my mom, standing next to the arcade — and I saw this kid wearing the black and neon yellow pair, the same OG style that retroed back in December 2020. Between that color scheme and the giant chrome heel piece, I was like "this is the craziest pair of shoes I've ever seen." It's been 24 years since then, and there's still not a pair that's topped that feeling for me.

Tell me more about why you love the Total Max Uptempo so much.

It's honestly more than a shoe to me. It's a sculpture, it's art. It's a memory of a love for basketball, a memory of watching Reggie Miller and the Indiana Pacers on NBA Inside Stuff. Nike wasn't even that old back then; they were still proving themselves, pushing boundaries, doing crazy things that other brands would never dream of.

"The bigger the bubble, the better."

On the larger subject of mid to late '90s Air Max, why do you think some of the basketball-centric designs fly a little more under the radar than running shoes like the Air Max 95 and Air Max 97?

I really think that it's because of the [basketball shoes'] more bulky nature. They were bigger, heavier, more in your face. Nike also endorsed players who never went on to win championships, and I'm sure that had something to do with it — Michael Jordan and his Bulls teammates always outsold everyone else. I know the European crowd tends to prefer runners, as do Air Max fans down in Australia. Here in Cape Town though, it's always been "the bigger the bubble, the better." The basketball Maxes were often the most expensive shoes in the stores back then too, which was a major flex [laughs].

Do you think the Total Max Uptempo is among Eric Avar's best designs?

Absolutely. Eric is a genius and my favorite Nike designer. He's done almost all of my favorite sneakers. As someone who has a background in architecture and graphic design, I really appreciate the process it must have taken to bring these designs to market. I think great design is something that you might not like at first because it's so different from anything you may be used to, but then it grows on you and you end up loving it, wanting to collect it and preserve it. Nike really captured something special with Air Max in the mid to late '90s — they created so many amazing products and ad campaigns. I dream of being involved in an Air Max project one day.

I'm assuming you're pretty excited that Nike brought it out of the vault again?

I am indeed, but I'll also tell you why I'm not.

Let's hear it.

Honestly, it's difficult to be a sneaker collector in South Africa — especially when you wear big shoes like I do. I'm a US size 13, and many people over here seem to have smaller feet. Because of that, most sneaker shops don't even carry my size. We also don't get a lot of the retro Nike Basketball stuff because we fall under the European region for most releases.

I usually wind up having to pay double or more for most new Nike releases. The Total Max Uptempo is $190 USD, which is a lot as is. I've got to get a proxy, then pay shipping, customs, import taxes. I'm looking between $300-$350 USD, and it doesn't help that South African currency is weak.

1 of 5

2 of 5

3 of 5

4 of 5

5 of 5

That leads into something else I wanted to ask: what's sneaker culture like in Cape Town? It's not traditionally thought of as a "hotspot."

Africa has always been overlooked by the world's media and most big corporations. But now's our time to shine. There are hardcore Air Max collectors over here. Cape Town has always been the sneaker hub of Africa, and the community here has gotten a lot bigger since social media came into the picture.

Does Cape Town have any "regional favorites" in the way that the Air Force 1 is rooted in New York City and Baltimore or the Cortez has a rich history in Los Angeles, or is that still developing? I know you mentioned that Air Maxes were big in certain communities before.

I'd say Air Jordans and Air Maxes, yes. Uptempos are huge here, the whole TN line, Air Griffey Maxes. Pretty much anything with a big heel bubble or a full length bubble is bound to be a hit. Runners are beginning to catch on too, but I don't know many people who were rocking shoes like Air Max 1s before social media globalized everything.

"I guess I've always been true to what I like, and I never really cared to follow trends."

Why are sneakers important to you?

I've loved them since I was a kid, and as I got older they grew to encompass everything I'm about — art, design, sport, collecting. I guess I've always been true to what I liked, and never really cared to follow trends. That's why Bubblekoppe exists in the first place: I wanted to create a space for people like me and shine a light on ALL shoes with visible Air. It's crazy to think the page is 10 years in, but I continue to learn every day and share what I know with all those who care to follow.