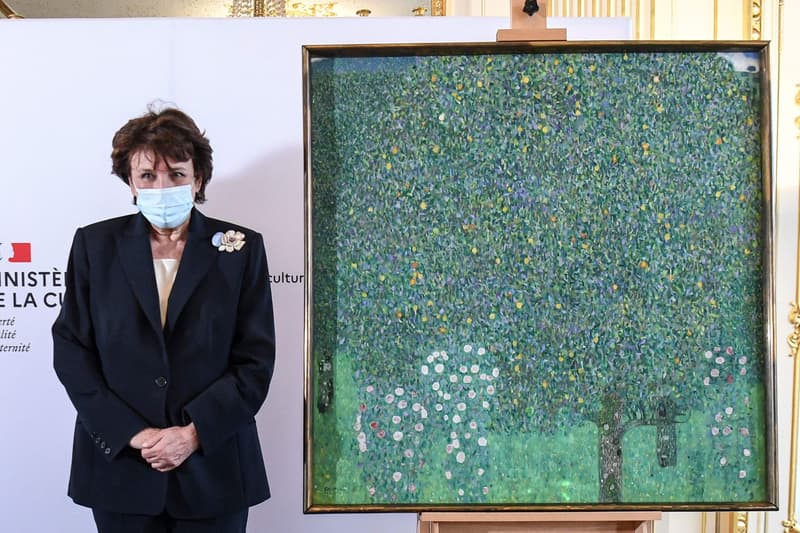 France Will Return Klimt Painting Looted by Nazis to Rightful Owners
The painting had previously been displayed at the Musée d'Orsay in Paris.
---
French Culture Minister Roselyne Bachelot-Narquin announced at a press conference on Monday that a work of art despoiled by the Nazis would be returned to its rightful owners.
The oil painting by Austrian symbolist painter Gustov Klimt is titled Rosiers sous les Arbres which translates to Rosebushes under the Trees. The painting was sold "under duress" by its original Jewish owner, Nora Stiasny, in Vienna in August of 1938. Stiasny was related to several renowned art collectors was murdered by Nazis in 1942.
According to the ministry, the painting had been acquired on the art market in 1980 and had previously been displayed at the Musée d'Orsay in France. Bachelot-Narquin said that the "true origin of the painting" had only come to light in recent years.
"This decision to proceed with the restitution of a major work of public collections illustrates our commitment to the duty of justice and reparation vis-à-vis the dispossessed families," she said. The painting will be returned to Stiasny's family.
According to the Associated Press, thousands of pieces of art were acquired by French museums in 1945 following the end of World War II. In 2019, the French government set up a dedicated mission to find and return art looted by the Nazis between 1933 and 1945.
In 2019, one of Klimt's most iconic paintings was found hidden inside of a wall at the Galleria d'arte Moderna Ricci Oddi in Italy. The painting is worth an estimated $66 million USD.