Lorenzo Osti Carries the Weight of a Sportswear Legacy
The president of CP Company — and son of Massimo Osti — on returning to the brand his father built.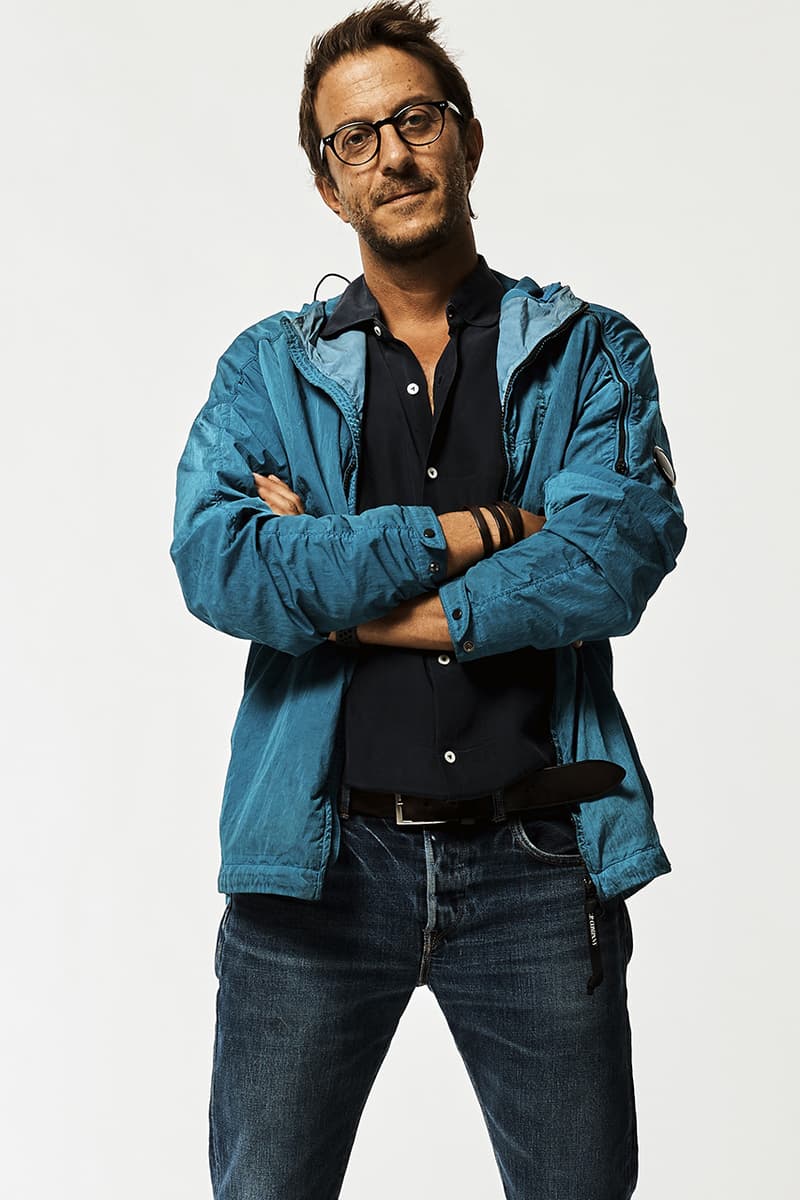 Lorenzo Osti Carries the Weight of a Sportswear Legacy
The president of CP Company — and son of Massimo Osti — on returning to the brand his father built.
Massimo Osti is a legend. As the founder of a string of innovative, influential, and revered labels — most famously including Stone Island and CP Company — he was considered the founding father of European streetwear, until his death in 2005.
After his passing, Stone Island and CP Company — by this point both owned by Carlo Rivetti — were separated, when the latter was sold to FGF Industry in 2010. At the time, many speculated whether CP Company would be able to step out of Stone Island's shadow, despite the brand's loyal and devoted fan base.
But as it celebrates its 50th year, CP Company is in safe — and familiar — hands. Back in 2018, Lorenzo Osti, Massimo's son, became president of the company, and has helped the label reaffirm itself as both a progressive and culturally significant brand, while acknowledging its deep connections to the casual subculture.
"My life wasn't planned to bring me to celebrate the 50th anniversary," Lorenzo Osti explains, when he spoke with HYPEBEAST earlier this month. "My father left the company in 1993, and I chose another career, far away from fashion. But when my father passed away, I felt a duty to take care of his heritage."
"My father was very good at interpreting the tensions in society, he put that into the garments."
Despite being the founder's son, Osti did not grow up steeped in the tradition of sportswear. His father encouraged Osti and his siblings to pursue other careers and to head in their own directions. Osti worked in marketing, but his father's death changed his outlook on the brands his father had created. Keen to preserve this legacy, Osti began researching his father's life's work, eventually founding the Massimo Osti Archive, and working with his mother to compile the Ideas From Massimo Osti book, which was first released in 2012 and has since become a collector's item.
"It created my relationship with the brands," Osti explains of this work. "I had no relationship with them. My father had made that choice for us, he never wanted us to step into the business, he was very clear and said to stay away. After he passed away, we started the book, we started the archive, and my connection with the brand started." As well as creating a new relationship with his father's work, founding the archive also began the journey that would see Osti return to the CP Company fold full-time.
Through his work at the archive, Osti met Peter Wang, who's Tristate Holdings company took control of CP Company in 2015, with Osti joining as a minority shareholder and marketing director. When Wang asked him to join CP Company, it was important to Osti that he was there for more than just his familial link. "For a long time I had a very conflicted relationship with my father's heritage," explains Osti. "He was a great innovator, everyone was in love with him but to them I was just his son, a projection from him."
Responding to Wang's invitation, Osti explained his reservations, "I cannot come here to be my father's son. If you have asked me for my name, I cannot accept." Instead, Osti offered his services in marketing, building on the work he had done throughout his career. Wang accepted the offer and the partnership was born. "I felt I was there for my own contribution," Osti says, "not just for my second name."
In many ways, Osti's role at the company also represents the challenges it faces as a brand. On one hand, he is a link to the past, and the brand's golden years. Yet he is also the next generation. doing things in his own way. "My father passed to me many of his characteristics, so there is some continuity," he explains, highlighting the way he oversees all aspects of the brand and his sense of "curiosity, experimentation with new solutions, and new ideas." Equally, however, this is CP Company under new management. "I don't touch the product, that is my father's field. I never say anything about the product, we have great professionals, great designers, so I step away."
"For a long time I had a very conflicted relationship with my father's heritage."
Osti instead focuses on what the brand stands for, and how this is communicated. "The success of the brand in recent seasons is for sure about the product, but it's also about how we tell the story," he says. "What I like is getting back to the cultural relevance of the brand, giving meaning to things. We don't just do looks, we are talking about the meaning of the things we are doing."
At the heart of this cultural relevance is the community of long-standing CP Company fans, and particularly the casuals who kept the brand's flame burning. "We celebrate the community, we want to keep them close, we are really part of a family," Osti continues. "I am extremely grateful to these people — mainly from the UK — that kept the brand alive for so many years, they did it with love and passion, and without them we would have disappeared." This group has been a focus of Osti's plans for the brand over the last three years. "We really started from celebrating this community, and all the fans that kept the brand alive," he adds. "We are also trying to do the same with a new generation, to get connected with them."
CP Company has seen a new generation attracted to the brand in recent years and, for Osti, it's due to the values the brand has always stood for. Explaining the brand's relevance, he discusses a talk he gave with former creative director Moreno Ferrari that focused on the Urban Protection range. During the talk, Ferrari described his approach to that collection: "I didn't think of CP in terms of style, fabrics or products, but about cultural approach." To Osti, this was key.
"CP Company began in the '70s so well and so quickly because it perfectly embodied the need to get out of society's rigid classifications," Osti explains. "There were a lot of movements, some revolutionary, that were pushing for this. My father put that into the garments. Instead of having garments classified for usage — the suits, the sportswear, the coats for Sundays — he mixed everything up. My father at that moment was very good at interpreting the tensions in society." For Osti, Ferrari did the same thing decades later with the Urban Protection collection. "The tension then was the millennium bug, what would the future be, would it be dystopian or amazing," he continues. "There was fear of the 2000, and he came up with Urban Protection, a range that was meant to protect you in possibly harmful or dangerous environments."
This approach has continued into a new generation, who have been attracted to the brand due to its heritage and legacy. "There has been a resurgence of historical brands," Osti says. "Brands that have some kind of background, history, a story, some kind of cultural relevance. I think the younger generation put more value on clothes for that. Not just for the quality, not for quick consumption, they're looking for brands that have something to say."
"The brands that work are brands with history."
For Osti, this level of meaning makes heritage brands one of two types of label that are thriving with a new generation. "Then there is another kind of brand," Osti continues. "The new brands that have been able to really embody the social tension of today, the needs of the society. They are the brands that make sustainability the reason for their existence." While heritage brands and modern, sustainable labels may seem disparate, Osti sees links between them. "The brands that work are brands with history or contemporary brands that have a cultural relevance," he adds. "They're not just about style, looks, and shapes, they're brands about meanings."
For CP Company's 50th anniversary, Osti is sticking to the values of community and cultural relevance that have always supported the brand. While he is reluctant to give too much away about the year's plans, Osti explains that there are "ten projects dedicated to different aspects of the brand, all of them are linked to a certain moment, or dedicated to a certain group of people that have been touched by the brand. We want to celebrate the cultural relevance of the brand for certain people."
The first project saw CP Company release a collection in honor of Lucio Dalla, an Italian singer-songwriter and friend of Osti's father. "The first one was dedicated to a friendship with my father, and is about Bologna in the '70s and the cultural context from which the brand was born," Osti explains. "It's very close to me emotionally, it's my place and it's part of my life."
Overseeing CP Company's 50th anniversary celebrations is an important milestone for Lorenzo Osti. While it's something he is proud to be a part of, this is also something he thought would have nothing to do with him. "Being here as CP Company celebrates the 50th year, I really didn't expect that," Osti says. "It's a circle that's closed for me. I'm not here because I'm in the fashion industry, I'm here because it's CP Company. It's part of the family to me. What I do is driven by bringing my father's legacy to future generations."