Carbone Launches Ready-Made Line of Its World-Famous Sauces
Featuring Marinara, Arrabbiata and Tomato Basil varieties.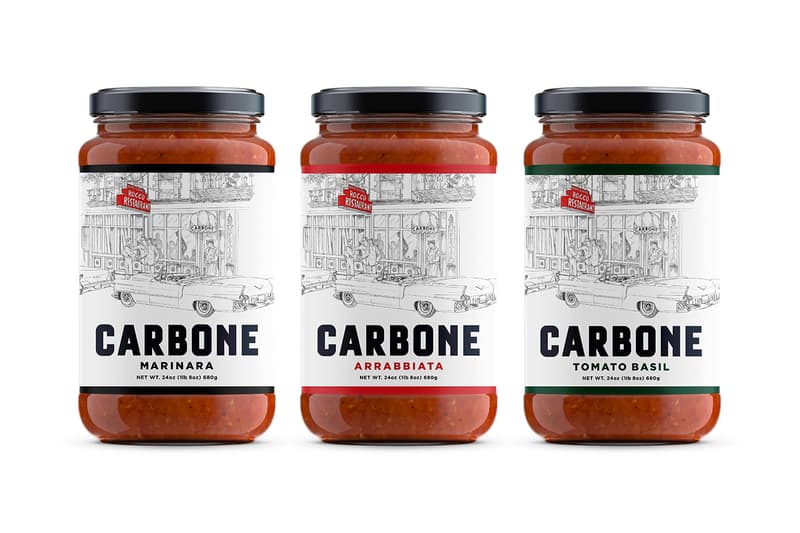 As the pandemic continues to hinder dining around the world, acclaimed New York City restaurant Carbone has now launched a new way for people to enjoy its amazing pasta creations. Carbone Fine Food is a new consumer goods brand that offers ready-made restaurant-quality pasta sauces.
Created by Mario Carbone, Rich Torrisi, and Jeff Zalaznick—co-founders of global restaurant company Major Food Group, the range of sauces were developed over years through meticulous crafting and hundreds of iterations. The Marinara, Arrabbiata, and Tomato Basil sauces highlight fresh ingredients are made in small batches that take an hour to produce to meet Carbone's high standards.
"Creating staple sauces for the home cook that possess the craft we're known for has been a goal for some time," says Mario Carbone. "The challenge was to create a product that would not only cut down cooking time but also truly deliver on the promise of unequaled flavor, and we can now say that that's exactly what we've done. We couldn't be more excited—and there's much more to come."
Priced at $9 USD, 24oz jars of Marinara, Arrabbiata and Tomato Basil are available now on Amazon and on Carbone Fine Food's website. A wider release of the sauces will be available at Stop & Shop locations in New York, New Jersey, Connecticut, Massachusetts and Rhode Island, with plans to expand across the Eastern Seaboard in the coming months.
View this post on Instagram
For more food and beverage news, these are the 50 Best Restaurants in Asia this year.