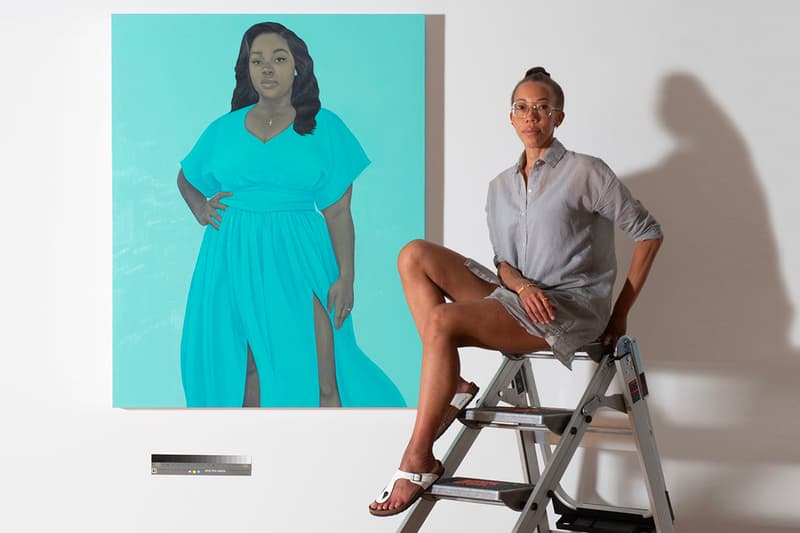 Two Major Museums Acquire Amy Sherald's Powerful Breonna Taylor Portrait
The Smithsonian and Speed Art Museum will jointly procure the artwork.
---
A portrait of Breonna Taylor painted by artist Amy Sherald will be jointly acquired by Smithsonian's National Museum of African American History and Culture in Washington, DC, and the Speed Art Museum in Louisville, Kentucky. Taylor, 26, was shot to death by police in her Louisville apartment in March 2020 — her killing became a rallying cry for Black Lives Matter protests across the country.
Taylor is depicted in a flowing blue dress in Sherald's painting, which first appeared on the cover of the September 2020 issue of Vanity Fair. Sherald said that she made the portrait for Taylor's family, explaining that "producing this image keeps Breonna alive forever."
The National Museum of African American History and Culture announced the joint acquisition in a statement on Monday, saying it planned to display the portrait later this year. The artwork will be purchased from Sherald, who plans to use the proceeds to support social justice reform efforts.
Born in Columbus, Georgia, the 47-year-old painter's bold realism "depicts the contemporary African-American experience," The Smithsonian explains , challenging perceptions of black identity using muted grey skin tones set against vibrant backgrounds. She was the first woman and first Black woman to receive first prize in the 2016 Outwin Boochever Portrait Competition from the National Portrait Gallery in Washington D.C.
Notably, Sherald unveiled a portrait of former First Lady Michelle Obama in 2018.
Mere months ago, a bust of Breonna Taylor was vandalized and then stolen, with the artist crowdfunding aid to create a replacement.