The Weeknd Turns To Givenchy's Matthew Williams for Super Bowl Fit
The House of Givenchy honors the 'After Hours' aesthetic.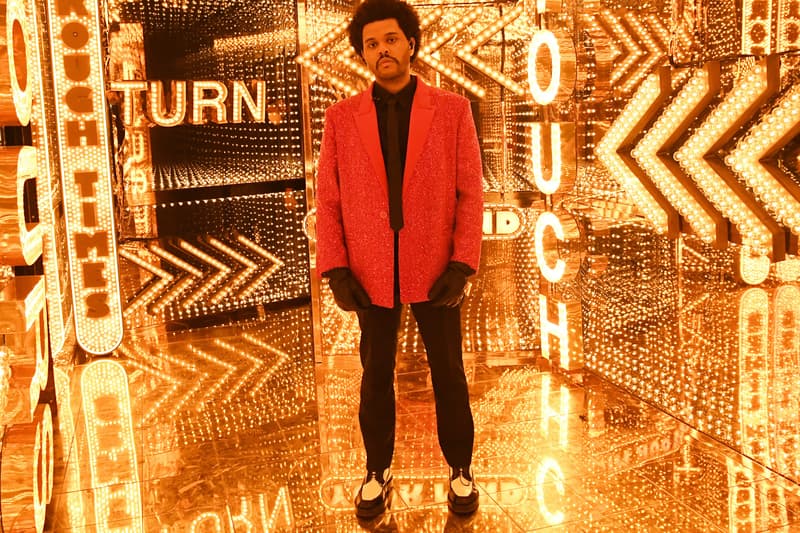 When it came to The Weeknd's Super Bowl LV Halftime Show, the performance was nothing short of spectacular. The artist, real name Abel Tesfaye, not only brought forward an iconic visual representation of his most celebrated tracks, but he continued to make a statement on the fashion side of the performance.
The Weeknd maintained the After Hours narrative aesthetic with the help of Givenchy creative director Matthew Williams, whom the artist turned to for his custom Super Bowl fit. In a press release, Williams said, "It's truly an honor to have dressed the Weeknd for his incredible Super Bowl show. To me, fashion is all about infusing what you wear with a unique personality, and the Weeknd brought his look to life with his energy, character, and sense of style."
Throughout the performance, Tesfaye was dressed in a Givenchy Haute Couture crystal-embroidered jacket. The jacket required the expertise of four embroiderers and took over 250 hours to piece together. Ensuring the red jacket was the centerpiece of the outfit, the rest of the outfit was in black, including the wool trousers, cotton poplin shirt and black leather gloves and tie. Rounding out the ensemble was a pair of black and white derbies.
Prior to the performance, Williams spoke with Vogue about the creative process. Abel and his team reportedly came into the design meetings with "a clear vision" of what the costumes would look like. Williams said, "The way Abel reflects on society's conversations all the time is what a true artist's essence is made of. He challenges the way we see art and the way we listen to music."
Williams made it clear that though the pandemic prevented the teams from traveling back and forth and meeting in person, they were still able to land on "making the Givenchy version of [Abel's] signature 70s look."
.@theweeknd wearing custom designed pieces by Creative Director Matthew M. Williams, for his performance at the #SBLV Halftime Show. pic.twitter.com/LMCnqUDwOW

— Givenchy (@givenchy) February 8, 2021
In more The Weeknd news, Toronto recently declared February 7 "The Weeknd Day".