Wrist Check: Drake Gifts DJ Khaled Iced Out Rolex for His Birthday
Fully encrusted in green diamonds.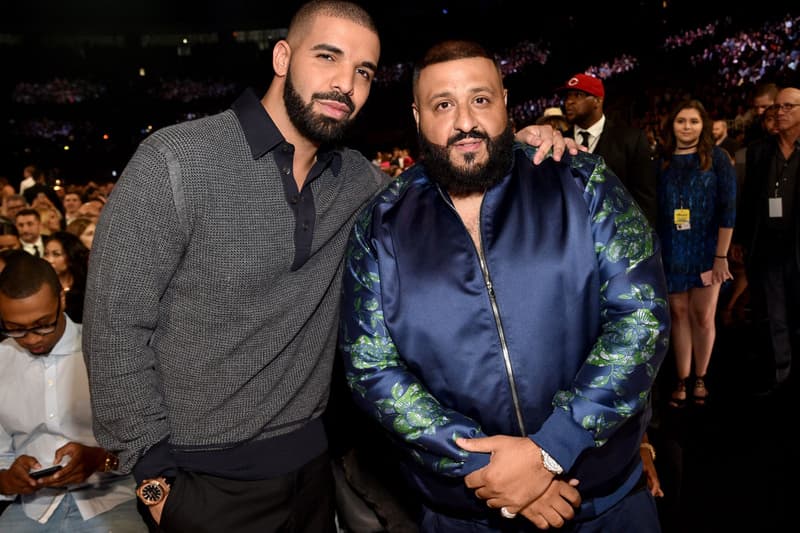 DJ Khaled recently celebrated his 46th birthday in style, bringing together some of his closest friends to ring in the occasion with him and his family.
Over the weekend, the "We Da Best Music" took to Instagram to post an assortment of videos and photos celebrating his special day and thank those who took the time out to wish him well. He also took the opportunity to flex some of his greatest and most luxurious gifts, including one from the 6God himself. Drake has been known to give his friends extravagant gifts, particularly one-off timepieces. This time, it was no different.
Khaled was on FaceTime with the Canadian hip-hop star while unboxing his gift. As Khaled unveils what is inside the box, Khaled can be heard saying, "Oh shit, I'm on some Drake shit." When he discovers Drak has gifted him a Rolex watch completely iced out in emerald green diamonds, he says, "Yo Drake! This some Drake shit. Drake, you started this crazy shit, you know that, right? All these green diamonds and shit."
It is not uncommon for rappers to gift each other noteable timepieces. Drake recently gifted Future a rare Richard Mille, as well. Take a look below at DJ Khaled receiving his Rolex.
DJ Khaled shows off his new green Rolex while on FaceTime with Drake pic.twitter.com/lFWD663jdT

— 2Cool2Blog (@2cooI2blog) November 27, 2021
In case you missed it, CHRONEXT's new advent calendar is for watch connoisseurs.