Sole Mates: TOMM¥ €A$H and the "World's Longest" adidas Originals Superstar
From super-sized Superstars to Maison Margiela loaf-ers, Cash knows how to push boundaries.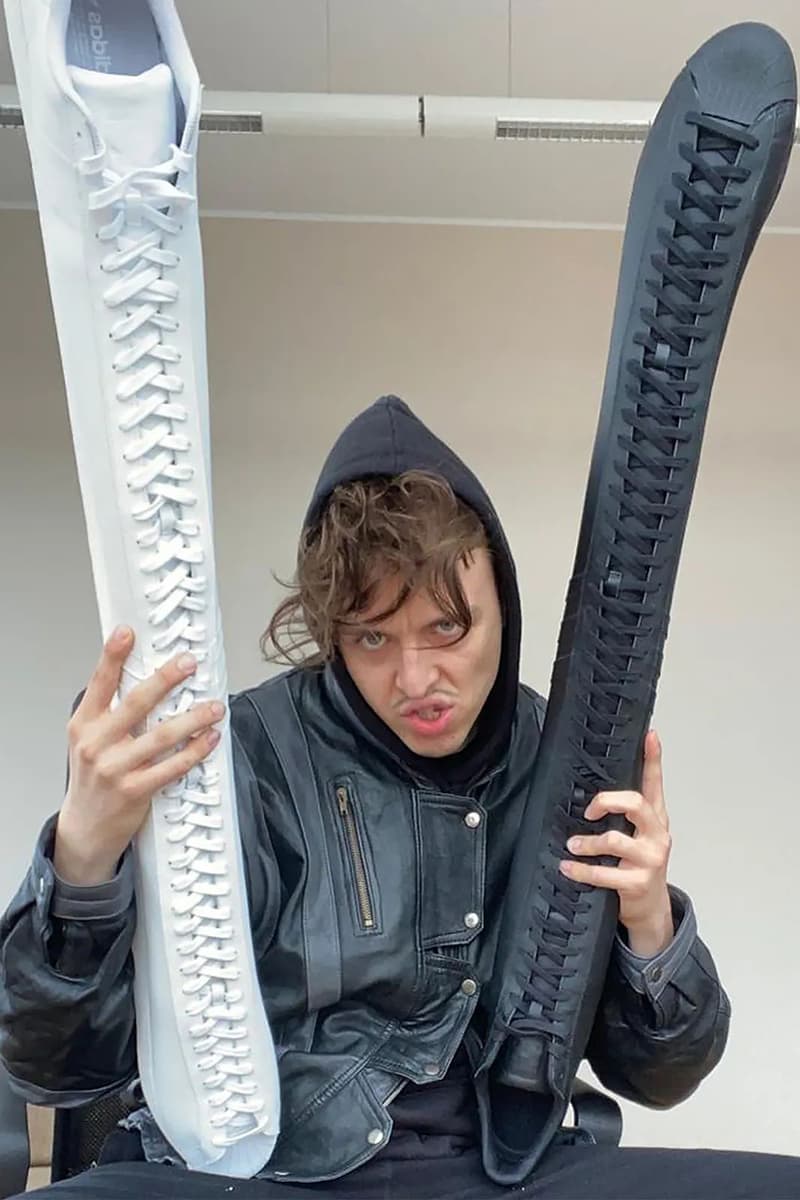 Sole Mates: TOMM¥ €A$H and the "World's Longest" adidas Originals Superstar
From super-sized Superstars to Maison Margiela loaf-ers, Cash knows how to push boundaries.
2021 has been busy for TOMM¥ €A$H. The multi-hyphenated artist and musician launched the "World's Longest Superstar" shoe with adidas Originals at the beginning of the year, introduced literal loaf-ers with Maison Margiela, collaborated with Rick Owens on an NFT and a merch drop, and even revealed his dark take on the McDonald's Happy Meal.
For Cash, there was no impact on his creativity during the pandemic. Instead, the time gave him the chance to take more risks than ever — and the same can be said for his taste in shoes. 
TOMM¥ grew up in Estonia and notes how there's a lack of a sneaker industry there. Despite this, he's still capable of getting hold of what he needs, while drawing influence from his style idols and leaning into self-exploration has gradually formed his unique perspective on sneakers. 
In this installment of Sole Mates, HYPEBEAST speaks with TOMM¥ €A$H about his adidas and Margiela collaborations, and much more. 
HYPEBEAST: What got you into sneakers?
TOMM¥ €A$H: It must be my love of hip-hop music. At the same time, my earliest dance teacher, John, can also be regarded as my styling enlightenment teacher. When I was young, I thought his style was very cool. He has followed brands such as Bape for a long time, and he will also dig out some rare items. He was the first person to get me interested in streetwear and sneakers. 
What is the sneaker culture like in Estonia?
To be honest, the sneaker culture in Estonia is not very good. Until now, it is still difficult to buy some sneakers offline; they must be bought online. We don't even have a chain shoe store like Footlocker. When I was a teenager, there was a special way to buy shoes, which was to go to some special sales fairs selling samples, where I could find many rare styles, but many shoes had only one size. I usually wear size 42.5 shoes, but sometimes in order to buy the shoes I want, my feet can also become bigger and smaller, just like a chameleon, allowing my feet to adapt to those shoes.
To be honest, I don't know any "sneakerheads" in Estonia, nor do I know a particularly good sneaker shop. If you
want to get rare sneakers, you still have to get them from resale sites like Grailed. 
Why did you choose to collaborate on the adidas Superstar?
I have always had special feelings for the Superstar. I don't know if you still remember the city-limited series that Superstar released before, including a Superstar Moscow Project. The red Superstars left a deep impression on me. I started wearing Superstars when I was 14 or 15 years old. For me, this shoe is very classic.
So when I had the opportunity to cooperate with adidas Originals, I naturally chose the Superstar series, which not only respects the classics, but also can recreate the classics and add my own new ideas to it. 
How did this joint project happen?
The entire communication timeline is actually very long. At first, when they started a project in Moscow, I happened to be there. People from adidas came to ask me if I would be interested in working with them. 
By the way, did you know that I have a Three Stripes tattoo on the back of my instep? Adidas plays an important role in Eastern European youth culture. For Slavs, Three Stripes mean a lot.
Why did you get the Three Stripes tattoo?
The three-bar tattoo symbolizes me when I was wearing adidas slippers. When I was young, I always wore adidas slippers with a full tracksuit. No matter what designer brand I am wearing now, or luxury clothes, this tattoo reminds me of those past days, it reminds me of where I came from and makes me want to be humble at all times.
What is the importance of the Three Stripes tracksuit in Slavic culture?
What many people don't know is that this was actually affected by the Olympic Games at that time; it was the uniform of the Soviet team. After the upsurge of the Olympics, pirated sports clothing appeared. From "adibas" to four bars, all kinds of imitation fakes appeared on the market, and gradually began to form a bootleg subculture. I remember that my parents would also bring me pirated sportswear from Russia.
So have you been associated with adidas' sports series for a long time?
Yes, the relationship between adidas and I began in the era of Jeremy Scott. I have seven or eight pairs of his shoes. I fell in love with the Blade running shoe series before Rick Owens' running shoe series. I still remember that I gave those to my girlfriend. She didn't understand when she bought a pair, but after three or four months, she gradually fell in love with the shoes.
How did you think of making the "the longest Superstar in the world?"
At first, the prototype I wanted to make was as shown in the pictures. It looks like a doll-like shoe model, which looks like a shoe with a lot of shoes in it, with a total of three layers. But when it was actually going to mass production, we encountered a lot of difficulties, and finally had to give up this idea, so the one you see in the pictures is the only pair. Since then, we have continued to carry out reforms in this way. I think this approach is very unique, because I think no one has ever really tried it like this.
As a result, I also have to come up with a simpler design. Although it may also limit me to some extent, sometimes less is more. I like minimalism, using fewer things to attract more people. If I hadn't created a design in this way, it might not have attracted so much attention.
The specific design process is actually very complicated, and it is difficult for me to express it in simple words. At that time, we made several pairs of super-long Superstars that you see in the pictures, but their length makes packaging and transportation difficult. Therefore, our final presentation method is through registration, and the selected consumers can customize their own size and length.
"Great creators should have all kinds of open thinking, be able to take risks and innovate, which is what I want to bring in every design."
But at present, there is no commercially available version of the shoes seen in the promotional film. Of course, I also know that many people want to own such a pair of shoes, so I am also talking to adidas about this, hoping to make it come true as soon as possible.
Will these shoes be difficult to wear?
In fact, it is not difficult. It may not be the most comfortable shoe, but you can definitely walk in it. 
Nowadays, fashion designers integrate wild ideas into product design. Some things may not be suitable for daily wear, but they will also have their own audiences and markets — fashion can also be a kind of art and a medium for expressing certain declarations. This is one of the reasons why people collect fashion items and put them at home to express an attitude. I want to continue this grotesque fashion style, and I already have a lot of crazy ideas, I want to create and realize them.
How did you feel when you saw the final product for the first time?
It was very visually striking, they look very unreal, because these shoes are longer than my forearms! In terms of materials, normal Superstar materials are used, and the final product is the same as we imagined.
Has the production of this pair of sneakers been affected by the pandemic?
There may be a point, due to the [pandemic], the factory opened and closed and there was a delay in product delivery. 
Many customers who ordered our bread slippers asked angrily: "Where are our shoes?" But because of the epidemic, there is no other way, we can only use isolation and epidemic prevention measures to slowly return to normal. But in general, for designers, I don't think that has actually changed much because design ultimately depends on inspiration. Many good designers I know are not very social people. They prefer to sit at home and develop their own creative ideas.
Now that you mentioned the collaboration with Margiela, let's talk about the design story behind the pair of bread slippers.
I did visual content related to bread in a photography project four years ago. We found a lot of bread, and even made a pair of shoes with real bread, and jokingly called it "BreadForce Ones," but it didn't cause much response.
"The bread slippers are all from our factory in Estonia, completely made in Estonia. Our mode of operation is like a family-run Italian restaurant."
I have always wanted to make a pair of slippers. Until 2019, when I organized the "The Pure and The Damned" exhibition with Rick Owens, I made a pair of them with their names engraved with the permission of Maison Margiela. Slippers made of real bread. We have maintained a good relationship, and since then I have been promoting the further development of this project, and it was not until this year that the joint mass production finally took place.
How did the collaboration come around?
The collaboration's name happened because John Galliano nodded in agreement. John and I have known each other for many years, but usually, our contact is through his partner Alexis Roche. When the epidemic came, everyone was at home. We thought it was time to actually produce this pair of slippers! The bread slippers are all from our factory in Estonia, completely made in Estonia. Our mode of operation is like a family-run Italian restaurant, everyone produces in the back kitchen, and I, like a restaurant manager, control the meals and operation rules, very pure.
The analogy of this family-owned Italian restaurant is very interesting. Is there more to come that we can look forward to?
I have a great idea that I am trying to realize, and we are still discussing specific details with that brand, so we have to keep it secret for the time being. This is a brand that everyone knows, and they have not cooperated with any street brands, so if this joint cooperation can be negotiated it should be very pleasant for everyone. This will be a summer-style single product series.
How do you incorporate your own visual style into sneaker design?
Overall, I think I am a very eclectic person and I don't want to set limits on myself. When people talk about TOMM¥ €A$H, they always use labels such as "grotesque" and "surreal." This is indeed one of my design styles. But great creators should have all kinds of open thinking, be able to take risks and innovate, which is what I want to bring in every design.
This installment of Sole Mates originally appeared on HYPEBEAST CN and has been adapted accordingly.