Questlove Is Studying Creativity Under a Microscopic Lens
In a new project, the Roots drummer delves into his obsession with the "machinery of how creativity works."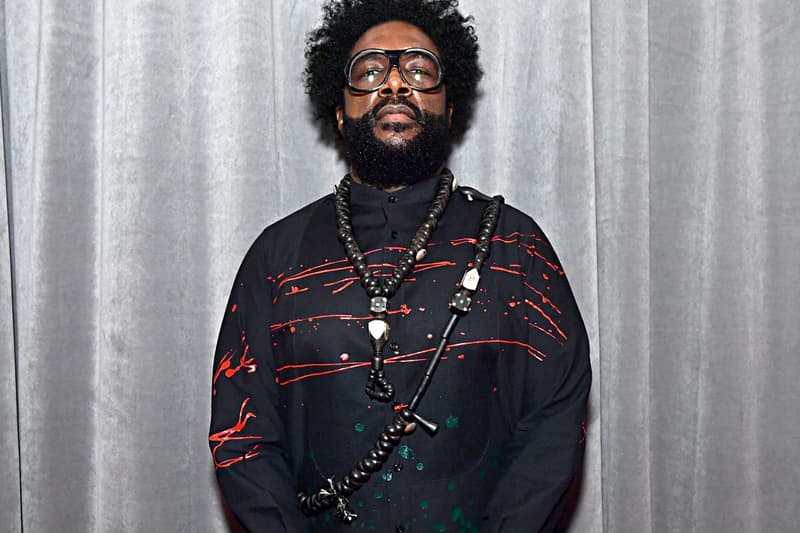 To say that Questlove has been busy is an understatement. Within the past year, the Roots drummer has debuted Summer of Soul, a thought-provoking feature documentary about the 1969 Harlem Cultural Festival, and has written a forthcoming book, Music is History, which chronicles the last fifty years of American music. Alongside that, he's continued to hold his post as the musical director of The Tonight Show Starring Jimmy Fallon.
And with only a few days until his sixth book hits the shelves, the artist, whose real name is Ahmir Thompson, has already launched another project. In collaboration with handcrafted whisky brand The Balvenie, later this month Questlove will premiere the first season of Quest for Craft, a YouTube video series that explores the relationship between craft and creativity. Over the course of four episodes, Questlove probes the minds of today's creative geniuses, featuring conversations with the music producer Jimmy Jam, Saturday Night Live comedian Michael Che, writer and punk icon Patti Smith and journalist Malcolm Gladwell.
The conversational format is familiar to Questlove, who also hosts a weekly podcast interviewing figures in music and pop culture. But even beyond the medium itself, he sees his projects as inextricably interconnected to his work as a music scholar, with each new venture allowing him to further explore themes of creative practice, theory and the challenges that line the road to mastering one's craft.
Questlove equates creativity to something of a science itself. "This is kind of my ongoing exploration into my obsession with machines or with engines," Questlove says, speaking to HYPEBEAST. "Are you familiar with those like Rube Goldberg machines? It's one of those things where it looks like an obstacle course. You put in a cue ball and it goes through these obstacle courses, knocking down dominoes and all those things."
"I've always been more obsessed with the machinery of how creativity works," he continued. "Not to mention, I'm curious about how the parallel lines cross each other: if creativity is transferable — can artists be chefs and screenwriters, musicians and athletes."
Questlove is perhaps interested in those lines because he traverses them frequently, as a force not only in the music industry but also as a film director, music journalist and even as a former restaurateur. In his upcoming YouTube series, the artist further investigates the source of creativity and its overlap across industries.
"This is just another excuse for me to explore my passion," Questlove says of the series, though his reasoning seems to be emblematic of a much deeper drive, one that has propelled him to constantly to push himself to new creative levels and embark on each project with a malleable vision of what its final result will look like.
"The process is always the most important part of creativity."
"Even with my Summer of Soul movie, it takes you right to Harlem in 1969, but it also contextualizes the songs that were performed, why those songs had to be performed, what it took to get those songs performed and every aspect of preparation and the creative process," he says.
Sheer experimentation, if only done for the sole purpose of challenging oneself, is at the root of all his creative endeavors. Over the course of the pandemic, Questlove tasked himself with curating obscure playlists daily.
"I tell people often that my version of the New York Times crossword puzzle is I make a playlist," Questlove explains. "I'll do a 'how many songs can I find with the word blue as the first word in the title' or 'songs about vegetables' or even songs that I don't like. I would obsessively make these lists to keep myself calm."
Though the exercise ended up forming the framework for his new book, not all creative challenges or avocations need to yield an end product to be a success. For instance, Questlove says he also began deejaying online and doing art collages. "I've morphed into the human being I used to laugh at," he jokes.
Through studying creativity and its processes, Questlove wants to encourage everyone — students especially — to act on their creative instincts, as well as reform the educational paradigms that may stifle them. On honing one's own creative craft, he explains that the education students receive shouldn't be centered around merely "how to answer the right questions."
"Most public school systems don't teach kids to think outside the box," he says. "They often don't give you a chance to come up with your own solutions or to be creative often."
"Whenever I encounter students, no matter what grade that are, in a system that teaches you to be creative and not just for talent's sake, it's a different way of thinking," he concluded.
"It teaches you how to solve problems and how to reach within your heart. And that's the most important message."
Quest for Craft premieres on YouTube on October 28.