Girard-Perregaux Drops Laureato Chronograph Aston Martin Edition
Aston Martin's Chief Creative Officer discusses collaborative design and an electric future.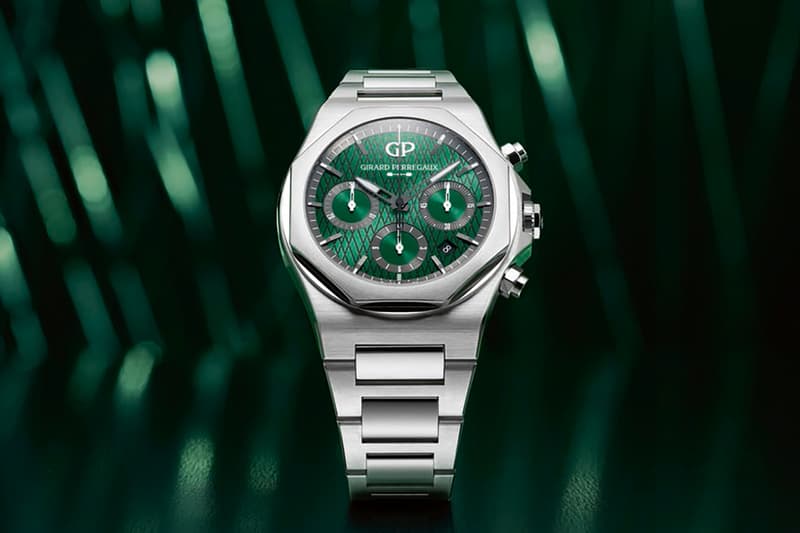 1 of 3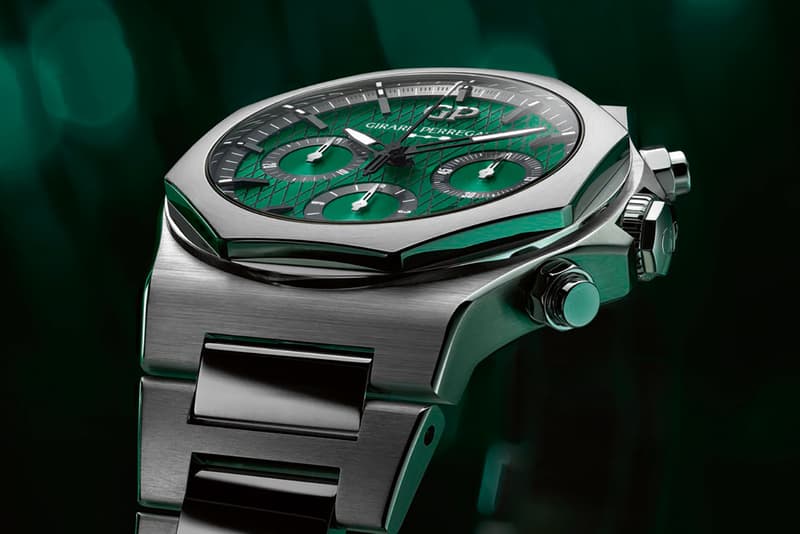 2 of 3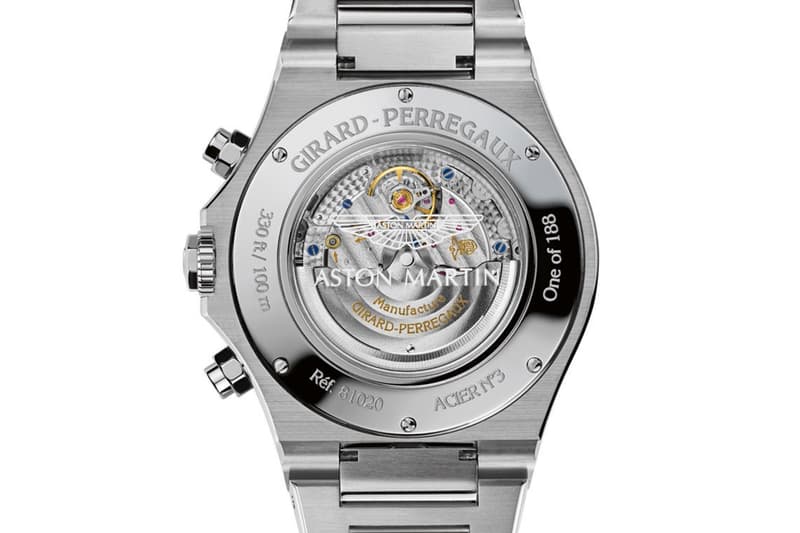 3 of 3
Girard-Perregaux has revealed the second watch in its new partnership with Aston Martin, the Laureato Chronograph Aston Martin Edition.
The 42mm chronograph plays on both the "Aston Martin Green" shade that has been a signature of the British supercar marque since it won its first Le Mans 24 Hours in 1959, and the "AM" diamond crosshatch design, still used for the stitching of its quilted upholstery.
Girard-Perregaux's dial makers engraved the crosshatching pattern before applying seven layers of paint.
The case and bracelet are machined from 904L stainless steel, which is the same alloy Rolex used for its steel watches before adopting the Oystersteel name, rather than the more commonly used 316L alloy.
It is also the first Laureato Chronograph to feature an exhibition sapphire crystal caseback, here revealing the automatic in-house Calibre GP03300-0141 chronograph movement and displaying the Aston Martin logo.
"Our Manufacture has a long history of collaborations," says Patrick Pruniaux, CEO of Girard-Perregaux. "Beginning with our founder Jean-François Bautte who brought different "établisseurs" together under one roof, effectively creating one of the first Manufactures as we know them today. Not only has our partnership with Aston Martin yielded two exceptional timepieces now, it is indeed a meeting of the minds and marks the beginnings of a true friendship between both brands and our teams." 
The Laureato Chronograph Aston Martin Edition is out now via Girard-Perregaux, limited to 188 pieces and priced $18,100 USD.
Marek Reichman, Aston Martin's Chief Creative Officer, spoke to HYPEBEAST about the collaboration.
How does collaboration affect the design process?
"I never see it as complication, because two thinkers are better than one, yes you need to have a clear understanding of your brand and what your brand stands for. In any friendship, relationship, collaboration – when you consider the creative side of something -  the better you get to know the people you're collaborating with, the easier the flow of information and ideas becomes. The creative conversation opens up and whether that's between two, three or ten people it's in a positive mode, that's when the best ideas come out."
"That's why we're together, to gain an influence from a completely different sector that influences the inside and the outside of the cars. It does that in a myriad of ways, authenticity of materials, precision of craftsmanship, dedication to brand, not losing your heritage."
People who like cars usually like watches too, often because of the mechanical parellels. Will that still hold true when electric cars take over?
"I think ultimately [EVs] are still mechanical objects, whether there is a battery stuck in the middle with motors, there's still a myriad of moving parts to propel you down the road. Your interaction is a moving part, what you sit in, the materials, the relationship and experience you have will become more important. The word experience is vital here, experience of making your own, specifying your own Aston Martin, who knows, in the world of electrification there might be even more capability for change."
"The future is bespoke and it's exactly the same for watchmaking. Even when we're electric, someone will still be hand-sewing the seats – in some instances 20,000 stitches on one seat to individualise it for someone – that's the true meaning of ultra luxury in both fields."
What does the color green mean to you as a designer?
"Green has been important for us since day one because it's the color of British racing. Color is cyclical though, right now green is very popular, there are so many variations and if you travel anywhere green is so dominant in nature. Maybe because the world is recognizing nature more, green has become the color people want in front of them."
What have you taken from the partnership so far that will influence how you make cars?
"We build in a very different scale but what I've taken is the absolute desire for precision, the fit and finish. I go back after visits and look at our gaps and say 'they're pretty good by industry standards but they're not very good by watch standards.' So how do we improve, because ultimately if those flush gaps and finishes are improved, the nature of our craftsmanship is highlighted."
"[In watches] you're given so little space to excel, but then when you look at micro detail you see how much is actually going on, so how do I put that into a car interior? You'll see with the new [DBX] interiors just the way I've thought about knurling, the angles we've used, the reflective finishes, so a lot of thought behind how light reflects on to something and how that finish can give you a sense of heightened luxury."
Elsewhere in watches, Seiko releases five-watch series based on One Piece characters.