'NBA Jam' Influenced BoomBaptist To Create an Entire Album Based on the Game
We spoke with the producer on the video game's legacy and pop culture impact.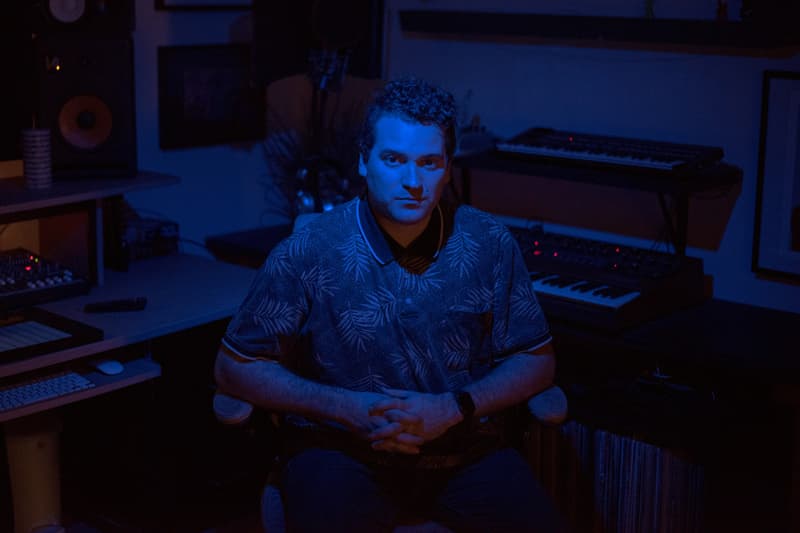 NBA Jam is more than just another retro sports title, it represents the start of gaming's influence on professional basketball. It also showcases gaming's ability to successfully intersect with other mediums of entertainment. Titles like Double Dribble (1986) and Tecmo Bowl (1987) are revered as some of the first sports games to push the genre forward. However, none came as close to mainstream recognition as NBA Jam.
NBA Jam released in arcades in 1993 and was the first basketball title to ever obtain the NBA license, allowing the roster from the league to be playable in a video game for the first time. This set the game apart from any basketball game of its time and subsequently served as its own promotion. The title garnered over $1 billion USD in quarters after one year on the scene, popularizing numerous phrases like "He's heating up," "He's on fire" and "Boomshakalaka!" to the basketball lexicon in the process.
This brought a lot of eyes to NBA Jam once it arrived on the Super Nintendo and Sega Genesis the following year. The exaggerated action-packed gameplay birthed a new sub-genre of sports games that inspired console classics like NBA Street, NFL Blitz and MLB Slugfest, to name a few. But NBA Jam's eclectic soundtrack and promotions also went on to influence an entire generation of basketball fans.
Andrew, also known as BoomBaptist, found his penchant for beatmaking through NBA Jam at a young age. The game also inspired the Florida-bred producer to run his own arcade out of Austin, Texas — where the main attraction of his business were several refurbished cabinets of the basketball title.
NBA Jam influenced BoomBaptist so greatly that he recently released an instrumental project based solely around the title called Boom Shakalaka. The 12-track album utilizes samples from both the title itself and various commercials promoting the SNES port. The beattape was originally supposed to be released in conjunction with the NBA 2020-21 season. But due to COVID-19, the season was postponed. As such, the artist had to get creative with his promotion of the record.
Luckily, BoomBaptist was able to promote the album alongside the Long Island Retro Gaming Expo this year, where HYPEBEAST was able to catch up with him ahead of his album livestream. LIExpo has celebrated retro gaming for six years now, but the convention has repackaged itself into a livestream event this year, featuring BoomBaptist and several notable NBA Jam figures. We sat down with the artist to talk about his expansive project and the history and influence of NBA Jam. To purchase his limited-edition vinyl and more, check out BoomBaptist's webstore.
HYPEBEAST: How did you get introduced to beatmaking?
BoomBaptist: So I grew up in Miami Beach. I'm in Texas now, but at the time I was really obsessed with the NBA. I was probably seven and just idolizing the '90s NBA. They were coming out with these video mixes, basically editing NBA highlights to music. And in that era, it was '80s R&B, New Jack Swing, like early, early rap, and they were editing it with these incredible highlights of young Shaq and other players of the era like Shawn Kemp.
Those video mixes were called the NBA Jam Session. And they were actually coming out before the video game, they started advertising [it in the mixes]. And when the NBA finally granted the license to NBA Jam for Midway to use it, they're like, "Okay, we'll just keep this name NBA Jam." So like it's all kind of connected. I probably wouldn't have started producing had I not heard those first NBA Jam Sessions.
And that was really my first exposure to that style of music. And I fell in love with it. So I went deeper and deeper. Miami is more about Uncle Luke, Freak Nasty, Quad City DJ, and that wasn't really my flavor. So I got introduced to Gang-Starr, Tribe Called Quest and that production was just masterful. DJ Premier, Q-Tip, Dilla, and all that. Even at a young age, I just had a real big appreciation for it. So I downloaded the demo version of Fruity Loops, which is like the most basic production program you could have had at the time, and I taught myself. And then yeah, fast forward 25 years.
What was your first experience with NBA Jam? The Super Nintendo version given the reference on the cover of Boom Shakalaka.
So ironically, I'm not a Super Nintendo guy, I'm a Genesis guy. And that was a choice by the designer. He was like, "Hey, man, at the end of the day, like I think more heads are gonna relate to the SNES cover."
Yeah, the Sega cover is kinda whack in comparison.
Yeah man, I'll rep Sega till I die. I mean I have a Sega Genesis shirt that I wear when I'm feeling particularly nerdy. And I have no shame, but it's just I think Nintendo was more widely accepted. And ironically, the people who ported the game over to consoles were this tiny little development company in Austin called Iguana Entertainment (now Acclaim Studios Austin).
Which version of the game do you prefer, which platform, and why?
Bro, I had the arcade. So we basically picked that one up in San Antonio, we redid the siding, we got new screens, we did everything. We upgraded it. And we started having these tournaments as grown adults. We would have these 32-team tournaments, two people per team. For, like, real money. And we did that two or three times a year in conjunction with big NBA events like All-Star Weekend. And, I mean, there were physical fights. Around the machines, there was like cursing and swearing, there was illegal gambling, there was like–
That's arcade culture!
This arcade culture got out of hand! And it lasted from 2013 all the way until just recently. And I mean, REAL money, you know. People would come in, people we didn't know and people from our friend group as well, so definitely the arcade version to me is superior.
You know, we had a hustle my man and I who picked [the arcade machine] up. We went to this bar on the west side of Austin. And we basically Sucker Punch people who… not literally… who didn't know we were good. We'd bet shots, or whatever, like a burger and then in the second half we would just smoke them.
There's like a code you could put in right at the matchup screen so that turns off computer assistance if you're down points. So we'd be down by 30 and then the second half we just turn on the burners. Obviously, we picked The Pistons because the developer was from Detroit, so they had a little unfair advantage. We knew all the tricks. A few times some of the players from the University of Texas who'd tower over us would come and we'd just smoke them. There were no better moments to me than beating an actual basketball player at NBA Jam.
How important of a role do you think NBA Jam has played when it comes to the synergy we're seeing between gaming, entertainment and sports these days?
I actually got to talk to Mark Turmell, who was the brains behind the whole game. I got to chat with Tim Crisco, which was the announcer, who is just incredible and legendary and very much the dude who sort of popularized the "boomshakalaka" term. They both have the record and it's just incredible to have their support. "Imitation is the finest form of flattery," you know?
I mean, they were the first people to really push music acts in the game, especially in sports gaming. Obviously, you could put codes to be George Clinton, the Beastie Boys, Will Smith and Jazzy Jeff. The music of the game itself was even based on Funkadelic's "(Not Just) Knee Deep," which is what De La Soul sampled for "Me, Myself, and I." That was the reference track. If you go back and listen to the early soundtrack it's all just like early hip hop and funk. And there's a swagger obviously NBA Jam has, it's an insane game. It's totally bombastic and over the time, right? You still have people in 2020 referencing it. It transcended 40 years of game history.
Where did your inspiration come from for all the packaging and design? The tracklist on the crumpled receipt is a nice touch.
GoodKingHippo, he's a musician as well. I would bring crazy ideas to him but he was incredible working through them. The whole idea of the receipt was actually based on a Toys R Us receipt and he used the original address of a Toys R Us in Austin, which obviously, Toys R Us went out of business. So he used the address and then he made it crinkled up cause we all remember that. Like you go into KB Toys and that was such a big part of it. You know, like you had your receipt and you were just like jacked up to play you're so excited. And so he recommended that to me. Obviously the cover is directly inspired by the SNES and he would find places on the cover to put applicable information of mine [instead].
It sounds like you pulled a lot of samples from not only NBA Jam but several other Nintendo titles and commercials. How did you approach crafting the soundscape of the project?
Okay, let's start at the beginning of when [the developers] started producing NBA Jam. There's a gentleman named Reyan Ali who wrote NBA Jam the book that had an incredible amount of information for me. He provided a lot of behind the scenes footage and photos that I was able to use for the production. The backstory which was fascinating to me was how NBA Jam was trying to get the NBA license. So the first thing you hear on the [project] is basically the original license pitch. They're explaining how it's supposed to stimulate 3D basketball and high-flying dunks. It's crazy to hear that original pitch, which got denied. I wanted to start there and kind of start as if you're entering into the console. I obviously didn't remake the soundtrack or anything like that, but I wanted it to be a thread throughout.
My base is in sampling and that's how I learned to produce. Then I moved on to synthesizers and all that, and I kind of wanted to go back to that, you know. Over the last few years I've been producing for a group called The Vapor Caves, which is like a straight electronic funk group, and there are no samples in that. So that's been my focus for the last few years, and I just wanted to go back to boom-bap.
Titles like NBA Jam and NBA Street offer something to this day other than nostalgia. What do you think these titles offer that the newer simulation titles like 2K don't?
It's streetball! NBA Street captured that so well. Even 2K tries to do like a street portion of the game, which I appreciate the way they differentiated it from the hardwood games. But NBA Street had Bobbito, who is a legendary DJ that runs the announcing. And he had a lot of phrases like Tim Crisco, who has his own go-to phrases. You know, "twice as nice," or like "fight with the mics of ice." Bobbito is just saying a bunch of hip hop sh*t while you're playing basketball.
Another crazy thing about NBA Street that people don't think about is those soundtracks were blended together, which is the most hip-hop shit you can do. Having a DJ live-mix something. In Vol. 2 they had these classic instrumentals like Pete Rock that would all blend into each other. I've been a fan of street basketball since And Vol 1. came out with those videotapes. You know I picked up the Tai Chi's, which were the first And 1 shoes that Vince Carter wore. I picked it up at Footaction and I was so hyped to get the shoes. Then they gave me a VHS with it and said, "This is a promotional item that comes with the shoe."
So I popped it in and it blew my mind because I played basketball in high school and was a fan of saucy players like Magic and Jason Williams. The sh*t people were doing in street basketball was just never before seen. And then you saw people try to incorporate that in pickup games. I think that's what those games try and emulate, that added swagger.
And you know, I've always been about just flashy sh*t. That's my style and from the very beginning, like I was into all that, you know, stupid hip hop streetwear shit when I was a kid and wore stupid outfits and all that, you know, I'm grown up now. So I love the added bravado. You know, I come from the hip hop background. The company that made NBA Street made SSX Tricky and they did the same thing there. They had Rahzel the Human Beatbox as the emcee for the game and it has a similar feel to NBA Street. Which was so funny because winter sports don't have that swagger. I think the simulation shit is cool but we play games to do shit we can't do in real life.