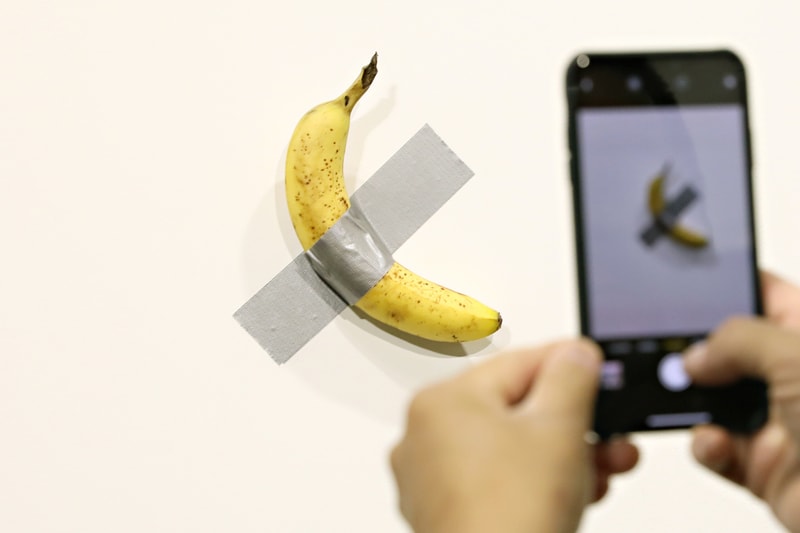 Guggenheim Now Owns Maurizio Cattelan's Taped Banana Artwork
Gifted by an anonymous donor who also provided a list of instructions to display the work.
---
The Solomon R. Guggenheim Museum in New York City has accepted the gift of Comedian, the polarizing banana artwork by Maurizio Cattelan that was duct-taped to the wall at Perrotin Gallery's booth at the Art Basel Miami Beach fair last December.
The work at the fair was Cattelan's first new piece in more than 15 years. The artist billed the work as a sculpture and it sold three times the amount of its asking price, ranging from $120,000 to $150,000 USD. The banana was eventually removed from the booth because of the massive attention it was getting from crowds at Basel.
The donor, who is anonymous, gave the work to the Guggenheim alongside a certificate of authenticity and a list of instructions with diagrams on how it should be displayed or installed. Unfortunately, the donation does not include the original banana that was mounted to the wall of Perrotin's booth. If the piece is shown, the Guggenheim will need to have a fresh batch of replacement bananas ready especially if it's on view for over a week — bananas have an average expiration date of just three to four days.
"Maurizio Cattelan's work has been important to the recent history of the Guggenheim," the New York museum's director, Richard Armstrong, said in a statement. "We are grateful recipients of the gift of 'Comedian',  a further demonstration of the artist's deft connection to the history of modern art. Beyond which, it offers little stress to our storage."
Head to the Guggenheim's website for more information.
Elsewhere in art, Sterling Ruby unveils new earthen sculptures as part of a dual show with Japanese ceramicist, Masaomi Yasunaga.