1 of 12
2 of 12
3 of 12
4 of 12
5 of 12
6 of 12
7 of 12
8 of 12
9 of 12
10 of 12
11 of 12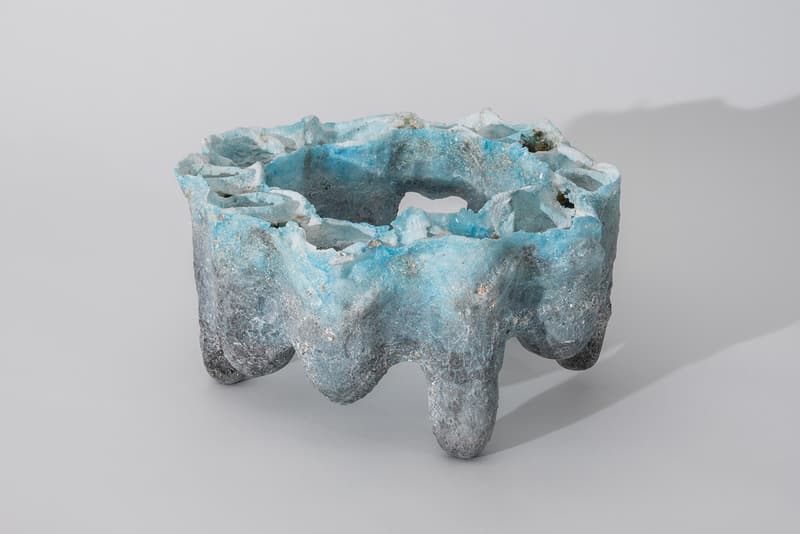 12 of 12
Sterling Ruby Unveils New Earthen Sculptures in LA Exhibition
As part of a dual show with Japanese ceramicist, Masaomi Yasunaga.
---
Following the success of his first solo exhibition at the new Xavier Hufkens Gallery in Brussels, Sterling Ruby returns with a new body of work as part of a dual show in Los Angeles' Nonaka-Hill Gallery with Japanese ceramicist, Masaomi Yasunaga. Both Ruby and Yasunaga have crafted pieces entirely composed of earthen matter spanning basins, baskets, mortars, plates, vessels, bowls, cups and clubs, small animals, birds, shells, flowers and hearts.
The artists challenge the notions of excavation while probing "archaeological fantasies" across their misshapen and eroded-looking pieces. Ruby often salvages broken or failed ceramic sculptures to develop new pieces. For the show, the artist exhibits works from ongoing series including MORTARS, CLUBS and BALLET alongside his new-wall based FLOWERS. Every one of his works has a distinct surface finish, from pooled glazes in a diverse array of colors to irridescent metallics. As for Yasunaga, his practice involves the use of glaze and glass powder compounds to form sculptures. He buries his works in diverse earthen materials before they enter the kiln. During the drying process, the works melt and bond with surrounding materials that also allows for unique textural finishes.
"It's been observed that these works illicit archeological fantasies in the viewer, perhaps because we've been pre-conditioned to seek enlightenment from even the smallest ceramic shards," said the gallery in a statement. "Both artists have engaged excavation as a muse, a metaphor and as a vital physical component of their studio production of the works on view here."
View select works from the exhibition in the slideshow above and then head to Nonaka-Hill's website to learn more. The show is on view until October 31.
Elsewhere in art, take a look around Joana Vasconcelo's Yorkshire Sculpture Park exhibition.
Nonaka-Hill Gallery
720 N Highland Ave
Los Angeles, CA 90038