Kanye Offers Another Look at adidas YEEZY 2020 Footwear
Continuing to tease "YEEZY CHRISTIAN ACADEMY."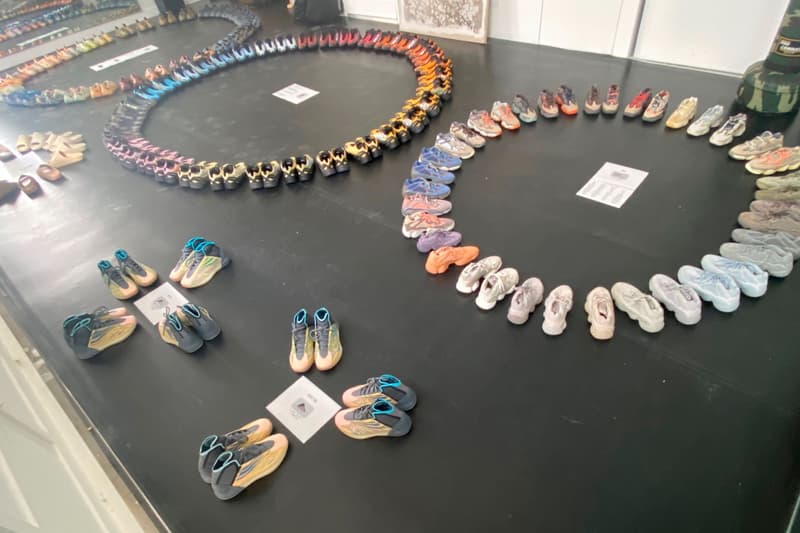 After declaring himself the "head of adidas," Kanye West took to Twitter once again to offer another look at the adidas YEEZY 2020 footwear.
The latest look comes after the controversial figure seemingly leaked the rough release schedule for all the sneakers set for the rest of the year. Once again arranged in interesting circle patterns, the overview of the sneakers reaffirms Kanye's latest obsession with bright and bold colors. Another tweet stating, "YZY DESIGN MEETING WITH MARK MINER AND RANDAL YARBOROUGH" is accompanied by a picture of Miner showing off his camera roll riddled with YEEZY footwear. Some of note include orange color YEEZY SLIDES, Foam Runners and what is believed to be new takes on the QNTM.
Include in Kanye's latest spree on Twitter are new teasers for his "YEEZY CHRISTIAN ACADEMY." Dubbing the current moment as "V1," 'Ye has been establishing an extended greenhouse-like structure to create a farm to table system that provides, citrus, frui, berries, leafy greens, roots, allium, herbs, grains, legumes and nightshade. It is interesting to note that Kanye specifically notes "no squash" and "definitely no broccoli," hinting at his dislike of the gourd and flowering green vegetable. Additionally, we have another look at the striking blue sweatsuits for the YEEZY CHRISTIAN ACADEMY.
Check out the new look at the adidas YEEZY 2020 footwear and YEEZY CHRISTIAN ACADEMY teases below.
YZY Farm to table ⛷ it's a good start pic.twitter.com/JKHmY3eL9v

— ye (@kanyewest) September 22, 2020
Getting our simplified DONDA gardens together No squash ??‍♂️ aaaaand definitely no broccoli ? pic.twitter.com/L82gJLpRWV

— ye (@kanyewest) September 22, 2020
— ye (@kanyewest) September 22, 2020
YZY DESIGN MEETING WITH MARK MINER AND RANDAL YARBOROUGH pic.twitter.com/ayCniv83dr

— ye (@kanyewest) September 21, 2020
YEEZY CHRISTIAN ACADEMY V1 pic.twitter.com/YRqK9daOCs

— ye (@kanyewest) September 19, 2020
YEEZY CHRISTIAN ACADEMY … JESUS IS SO GOOD … WON'T HE DO IT pic.twitter.com/Ose9pe0Tul

— ye (@kanyewest) September 18, 2020
For more footwear news,