What Boldy James' Success Can Tell Us About Hip-Hop Listeners in 2020
The veteran emcee proves that patience and authentic storytelling are a driving force behind his longevity. That won't change anytime soon.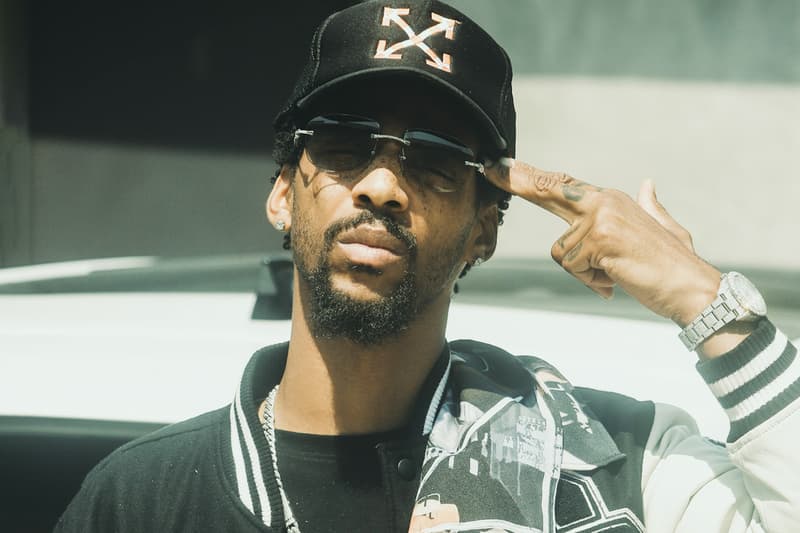 Boldy James is not just your favorite rapper's favorite rapper. At 38 years old, the musician, born James Clay Jones III, is at the forefront of a larger movement modernizing minimal, narrative-driven hip-hop. The "gritty and raw" instrumentation paired with '90s nostalgia has always been bubbling beneath the surface, there to find for listeners operating under the if you know, you know willingness to dig deeper. And that's where they'd find Boldy James, whose sound is rooted in the self-reflection that only artists honing their craft for decades can provide. For years he's built a dedicated fan base while remaining under-the-radar. But this year feels different.
Boldy James has rattled off a three-peat of some of 2020's best records each with its own dedicated producer — The Price of Tea in China with The Alchemist, Manger on McNichols with lifelong collaborator Sterling Toles, and The Versace Tape with Vine and Twitter personality turned beatmaker Jay Versace.
Early on in his career, Boldy was labeled a niche artist from the Midwest, played in heavy rotation on influential blogs in the early aughts, but his dedication to stark storytelling didn't make him necessarily the most accessible artist. He went as far as pitching the XXL Freshman list not once, but twice in 2015 and 2017 only to miss out on a selection to younger peers. Boldy's status as an industry outlier never got in the way of his critical acclaim in the past, but his independence affected his reach.
Those characteristics still hold true today, but now what was once viewed as detractors are the exact reasons why listeners are drawn to Boldy James. The success of his current wave of releases — and just how lauded each has been from social media down to the remaining influential music outlets — not only speaks to the quality of his work, but can tell us a lot about the shift in hip-hop-heads' listening trends, too.
So what's changed to finally bring more attention to Boldy James and the seasoned, blue-collar emcee? Boldy is one of the handful of artists past the age of 35 — Freddie Gibbs, Roc Marcianao, Young Dolph, Westside Gunn and his Griselda family all come to mind — who won't compromise their visions in an industry described as a young man's (and woman's) game. While Kanye West has been manically uploading PDF screenshots of his label contracts that have exploited him via Twitter, vowing to free major label artists from the shackles of corporate greed, Boldy and his veteran cohorts have long been on that independent wave.
They own their masters. These artists have been self-sufficient in part because of their history of surviving by hustling. Cutting out the middleman was a career decision made well before the music became a viable source of income. Fans recognize that autonomy and artistic freedom.
But the current success of artists like Boldy could also be due to the fact that everyone's stuck at home binge-watching Netflix shows or distracting themselves from the pandemic with in-depth podcasts, perhaps getting addicted to drawn out storytelling so much that they want that episodic hero's journey in their music.
"I think people don't have as short of an attention span as they used to. Their ears are more open to different sounds because the clubs aren't open, so all that turn-up music isn't as relevant now," Boldy explained to HYPEBEAST. "You know the Freddie Gibbs, the Vince Staples, the Earl Sweatshirts — we're all more relevant right now because of the quarantine and people are just at they house chilling. They're noticing the consistency. Then people start going through my previous works and are like, 'damn, Boldy can rap.'"
"There's so much death in Detroit and just in my circle alone that I'm just numb. [Music] is how I represent for all my fallen soldiers and lost ones."
Or maybe it's the fact that Billboard-charting mainstays like Drake, Eminem, Lil Wayne, Rick Ross, Big Sean, Megan Thee Stallion, even the aforementioned Kanye West are hand-picking their inspirations from the underground and reaching out to these artists as openly as ever. But there's another major reason why independent rappers and producers well into their late-30s and early-40s are experiencing a renaissance in 2020.
Many hip-hop listeners are tired of manicured, focus-grouped efforts. They want something tangible and authentic. Boldy James fits the bill. His depictions of his fight to survive in an unforgiving, decaying Detroit border on self-incriminating. He's subtle enough to present his world not as a triumphant, chest-pounding success story, but of the ongoing difficulties to remain loyal to those still in that life while balancing his artistic growth.
"I got to hold back to protect the guilty at times because my people are still active — that's really the current situation. I do speak a lot of truth but I watch how I say it," Boldy said. "You can't be a capper in Detroit because n*ggas gone call you out on that sh*t. You rap about a piece of jewelry you ain't got or a car you've never owned or a house you've never lived in or a trip you never took or drugs you've never sold — [they] gone expose you on that and make you out to be a faker and tarnish your career. I'm a real n*gga so [they] can't do that to me. That's all it is."
Understanding the rise of Boldy James in 2020 means recognizing the commitment to his craft. Boldy's storytelling is the product of trauma from growing up in Detroit's East Side. He stayed devoted to his hometown well after his rap career started to flourish, sometimes to the detriment of his professional progress. Run-ins with the law and years spent on probation made his releases like My 1st Chemistry Set (2013) and his Trappers Alley series (2011 and 2015) memorable fan favorites but sporadic reminders of his promise rather than announcements of his arrival.
He's rarely done press to the point where the only available imagery of him comes from screenshots of brief cameos in other people's music videos. His decade-long discography has enough sobering violence contrasted by that's-just-the-way-it-is pragmatism that it's enough to warrant a PTSD diagnosis.
"There's so much death in Detroit and just in my circle alone that I'm just numb to this sh*t," Boldy said. "I'm very familiar with death so [music] is how I represent for all my fallen soldiers and lost ones. It's very therapeutic for me to just release those thoughts of mine and those evils so I can focus on more positive energy after. It helps me clear my head. Music helps me think life through… I'm a humble guy and I'm a cool n*gga, but I'm not a friendly n*gga neither 'cause I've been through a lot and you know where I'm from, being friendly — sh*t, that's just a sign of weakness."
Boldy's rhymes are prolific enough to make his Bic run dry and his college ruled notebook overflow. He rattles off stream-of-consciousness details so specific that they'll transport you to a corner you'll never visit. Choruses are a rarity but the bars beg repeat listens to get the full picture. He balances off-kilter alliteration over obscure soul samples. Lyrics are as poetic as they are mathematically mapped out. Take "Monte Cristo" from The Versace Tape.
"Before the COVID, I been on, mask and gloves when my man send it
Transcended, still gettin' money in the bandemic
Ceramic coating on the palette of porcelain
Boxcutter slicin' that silver pack with the scorpion."
It's independent cinema running laps around movies with bigger budgets.
"My [rhymes] are all premeditated. I just got to put them on the paper to organize them. It's not always paper. Sometimes I might rip the top off a shoe box or a pizza box or something. I write with pencil, pen — it don't matter bro. I done wrote raps in crayon before," Boldy revealed.
Boldy started writing well before he connected with The Alchemist and before his cousin Chuck Inglish of The Cool Kids pushed him to pursue rapping full-time. His father worked in law enforcement and implemented a strict set of rules in the Jones household. Boldy was writing raps by the time most kids were still learning proper sentence structure.
"My dad didn't let me stay inside and be glued to the idiot box all day but I had my radio and he would let me listen to that. You still had to have some sort of imagination, you know?" Boldy said. "Listening was more of a learning experience as opposed to sitting there playing video games. That turned into me making beat tapes out of the end of beats that would play on certain records. I would loop them and try and rhyme on them and then that turned into me getting two radios and trying to make a little studio."
"It made me take that music outside the household and rap with my homeboy down the street to him telling me that I'm kinda nice. That gave me the confidence to rap in front of a crowd or even on the corner or in jail. I've always been kinda shy but it helped me get over that fear of flight. Me coming up real hard with my pops, he was a really hard-nose stump-down type of individual, so I had no other choice but to be solid."
"I just got to put [lyrics] on the paper to organize them. It's not always paper. I might rip the top off a shoe box or a pizza box or something. I done wrote raps in crayon before."
Boldy's father grew up listening to jazz, old school R&B and soul. He championed Detroit's diverse local radio stations. His grandmother sang for a Motown group but her career was cut short due to a drug addiction. His grandfather and a number of uncles hustled. The name Boldy James stemmed from a neighbor who lived across the street from the rapper — "Boldy" James Osely. Before the original Boldy was murdered, he would drop bricks of cocaine off for a young James Clay Jones III to keep watch over, who would then sneak a few grams off the top to sell for a new pair of Jordans. By the time he was in his early teens, Jones III hadn't fully adopted the Boldy namesake but he was in and out of juvenile detention facilities on a regular basis.
"When I got out of juvenile the first time — I was like 14. I got so much good feedback from the music that I was writing while I was locked up. My guy in there was like, 'I know you be selling dope and you be f*cking around in the street but you should f*ck with that [rap] sh*t when you get out.' I didn't take this sh*t as serious as I do now obviously but I started to. At that point it was just a hobby, a skill, a craft I was trying to hone. Now I get recognized for being a great writer."
Boldy didn't record his first official song until the year 2000. In his late teens, he followed a friend to a makeshift basement recording studio and ended up making a lifelong bond with mentor and collaborator Sterling Toles. At the time, the two had no idea that they'd embark on an odyssey to create a project that spanned decades. Boldy and Sterling would record through any adverse condition that was thrown their way throughout the process, whether it was flooding uprooting the basement studio or through the sound of gunfights from the neighborhood kids' active war zone going on outside.
What resulted was Manger on McNichols, released in July 2020. The unexpected, left-field collaboration introduced listeners to a Boldy that they simply had never heard before with instrumentals that bordered on the avant-garde. A film composer by trade, Sterling Toles kept revisiting Manger repeatedly, adding nuance through his work with over two-dozen musicians, injecting the album with Detroit's modern jazz scene, multiple layers of synths and full orchestral accompaniments.
"[Boldy] and I both were people that did not create music to be in the industry, or for an audience. We created for ourselves solely, and still do," Toles wrote in an open letter detailing his 20 year friendship with Boldy upon the record's premiere. "We are not careerists with music, but culturalists documenting the Detroit experiences that we have absorbed from its deepest of trenches, sometimes converting personal trauma into collective catharsis… The more he did that the more this became about healing, not making a 'good' album."
"[Manger on McNichols] was just Sterling deciding what to represent as a collective of what me and him have done throughout the years. It was never a plan to put [the album] down. I just probably got caught up in the streets and was going through some sh*t and couldn't get to the studio…" Boldy said. "That's how he felt the need to bring it to life and present it to the world and people received it as a classic. I can hear how much I've grown as an artist when I listen to it because I can actually date it back and remember where I was at that point in my life and what I was trying to figure out as a man, as a father and as an artist. I'm just here to grow and to speak my truth."
"[I'm] more relevant right now because of the quarantine and people are just at they house chilling. Their ears are more open to different sounds because the clubs aren't open."
While Manger marinated in half-filled hard drives and unorganized desktop folders all of those years to be revisited whenever the duo could reconnect, Boldy's growth and output continued. His efficiency with his pen and his unvarnished sound cut down to the raw basics made the pairing with Nas' Mass Appeal appear to be the perfect fit back in 2014 — he was the imprint's first artist to agree to a partnership.
Boldy and Nas were kindred spirits, descendants from the same visceral storytelling tree. Ultimately the collaboration didn't prove to be as fruitful as planned. Boldy's hope of a closer relationship with the legendary rapper through the creation of My 1st Chemistry Set never materialized and he left that situation considering it more of a learning experience than a success. Money came in quicker hustling anyways and his time at Mass Appeal proved to be too slow a grind.
Unlike his label partnership, Boldy's chemistry with The Alchemist would last. His obscure samples and vintage vinyl grain have been a steady backdrop to stories of midnight marauding rapped by underground emcees for decades. In 2020, the 42-year-old, born Daniel Alan Maman, is having a legendary run of his own due to his work alongside Boldy. Not only did the two deliver The Price of Tea in China in February, but The Alchemist has been an anchor of that veteran class of artists including the likes of Freddie Gibbs (Alfredo), Conway The Machine (LULU) and Westside Gunn (Pray for Paris).
But back in 2013, Alan the Chemist was just starting to expand his reach by releasing album-long alliances with artists — Boldy's My 1st Chemistry Set was among the first and most well-received. At the time of their introduction, Boldy was hopping back and forth between Detroit and Chicago avoiding possible warrants and crashing with his younger cousin Chuck Inglish. When given the chance to get out of the Midwest and take a brief respite from Michigan's "Murder Mitten," he hopped on a flight to Austin, Texas to follow The Cool Kids on a brief tour.
"I met [The Alchemist] at South by Southwest through Chuck. I flew out to L.A. to work on My 1st Chemistry Set maybe some six months after I first met him," Boldy explained. "He just wanted to see what the chemistry was between me and him on the production side and then he found out what I was capable of. On Price of Tea we took more time and made sure to slow cook the brick up."
Then at the end of 2019, some six years after the duo's first album dropped, The Alchemist and Boldy surprised fans with the short but undeniably sweet Boldface EP, five tracks of their signature cohesion with the rapper's survivalist struggles backed by hollow piano chords, mellow acoustic guitar and dreamy string section loops. It was more than just a return to form — together they were revitalized. Boldface was the perfect set-up for Price of Tea. "These projects are like my kids. I love all my children. But you never know if your children are gonna grow up to be doctors, lawyers, teachers," The Alchemist told HYPEBEAST. The Price of Tea in China was good enough to be any and all of the three.
"My dad didn't let me stay inside and be glued to the idiot box all day but I had my radio. You still had to have some sort of imagination."
The continuity that both Boldy and The Alchemist displayed throughout the 12 tracks was hardly surprising — the expansive following it garnered was. For nearly two decades Boldy James was perfecting his sound, writing rhymes on any piece of paper that he could find. His work inspired a cult-following that celebrated him for his technical prowess and morbid authenticity but its insular nature hardly garnered mainstream attention. But with the world stuck indoors and music relegated to headphones and bedroom speakers, the shift in how hip-hop audiences listen to music has promoted a combination as all-consuming as Boldy's world-building and The Alchemist's singular sample structures. He's arrived at the perfect time.
On the intro track "Carruth," Boldy raps over a mournful, "why all those people crying? Is it for something they've lost?" loop and still manages to have his vocals cut through. "Giant Slide" pivots to rely on high-pitched whistles as the fulcrum of the instrumental. "Slow Roll" is full of retro synths and glitchy beeper pings. "Grey October" makes use of a lone electric guitar riff to match Boldy's reminiscing on harder times. Ethereal vocal harmonies float in the background on "Surf & Turf" while Boldy and Vince Staples trade lucid memories from East Detroit to North Long Beach. "Overlord status, I be slummin'/ My son think that I don't love him, he don't know his daddy thuggin'/ Said, "I been out here since a youngin'," Boldy raps.
"Once Al has what he need with the puzzle pieces he assembles it in its entirety and finds out what makes sense," Boldy said. "It's not as premeditated as people think it is. We don't just make 12 songs and just give you those alone. We have records worth, we've done records and made new records."
Now Boldy is fresh off of his third success of the year, The Versace Tape, produced in-full by Jay Versace. At this point, referring to the producer as a former Vine and Twitter comedian/personality would be doing him a disservice to his dedication to the craft and his quick growth-spurt as a producer. His transition to hip-hop has been solidified following this tape's release.
Boldy admits that he had only met Versace in person once and while the communication was brief, the instrumentals were all that he needed to hear. The project launched with the announcement that Boldy had struck a partnership with the flourishing rap crew of the moment: Buffalo, New York's Griselda Records. Their familial bond, Pyrex-infused output and collective outsider's mentality made for the perfect pairing.
"The way we came up in my neighborhood, I was the only [one] who rapped and everybody either ended up dying or going to jail and the couple dudes that left, they're holding on to me real near and dear because I'm the last one who can tell the story of the crew in its entirety," Boldy said. "Gunn and them, God bless, more of them made it through. They was able to give you a family oriented crew and I wasn't blessed to do that."
But Boldy wanted to make one thing clear. "I don't sign record deals. I only do partnerships because I gotta be able to still have control and be able to move around how I see fit. I'm not a worker type of n*gga. Even my Mass Appeal situation was a partnership. [Westside] Gunn wanted me to boss up in music and take care of my kids and be better off so that I can do more for my family and live life. He real so I respect his decision making and the way he do business."
"I got to hold back to protect the guilty at times because my people are still active — that's really the current situation."
The Versace Tape stems from folders upon folders of instrumentals that Versace sent to Westside Gunn after their work together on Pray for Paris. Gunn, who's planning his early retirement from rap to focus on other endeavors after 2020 comes to a close, simply had his focus elsewhere, but he didn't want the beats to go to waste.
"I knew that Jay and Boldy were a perfect fit. When I listened to the beats Jay Versace made, I was listening to The Price of Tea in China too and Boldy's flow is just so vivid," Westside Gunn said. "The beats that Jay made were melodic and it took me there — it was like art gallery music. The way Boldy can paint a picture, I felt it would go perfect together. I wanted Jay to get his shine. Boldy had just partnered with Griselda and it was only right that now they both can get the opportunity to bring the best out of each other. And that's what I do — I curate."
The album was recorded in under a week while Gunn and Boldy celebrated their new alliance on the road, traveling to Atlanta, Alabama, Mississippi and Detroit. In the midst of COVID-19, that change of scenery inspired the emcee. Each of Versace's beats compliment what Boldy describes as his "left-handed flow." You'll find shimmering soul on cuts like "Brick Van Exel" while "Nu Wave" is hand-dipped in luxury. You'd be hard pressed to find a hip-hop song that makes more with less this year than "Monte Cristo" with stark bass plucks and faint horns giving Boldy the space to wax poetic with his Midwestern drawl.
The past still weighs heavily on Boldy's psyche. Reminiscing about his family's generational involvement in the drug trade or his countless fallen friends are referenced so consistently it could be mistaken for apathy. Nostalgia isn't something that Boldy James is capable of taking solace in either. He endured a collapsing city, survived the streets and outlasted hip-hop's blog-era boom. Now, at 38, Boldy has taken center stage through his longevity. He's a rare breed whose music is built to withstand any era or whatever quick trend may take hip-hop by storm next.
Right now, with the world in lockdown and with people reexamining the very spaces that they listen to music in, Boldy's catalog is as binge-worthy and relevant as ever. It took an entire career and a three-peat of some of rap's best records this year to get here, but music listeners the world over have finally noticed. "I think the best Boldy hasn't come out yet," Westside Gunn said. "If he keeps doing what he's doing, Boldy James is gonna go down as one of the greatest storytellers in hip-hop history." He's most likely in that category already.