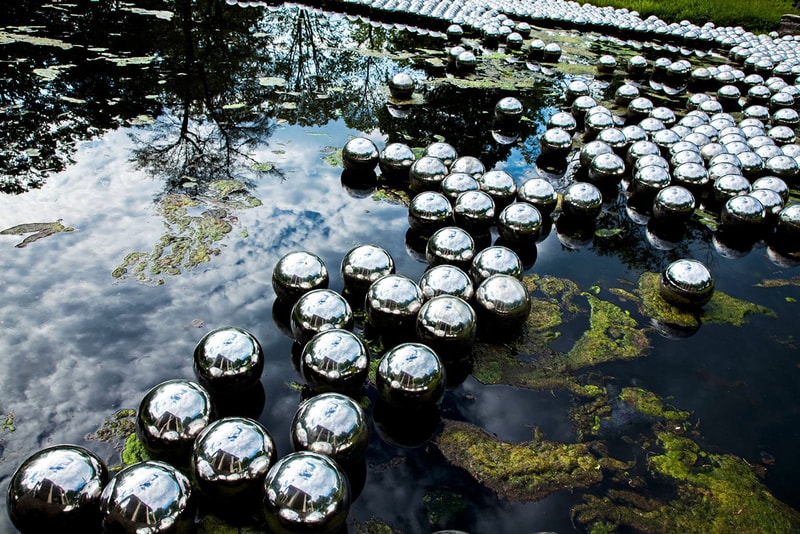 Yayoi Kusama's 'Narcissus Garden' Has Arrived in Arkansas
The first time the work has been installed outdoors in an industrial setting.
---
This year seemed like a good year for fans of Yayoi Kusama. A monumental outdoor exhibition at the New York Botanical Garden was expected to kick off in the spring, while a retrospective at the Gropius Bau in Berlin was slated to open in September. Due to the coronavirus pandemic, both exhibitions, along with shows at Washington DC's Hirshorn Museum and London's Tate Modern were postponed. One of the artist's most famous works, however, is still getting a showcase in the U.S.
Arkansas' The Momentary is the newest site for Kusama's immersive Narcissus Garden installation. The work is comprised of almost 900 mirrored spheres, creating a dynamic reflective field that symbolizes an interconnected universe and offers a sense of infinite existence. Each orb relies on the presence of the others, allowing visitors to imagine an ideal world where each "dot," or person, helps and supports others. The installation has appeared all over the world in many forms since it first made its debut in 1966.
"What's most exciting about the installation of Narcissus Garden at the Momentary is that this is the first time the work has been installed outdoors in an industrial setting…" said Momentary Assistant Curator Kaitlin Maestas. "Through Kusama's clever design, these mirrored orbs simultaneously reflect people, architecture, and the vast open sky. You can't help but walk away feeling slightly more connected to the world around you."
Narcissus Garden is on view now at The Momentary. It will remain at the space, which is currently open with reduced capacity, for at least a year.
Elsewhere in art, three of Claude Monet's water lily paintings will be included in London's National Gallery's new Impressionist exhibition.
The Momentary
507 SE E St
Bentonville, Arkansas