Stay Home Snaps: MANUAL
The photography company's staff takes solace in social media community and 'Call of Duty.'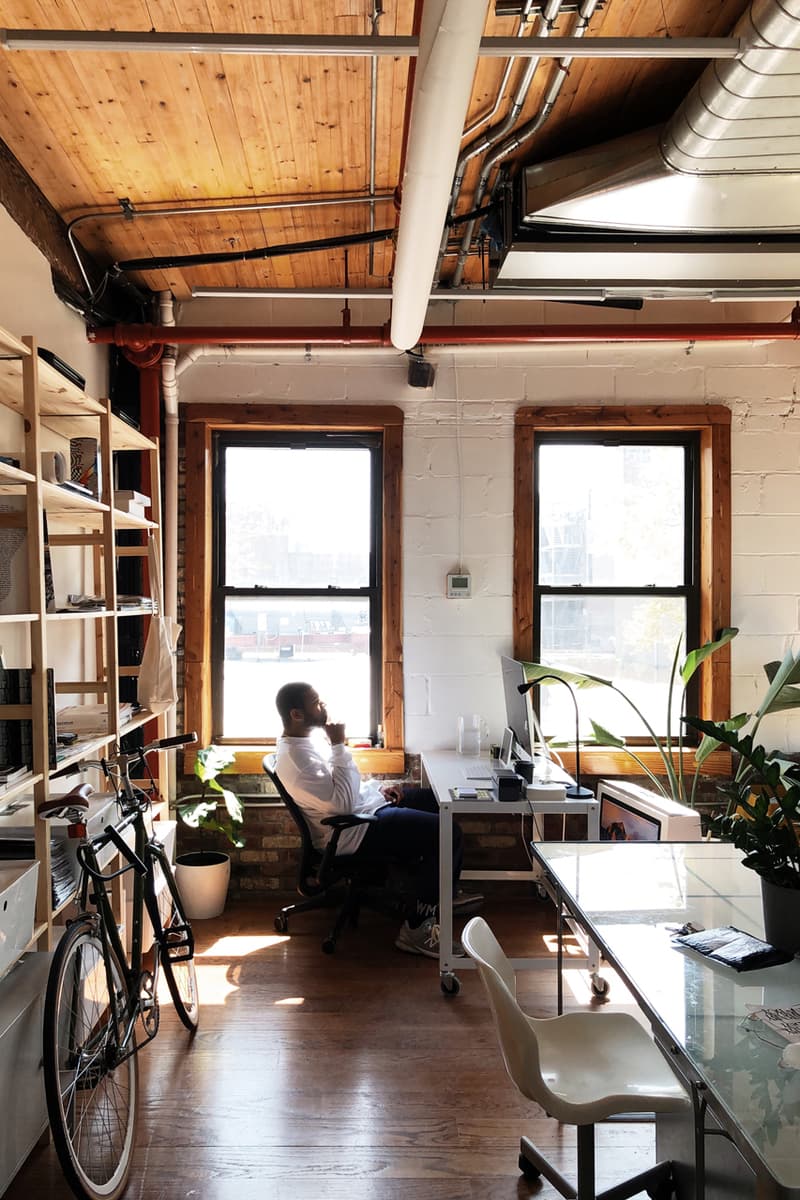 Stay Home Snaps: MANUAL
The photography company's staff takes solace in social media community and 'Call of Duty.'
Even under lockdown, there are plenty of subjects ready to be captured by cameras. The team at MANUAL knows this; its film development services are still available during the global quarantine, ensuring that amateur shutterbugs and professional photographers alike can make the most of the New York-based company's affordable point-and-shoot film cameras.
With plenty of projects underway, MANUAL's staff is still hard at work. Still, they make time to relax and smell the roses (from a distance) when possible.
Malcolm, founder and creative director
What's your daily routine?
I wake up everyday around 9:30 to 10 a.m., stretch a bit, drink some water and listen to The Daily while making breakfast and coffee. Then I decide if I'm going to be working from home or from our studio space in Bushwick. I usually choose home on days that I want to relax and the studio when there's a lot we need to get through.
We're surprisingly pretty busy working on new projects right now, which keeps me occupied throughout the day. Around 7 p.m. I stop working, bike home, settle in and get a little turnt off some sh*tty wine or tequila. Then I'm in bed by midnight and it's lights out.
Where in your home do you like to work?
Like a lot of us here in NY, I live in a pretty small place. It's nice but it really wasn't meant to double as a home and workspace. Because of this, I've been working out of our studio most days during the week. We've got a really beautiful space, nice and open, perfect for social distancing because most times I'm the only person in the building. I pull up in the morning, light some incense and get to work. Next thing I know the sun is setting and its time to dip.
What do you wear while working from home?
To be honest I've been trying to dress up much as possible. I love sweats and a hoodie on the weekends but dressing up during the week makes me feel like I'm dressing for a purpose which helps me be more productive. I've been rocking a lot of loose fitting suits, oversized tees, New Balance 993, loafers, Reebok Workout Low and Birkenstock Bostons.
What are you eating now?
Ugh, this one's embarrassing. I was cooking a lot in the beginning like everyone else but I've learned I'm just a terrible cook. Luckily my girlfriend, Yumi, is incredible. She runs Lost in the Sauce, and cooks almost every meal so I've been reaping all of the benefits of her amazing food.
What are you listening to, watching and doing for fun?
Like a lot of people I've been on Call of Duty: Warzone a little too much. Finally starting to get good! Also watching sh*tty reality shows (shout out Love Island). Other than that, I'm spending a lot of my free time going through my libraries I have at home and at our studio. We're in the inspiration stage of some new projects that the virus hasn't impacted yet which is exciting. I spend hours combing through photo books and zines and cataloging references to pull down the road. We're also working on a new camera, like a real metal body 35mm camera, so I've been pouring a lot of time into researching and developing that.
How do you stay in a positive headspace while in isolation? How are you staying creative?
I think one thing early for me was to recognize that this isn't a temporary situation. The world is really going to change from this situation we're all in. I think a good way to look at it though is to understand that we have the opportunity to create new structures and experiences from this. I'm using this time to create things that will uplift our audience and community.
We just launched some new things: the (ISO)LATION Project, which sends out cameras to people who want to create art through self isolation, House Calls, global check-ins some of our favorite artists and photographers, and we most recently just launched our Photo Lab online offering affordable development services to young photographers all over the country. That kind of stuff keeps me incredibly positive because it feels like we're making a difference in our own way.
Do you have any advice for creatives unused to working from home?
I'll keep this one simple. Get as much sleep as you can, stay hydrated, go on walks often, check in with your homies, and work on something that gives you pleasure and makes you happy. Hopefully whatever you make will give the world the same feeling.
Ramon Smikle, partner
What's your daily routine?
Wake up, make some coffee, black with some simple syrup, and get to work. Generally emails, Zoom calls, and conference calls make up the majority of my day. Add in some Ozark, home workouts and Call of Duty and you have a complete day in the life of quarantine.
Where in your home do you like to work?
I generally like to work out of the home office; it separates work from life as much as you possibly can when working from home. The whole apartment has lots of light thankfully, so it's a positive energy working from anywhere.
What do you wear while working from home?
Baggy, cozy clothes. Sweats dominate, cords are always my thing. Keeping it simple and cozy is the best I've found over the last few weeks.
What are you eating now?
My girlfriend and I have been cooking a ton, ordering an equal amount and exploring baking a bit more than we ever have. Cereal or eggs for breakfast, tons of protein and fishes for dinners, and lots of kale salads for lunch. Classic LA lifestyle.
What are you listening to, watching and doing for fun?
Listening to a ton of new music, classics, and everything in between. Rod Wave, Playboi Carti, Frank Ocean, JI, Elah Hale, Smino, Dave to name a few. Playing a ton of video games like the rest of the world: Call of Duty, Madden, NBA 2k, really getting into a vibe there after the work day.
Staying creative, building out passion projects, fleshing out ideas. I love what I do, so its not hard to have fun and stay positive.
How do you stay in a positive headspace while in isolation? How are you staying creative?
Taking time to think: go outside, take socially-distanced responsible walks and soak up as much of the environment around you as you still can. I've really been able to finally live in my space, after spending so much time in the office/out/traveling over the last few years. It really leads to a renewed creative drive and energy that wasn't an expected outcome from this.
Do you have any advice for creatives unused to working from home?
Build your own safe creative space. If you have space to think creatively, build out that environment and separate it from your living space. Surrounding yourself if possible with creative inspiration, no matter what your circumstances, will hopefully help you get that spark out of what inevitably will be a dark time in our history.
June Kitihara, social
What's your daily routine?
I'm trying to get rid of my coffee habit so as soon as I wake up, I usually boil some hot water with lemon and make a light breakfast. Afterwards, I usually go for a run or do an indoor workout to keep my body moving.
Since I'm still in college so depending on the day, I will either have some Zoom classes lined up or I'll be working on social media content for MANUAL. For MANUAL, I'll be interviewing photographers or sourcing some archived photos and updating our social media calendar. For the rest of the day, I like to FaceTime some friends and catch up, read my book outside or play Animal Crossing for an embarrassing amount of time.
Where in your home do you like to work?
I've always been the type that needs a desk or table to work on, so I usually the desk in my room or sit on the floor of living room. Sunlight is incredibly important for me and keeps me motivated, so I'll move around throughout the day to wherever the light's flooding in.
What do you wear while working from home?
An oversized hoodie and a pair of sweatpants or baggy jeans has been my uniform throughout this whole quarantine. I'm usually in my Manual Mirror Reverse Weave Hoodie or my hoodie from Renell Medrano's "Peluca" show and if it's sunny outside, I'll wear my RETROSUPERFUTURE sunglasses.
What are you eating now?
Since I'm eating my breakfast right now, I'm currently eating natto and rice.
What are you listening to, watching and doing for fun?
I've been listening to The Way I See It podcast by BBC Radio 3, which has been a great way to incorporate art history into my day. Watching movies from my longstanding list of "Movies I Should Watch but Haven't Gotten Around To" has been a lot of fun (Paprika by Satoshi Kon was what I watched last night). If I'm feeling like I need a breath of fresh air, I'll sometimes go on a walk with my Contax T2 and take some photos.
I also really miss going out, so I'll tune in to some of my friends IG Live DJ sets or blasting lots of Burna Boy, Santi, J Hus and other afrobeat artists around the house.
How do you stay in a positive headspace while in isolation? How are you staying creative?
Staying active and going outside for at least 20 minutes in the day to get fresh air. Looking through museum archives online and flipping through photography and art books has been a great way for me to keep me inspired.
I think somethings that need to be recognized are all the processes that lead up to the act of creating. Figuring out why a particular aesthetic is appealing to you and why you create the way you create is an important component of building more confidence in your own work. I think it's a great time to distance yourself from the constant need for production and accumulate more knowledge about yourself and your work instead.
Do you have any advice for creatives unused to working from home?
Take this as a time to learn more about the way you work and the places you draw inspiration from. Find a new obsession (an artist, a website, a color scheme, a movie). If you can, distance yourself from technology throughout the day in intervals. Being attached to a blue light computer screen all day can be mentally exhausting so be sure to take breaks.
Lucas Weber, operations
What's your daily routine?
I believe in taking care of myself, a balanced diet and a rigorous exercise routine. In the morning, if my face is a little puffy, I'll put on an ice pack while doing my stomach crunches. I can do a thousand now. After my crunches I will either indulge myself in either a book, film, or album. Currently reading Gravity's Rainbow by Thomas Pynchon, which has been a nice light read during these uncertain times.
After I work on my mental exercises, I'll cook myself a meal and prepare to work on my podcast, recording and editing for a clean eight hours. The rest of my day is spent watching films and writing reviews which I post on my Instagram to help leaven people's shallow, uninspired taste in cinema.
Where in your home do you like to work?
I have set up an office in my apartment where I am able to record audio for my podcast, as well as continue to work on my screenplays. I find myself more motivated working in the MANUAL office but I'm not making the trek to Brooklyn anymore.
What do you wear while working from home?
I tend to dress as comfortably as possible, soft loose fitting pants and a T-shirt. Sometimes I skip on the pants.
What are you eating now?
I have been able to hone the skills of a master chef by absorbing the knowledge through cook books and master classes. I am lucky not to live in a food desert so I really can make whatever I like. Mostly I have been eating cereal, though.
What are you listening to, watching and doing for fun?
I don't consume content "for fun," it's a waste of time. If I spend even a second not focusing on something that will make me better I am a failure. I watch J. Kenji Lopez-Alt's Cooking Show everyday, listen to a vinyl record, and watch a film from the Criterion Collection. I am lucky to have a dog which gives me an excuse to leave the house and spend some time in the park. Often surprised how many people are outside (and without masks on top of that).
How do you stay in a positive headspace while in isolation? How are you staying creative?
I am not in a positive headspace nor am I going to lie to myself or friends about where I am mentally. Forcing an "everything is going to be okay" mentality on yourself and others is overall detrimental towards moving forward. Do not dilute your feelings through the intoxication of nostalgia or create false hope by daydreaming of a perfect future. The ship is sinking and we have to accept that.
Do you have any advice for creatives unused to working from home?
Don't make anything. You don't need to feel pressure to create while there is a global pandemic going. People should value their time and the ability to finally just do nothing.