Flock Together Is The Birdwatching Collective Radically Reclaiming London's Green Spaces
Through birding, the city's young people of color are finding a new hobby — and an outlet.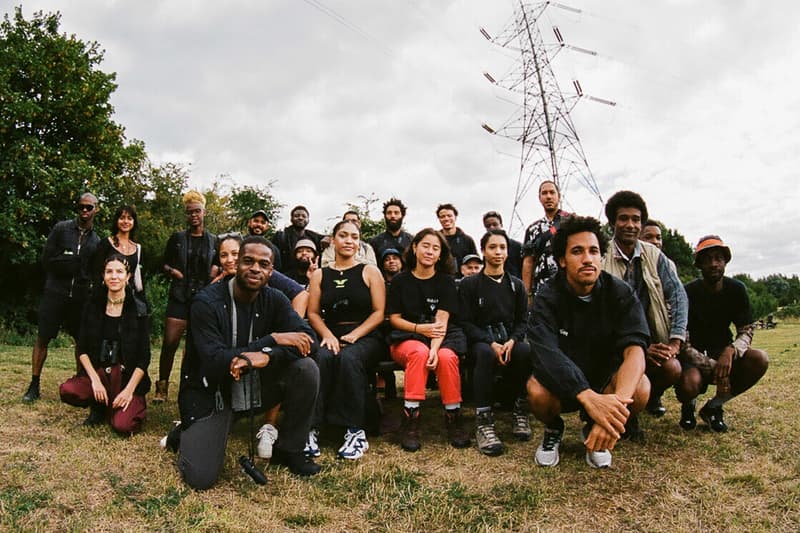 On an overcast, particularly muggy Tuesday morning, a group of around 20 people has gathered in East London's Lee Valley park. Their age range sits somewhere between early twenties and early thirties, but (unusually for a London park) there are no drinks, no barbecues, no portable speakers, no stubbed-out cigarettes. And the conversation has taken a turn.
"Is that a jay?"
"No, it's too big to be a jay." 
"I think it's a pigeon."
"A pigeon? Are you sure? It doesn't look like a pigeon."
"It's a wood pigeon."
"Is that rare?"
This is an excursion – the third of its kind – organized by Flock Together, a new collective that hopes to bring people of color into the world of birdwatching. Only a few weeks since its founding, the group has grown swiftly via word of mouth; it currently has over 100 active members, with many more following Flock Together's Instagram page (where new members can ask to join upcoming walks via Instagram's direct message function). So far, it has drawn in a diverse mix of young Londoners. Amber, a 24-year-old who works in a creative agency, is here for the first time. "I wasn't sure what to expect," she says. "And I had some anxiety about coming this morning, as I didn't know anyone. Plus, I had no idea what to wear." 
As it turns out, the dress code is pretty straightforward. Participants are advised to wear dark clothing (to avoid frightening the birds away), but otherwise they could be headed anywhere: the printed shirts, nylon jackets and sneakers on display are a far cry from the popular conception of birdwatchers in pac-a-macs and lunch-stained fleeces. As introductions are made, and binoculars and snacks are handed out, there's a rising sense of anticipation from the gathered attendees. "It feels like it's been my first time outside in about four months," says Tovah, a 30-year-old tailor and another first-timer. Kieron, a 29-year-old poet who's here on his third trip with the group, agrees. "Being around nature again is a bit like finding a new language," he says. "It's nice to do something outside of my comfort zone. And I didn't realize how much I needed the chance to wind down."
"We're encouraged to become footballers, basketball players, R&B singers. But we're never encouraged to become an astronaut, or to become involved in the environment."
It's that sense of respite from day-to-day life that the collective is trying to foster. "Over the last few months, I had been feeling so burned out," says Flock Together's co-founder Ollie Olanipekun, who also heads up a creative agency in London. "Running a business, trying to keep it going during coronavirus and with everything that's been happening with Black Lives Matter…I've always used nature for stress relief, so I just started going into natural spaces and taking pictures of birds." After putting the images up on his Instagram page, Olanipekun began to notice a new commenter who was (correctly) identifying every species he posted: "I assumed it was gonna be some old man," he said. In fact, it was 26-year-old sports coach and fellow London resident, Nadeem Perera. "We started speaking," says Perera, "and four days later we went on our first walk together." Not long after that, the two formed Flock Together.
Perera took to birdwatching as a teenager, after finding himself disaffected while at school. "It was a coping mechanism for me during a turbulent teenage period," he says. "I was in school very little, so I was just sitting outside on my own one day and saw a green woodpecker. I didn't know what it was then, of course – I'd only been familiar with woodpeckers from cartoons. But I found it fascinating. And then one bird led me onto another." He considers it an almost meditative activity, which has had a profound impact on his own mental health. "It's a question of perspective," he says. "We all need to slow down. And spending time outdoors forces you to do that."
Flock Together had originally planned to meet once per month but are now increasing the frequency of their trips due to the levels of demand they've seen. They are mindful, though, of ensuring they remain as accessible as possible. "We do want to do some trips further afield," Olanipekun says, "but we'll definitely always keep some local walks too. Being able to travel is a privilege and anyway, we're so blessed with green space in London."
The collective organizes regular walks, each lasting a couple of hours, taking a group on pre-planned routes through one of London's parks or natural reserves. Along the way, Perera answers questions, identifies birds, and directs the group's attention towards the species they might otherwise have missed: Blackcaps, Cormorants, Reed Warblers and Moorhens. Olanipekun, meanwhile, fosters the social spirit of the trips. Halfway through the walk, members are invited to share their recent achievements — professionally, personally or creatively — and to talk frankly about their experiences. "Black people, in particular, can be pretty bad at talking about their emotions," he says. "So the main thing I want to achieve with this is: how can we support people of color who have been going through such a rough time?"
"Being in nature gives you that: you realize that you don't have to be anything more than what you are."
As a result, Flock Together has become more than just a group for hobbyists: it's allowed a cross-section of creative people — many of whom have met with resistance and exclusion from their own industries – to form their own networks. Along the walk, two women share ideas and possible names for a potential start-up, while a pair of men exchange tips for the best cameras to use on an upcoming photoshoot. Instagram handles are shared, phone numbers exchanged. First-timers, too, quickly assimilate into the group.
Both Perera and Olanipekun hope that Flock Together will provide a social space for its members, and relieve some of the pressure of life in the capital. "I hope it releases them from feeling this necessity to 'be something,'" Perera says. "I just want people to find some tranquility and being in nature gives you that: you realize that you don't have to be anything more than what you are."
For the group's members, it's proven surprisingly therapeutic. "It can be really hard to find ways of socializing with people our age beyond bars and clubs," says Tovah. "I think, during lockdown, we've realized that there's more to life than just going out every night." Olanipekun agrees: "Alcohol has become something we've all started hiding behind, especially in London," he says. "There has to be other ways of socializing and meeting new people. So why not do it outside?"
A challenge, though, is that many people of color feel excluded from the outdoor spaces in their own cities. "Racism happens in spaces where people feel like they own it," says Olanipekun. "We all saw what happened in New York with Chris Cooper." 
In May, Cooper — a Black birdwatcher — was accosted by a white woman, Amy Cooper, while walking through Central Park. After a short confrontation wherein he had asked her to leash her dog, she phoned the police — despite being filmed — and lied about her safety being at risk. Though public condemnation was widespread, and Amy Cooper has since been fired and charged with filing a false police report, the incident was a stark reminder that many people of color are unable to use their own parks without fear of harassment. "The idea that Black people don't like the outdoors is ridiculous," says Perera. "So I regard what we are doing as a political exercise, too. We are showing Black people that being here is fine." As Luca, another of Flock Together's members, puts it, "these are public spaces, but you end up feeling like they're not for you." 
For birdwatching, in particular, this sense of exclusion stems in part from the cultural conception of the hobby — especially in the U.K., where birders have long held a fairly rigid public image. David Lindo, a broadcaster and author who is also one of the country's most high-profile Black birdwatchers, believes the media is partly to blame. "They portray [birdwatching] almost exclusively as the pursuit of white, middle-class, middle-aged men, who live in the countryside," he says. "So people of any other color, race or creed see that and think, 'Oh, that's not for me.'" 
As members of Flock Together can attest, preconceptions around the hobby seem slow to shift. "I went on a date the other night and told him I was going birdwatching," says Amber. "He said that he didn't think a girl like me would be into something like that. And when I told my friends I was going, they all laughed at me. They think it's totally out of the ordinary." Perera, too, is well-accustomed to raised eyebrows. "A lot of the ridicule comes from within our own social groups," he says. "It's not regarded as something a Black person can or should do. And that is racism." Lindo agrees: "it's like it's not our place to be involved in those worlds," he says. "We're only encouraged to become footballers, basketball players, R&B singers. But we're never encouraged to become an astronaut, or to become involved in the environment."
For Lindo, a shift in perceptions is long overdue. "I've been birdwatching all my life, and there's been a steady increase in interest from young people," he says. "But there's no education, no role models. And there's this idea that you have to be an expert to take it up. But you really don't. You don't need fancy equipment. You don't need to know the names of the birds or what they are called in Latin. You just need to go outside and just look up. And the rest will come by osmosis." 
Flock Together is keen to promote this level of accessibility. The collective recently registered as a charity and now plans to visit schools and organize day trips for younger people. They are also working with outdoor brands to secure donated clothing and binoculars, to ensure there are no barriers for attendees from disadvantaged backgrounds. Above all, though, they want to change mindsets. "You have no idea how excited people have been to see our group," Olanipekun says. "When you see a big group of people of color in Richmond Park, it's like we're reclaiming those spaces and demanding access to them. You can see how happy other Black people are to see us. So we have to be more visible, because we are setting an example for the next generation." Perera puts it more succinctly: "By doing this," he says, "we are making it cool."
It seems to be working. As the excursion comes to an end, the group has a new crop of converts. "I haven't felt this content since before COVID started," says Amber. "This sense of solidarity — after all the heartache of the last few months, I just feel like we are all in this together." Later that day, her initially skeptical friends began to come around, too. "They all saw my Instagram posts and commented on how cool we all looked," she says. "My caucasian friends even asked me if they have a 'Bring Your Ally' day." 
That may come later — Perera is keen to stress that the group will eventually organize trips for people of all backgrounds – but for now, people of color have something that's just for them. "Everybody else has their own clubs," he says. "Well, this is our one."