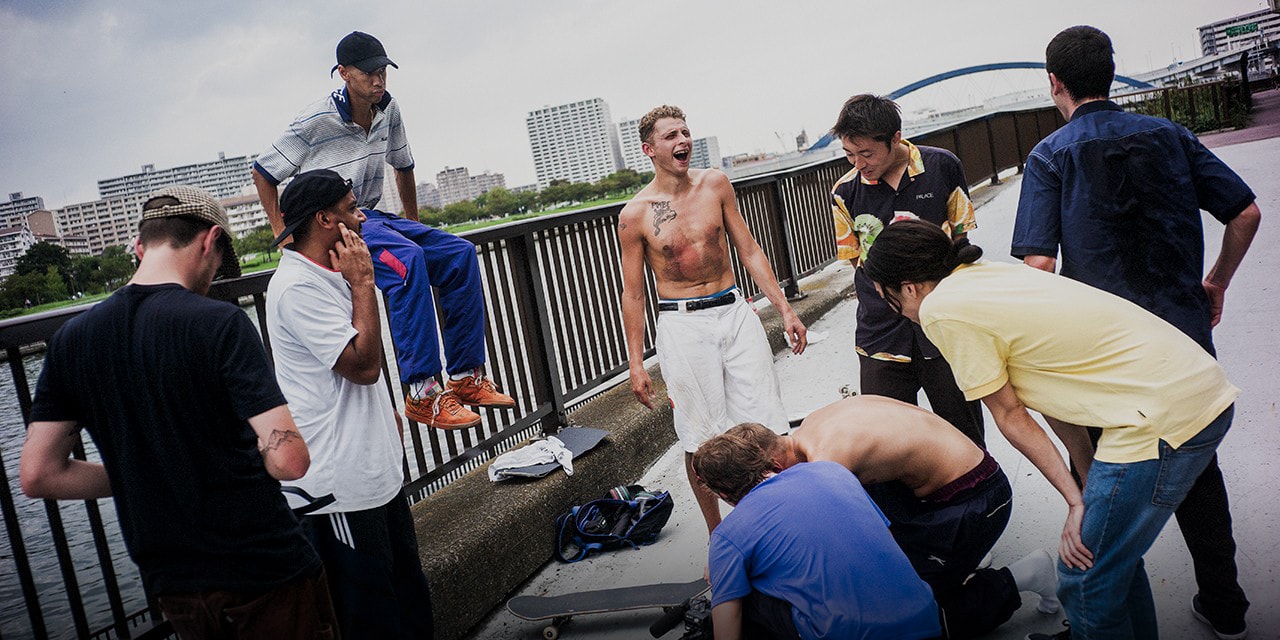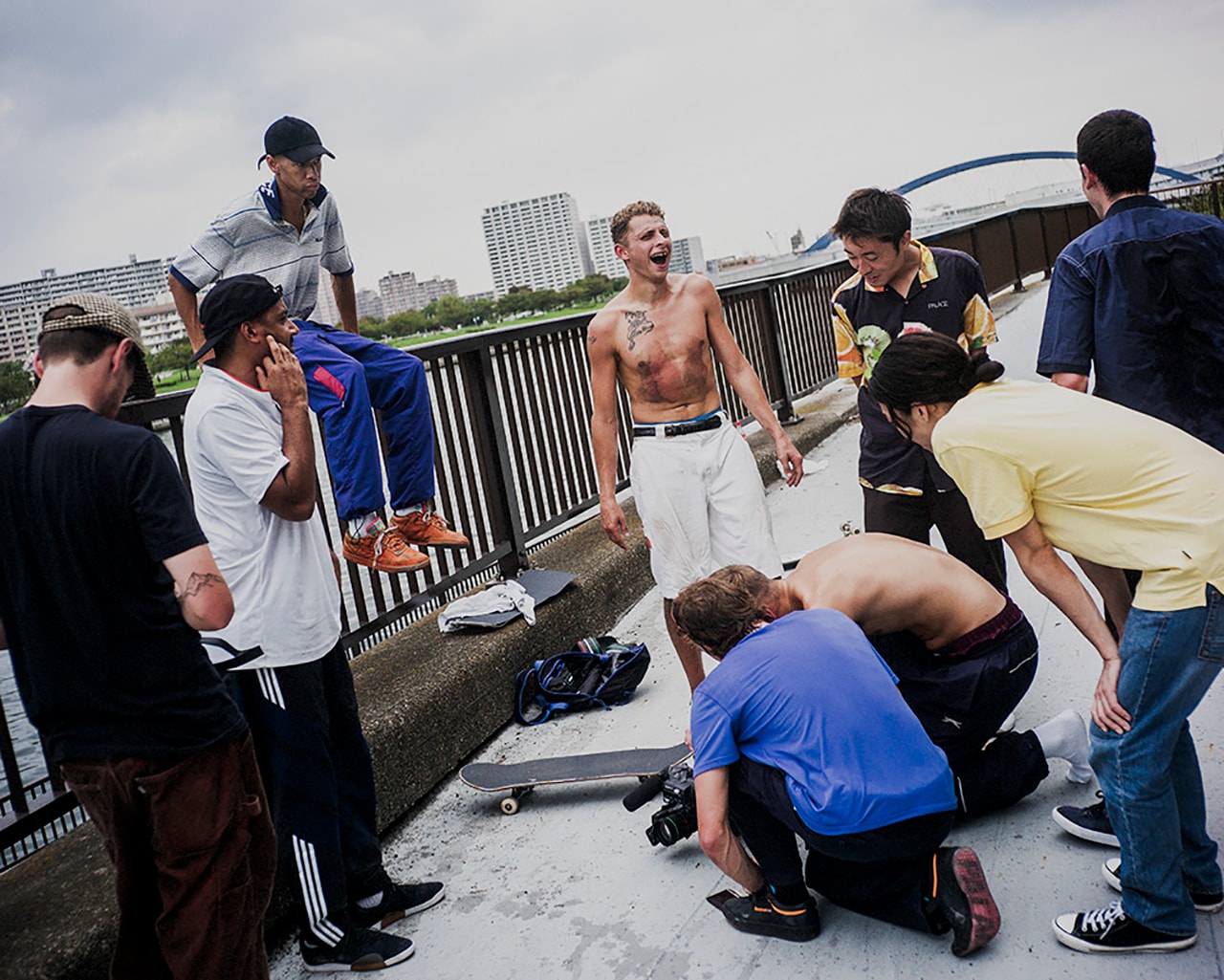 Palace Is About Skating — And Procrastinating
How Palace captured Tate Britain and Ralph Lauren without losing its grit, from HYPEBEAST Magazine Issue 24.
Ask a non-English person about London culture and you get some bad cliches: Rain. Tea. Pints. "Colour," spelled with a "u." Lads. Raves. Football. It's a small country with a big history of exports… except tea, I guess. Streetwear is on the city's list of rightful claims. It didn't start in London, but the English capital has put its own stamp on street style. Terrace culture — named for the standing section of soccer stadiums, where fans (often working class) are most belligerent — is a big part of the look. And at the heart of any good look is necessity. Like how to maneuver style-centric London roads while doing your best sober impression, for example.
You can tell by talking to Gareth Skewis, co-founder of Palace Skateboards, that he believes necessity, diversity and authenticity are the great, enduring style principles. Skewis and Lev Tanju have used these core beliefs to create the most exciting brand in streetwear over the past decade. They have done it smoothly, convincingly and unpretentiously. In short, they really didn't try all that hard, and that's entirely the point.
Lucien Smith
If you like non sequiturs and can decipher roadman slang, visit the Palace web store. The simple layout shows sold-out GORE-TEX jackets, tie-dyed pajama shirts and insulated puffer pants. The clothes aren't utilitarian, but there is an air of purpose within them — even if that purpose is chilling. You can see the obvious appeal of some things, why blocks-long lines form outside their three (physical) stores in London, New York City and, most recently, Tokyo.
Yet, beyond the immediate, fire awaits a more discerning eye. I ask Skewis about a piece from the Fall/Winter 2018 season: the "PAR" tops — featuring the Union Jack and Jamaican flags illustrated behind the Ryder Cup, an intercontinental men's golf tournament. Underneath the trophy, the shirt reads: "Different Strokes." Was the shirt an elaborate inside joke? Poignant social commentary? Both? "We're making pieces with the influences that we have, and the culture around us in London," says Skewis. "For us, that graphic makes perfect sense. And, to me, that's the most interesting part of our brand."
"There's no weird test, you either can see it — like, how they'll fit in the family — or not."
In 10 short years, Palace Skateboards has attained a rarified status some yearn for but never attain. Comparisons to legacy streetwear brands are common, but rarely exact. Palace is like a wearable postcard from London and its constituents. Not from Big Ben or Tower Bridge, necessarily. More from Clapham — where Tanju's parents owned a restaurant — or Waterloo, former home to an underground suburb of makeshift shelters called "Cardboard City." Skateboarding has historically thrived in areas like these. In San Francisco, there was Embarcadero: an open brick plaza that has struggled with the homeless as recently as 2016. In New York City, there was the Brooklyn Banks, an otherwise obsolete embankment underneath the Brooklyn Bridge. Sure enough, Palace's own story begins humbly in early-aughts Waterloo. Specifically, in a skate house on Lower Marsh Street. "It was a borderline squat; it was filthy," Skewis remembers.
"We called it a 'Palace' — it was an ironic name." Tanju shared the house with some familiar names: Danny Brady, Greg Finch and Stuart Hammond. There was a rotating cast of couch crashers. At least it wasn't corrugated.
But the Lower Marsh Palace — not to be confused with Toby Shuall's "Ice Palace" in East London was charming in skater ways. Its proximity to South Bank — one of the most influential skate spots in the world — and Cide, Greg Finch's beloved skate shop, was perfect for their mini-scene. Rent was cheap, beers flowed, quips flew and the Palace Wayward Boys Choir was born. Soon, Tanju was creating episodes of the PWBC News: small mash-ups of early Internet fodder interspersed with skate footage. "It was a take on things that were going on around us, but also in greater culture."
Truthfully, skateboarding often involves not skating. Skating is figuring out where to go, talking about sports, arguing about music, picking up film and going to the bar. It's procrastination: elegantly, elaborately performed. And until Palace, it felt like other brands were too shy to talk about that. The not-skating part, that is.
This insatiable irreverence dictates the brand's partnerships. They're not unusual — just unorthodox for a skateboarding brand. First, it was Reebok Classics. "Lev and I always wore those shoes," recalls Skewis. "You can skate them, you can wear them to the pub." Then, skateboard decks for the Tate Britain, in which a John Martin painting was projected against a series of busts, the result screened across three boards. The Tate reached out first. "We thought it was, potentially, a hoax email." The ongoing partnership with adidas, first debuted in 2014, makes the most sense. But Angelique Kerber winning Wimbledon wearing a Palace-adidas tennis dress? An unbelievable achievement to Skewis himself.
Alex Pires/Lucien Smith
But for all its interests, Palace does have a consistent, albeit loose, aesthetic. John Martin painted his grandiose, theatrical works in Marylebone; Wimbledon is home to modern lawn tennis. And so somewhere between curation and coincidence is Palace's great through-line: London. It's interesting to think about the overlaps between the brand and, say, a traditional creative agency. One is notoriously draining, a purgatory of infinite iteration, a glossy revolving door that kicks you on the way out. The other is a run by a group of friends. But both are tapped by brands to put their creative spin on products. Sometimes that product is modern art — but only Palace is having fun doing it.
"It was a borderline squat; it was filthy … We called it a 'Palace' — it was an ironic name."
Tanju and Skewis carried this philosophy into their partnership with historic American label Ralph Lauren: Having fun here, imbuing bits of themselves elsewhere. Although the 18-piece collection released in November 2018, Skewis still sounds like he's processing his excitement when we speak: "Lev and I were writing Ralph Lauren a love letter for 50 years of business," he says. "It was a dream come true." While Ralph Lauren is a prestigious brand, Skewis admits that they weren't precious with their iconography. The resulting collection is respectfully cheeky and hilariously indulgent: the Polo Bear does a heelflip across a knit sweater (he's goofy-footed); a silk pajama set features an illustrated horse head, simultaneously grotesque and gorgeous; a corduroy shirt and chinos feature an all- over tuner car applique.
Creative direction was handled by the Palace family. Tanju and Hammond directed an accompanying video, shot in a Spanish desert, which features a horse show-jumping a Volkswagen Golf MK2. The lookbook was shot by legendary English photographer David Sims. Their relationship, naturally, is totally organic. "I think it comes from just living in London and being interested in other things," Skewis says. "You'll always cross paths with really talented, creative people." The same can be said for Palace's relationships with both Alasdair McLellan and Juergen Teller.
Moreover, the same can be said for Palace as a whole: from its newest amateur skaters — Kyle Wilson and Heitor da Silva — to its merchandising team, from graphic designers like Fergus Purcell to accountants. People who started as professional skateboarders have grown into other roles, and the people who run the brand are the same people you saw at Southbank. "It's nice to be in a position to help people maximize who they want to be," says Skewis. "There's no weird test, you either can see it — like, how they'll fit in the family — or not." The future of Palace, therefore, is secured in the age-old failsafe: true friendship. No matter how many stores they open (although "Tokyo, London, New York has a nice ring to it") it's easy to feel like nothing will change around Palace for another 10 years. Except maybe the limp — probably from a shiner.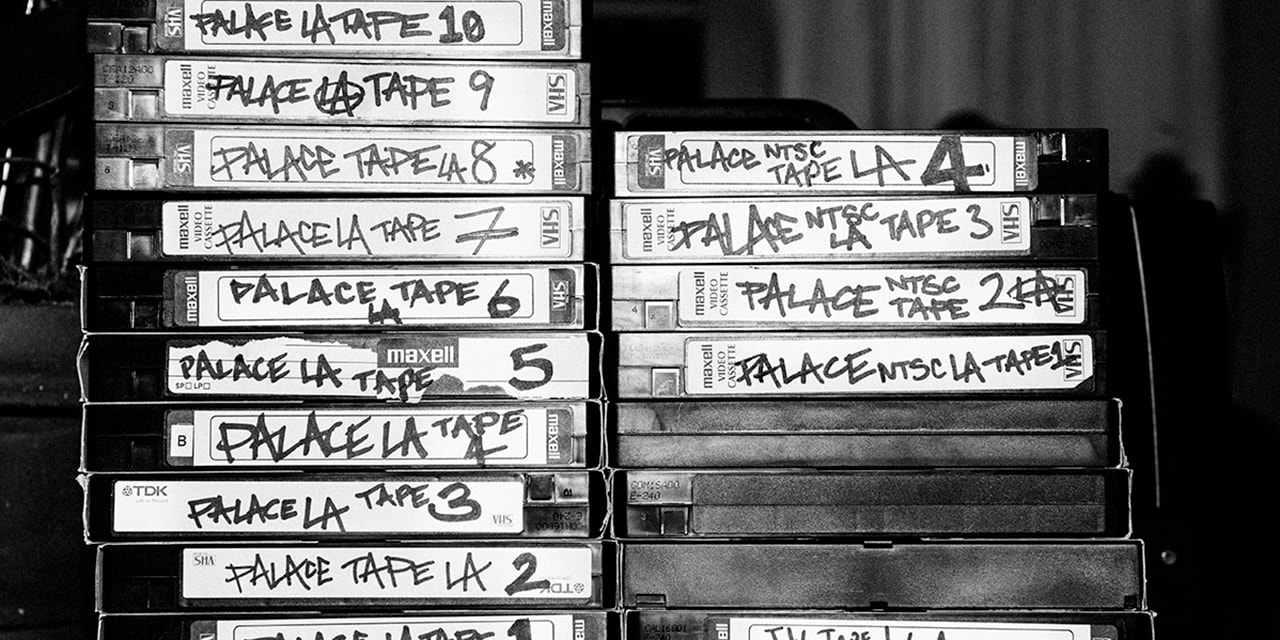 THIS STORY WAS ORIGINALLY PUBLISHED IN HYPEBEAST MAGAZINE ISSUE 24: THE AGENCY ISSUE AS "ROYAL FLUSH."
---