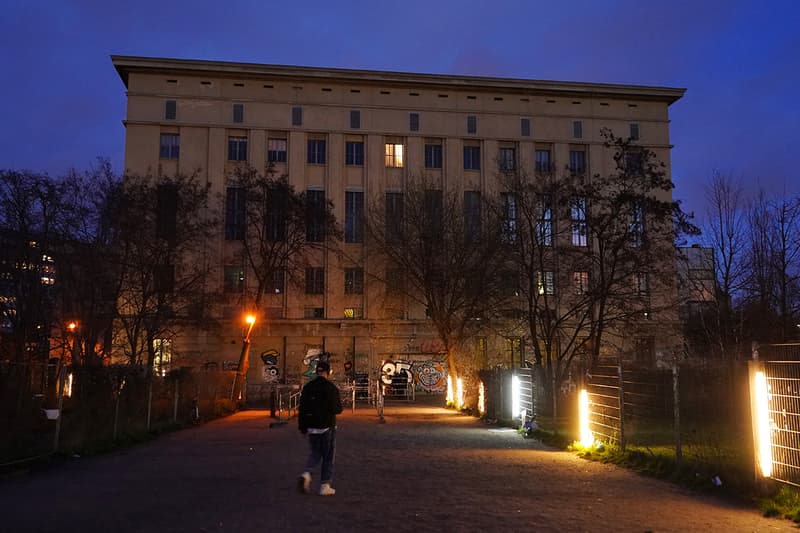 Berlin's Infamous Nightclub Berghain Is Becoming An Art Gallery
You might finally be able to get in.
---
The Berlin nightclub Berghain is famous for two things: its inscrutable and famously tough door policy, which makes it impossible to predict whether you'll ever get in, and its "anything-goes" mentality once you do get inside (which includes having your phone camera taped over on the way in. What happens in there, stays in there.)
Now, it might become known for something a little more family-friendly: since being forced to close as a result of the COVID-19 lockdowns, the venue is temporarily reopening as an art exhibition that will show over 80 works by artists living or working in Berlin.
Studio Berlin will feature artists including Wolfgang Tillmans, Olafur Eliasson, Tacita Dean and Isa Genzken, and will span photography, sculpture, painting, video, sound, performance and installation. Organised in collaboration with the art collector Christian Boros, it will be open to the public via guided tours. The works will be shown throughout the 3500 sq.m nightclub space, including in its infamous darkrooms.
Speaking to the Art Newspaper, Boros said, ""For three months during the confinement period we were speaking to artists on the phone every day.We wanted to show this incredible artistic production. Berlin was frozen, so why not think differently? Why not work together?"
Boros also acknowledged that the exhibition will give many people the first opportunity to get around Berghain's infamous bouncers. "For the first time, even grandmas with zimmer frames and children will be able to get in," he said. Last month, the nightclub opened to the public briefly for a "sound art installation" within one of its halls.
Studio Berlin opens at Berghain on September 9. Keep checking their website for updates about booking.
As Berlin continues to feel the effects of lockdowns, HYPEBEAST spoke to the designers behind GmbH about what the future could hold for the city.
Studio Berlin
Am Wriezener Bahnhof
Berlin 10243
Germany