Leading Artists and Nonprofits Join Forces On Beirut Relief Efforts
Donating works for emergency funds and transforming art spaces into shelters.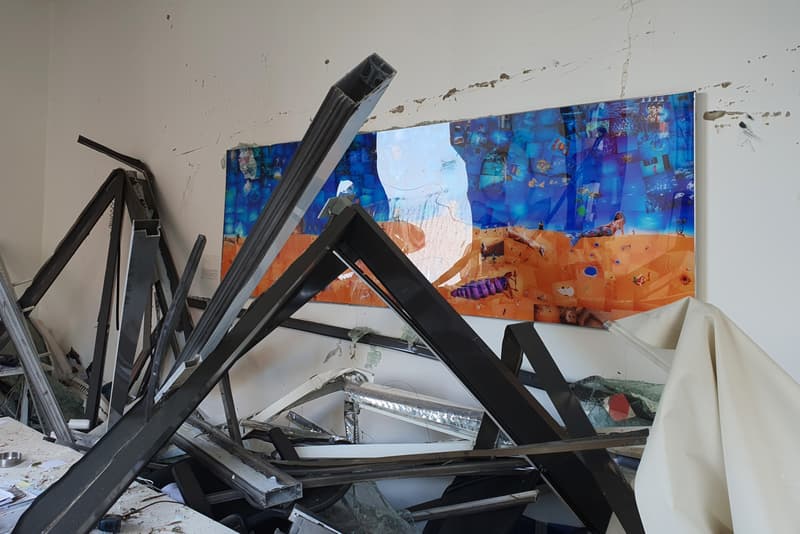 On August 4, huge explosions at the Port of Beirut left over 70 people dead and over 4,000 injured. The blasts also damaged countless buildings including major art galleries in the region such as Marfa Gallery, which was located close to Beirut's Port, and Galerie Tanit that was left completely in ruins. A week after the explosions, the country's prime minister, Hassan Diab, announced the resignation of the government after over a third of ministers left their posts, as per The Guardian. Without the government's aid, several artists and cultural nonprofits have launched a series of relief efforts help treat the nation's wounded.
Beirut-born artist Mohamad Kanaan recently launched the Instagram page, Art Relief for Beirut, featuring works on sale by Lebanese and international artists to raise funds for the Lebanese Red Cross and disaster relief organization, Impact Lebanon. Contributing artists include Emily Jacir, Diana Halabi, Younès Rahmoun, Rafael Domenech, alongside all of the winners of the 2019 Turner Prize: Lawrence Abu Hamdan, Helen Cammock, Oscar Murillo, and Tai Shani. So far, the project has has raised $84,000 USD in the sale of 32 artworks and 200 prints, as per Hyperallergic.
In addition, a Brussels-based arts nonprofit called Mophradat led by the Lebanese artist Walid Raad has launched an emergency fund to help artists and the cultural sector in Beirut. Those interested in making donations can do so via a direct bank transfer or PayPal. "People are still missing; The dead are being buried; The wounded tended to; Psyches are scarred; Debris is piling up; Shortages abound; And top of our mourning, tears, and fears, we feel anger, defiance, resignation, horror and disgust wrapped into a single continuous consuming emotion," said Read in a statement.
Another group raising money for relief efforts is the Artist Fundraiser for Beirut that is currently streaming films and live performances via Twitch through August 13. The ongoing livestream includes contributions by artists Sulaïman Majali, Reman Sadani, Dala Nasser, and Firas Shehadeh to name a few. Haven for Artists, a nonprofit that supports LGBTQ+ artists in Lebanon has also transformed its space to create shelter for single mothers, immigrant workers, and other people who have lost their homes due to the explosion.