COVID-19 Is Already Reshaping the Global Airline Industry
As airlines turn to cargo to maintain profits, travel may become an increasing luxury.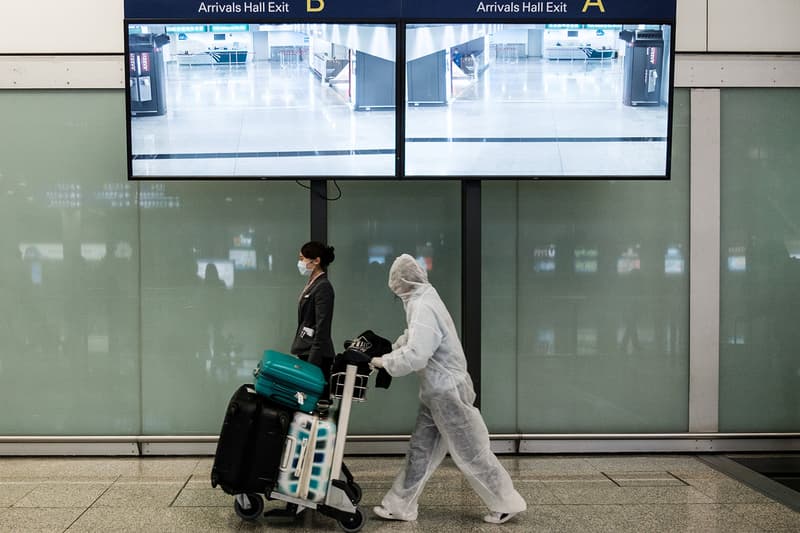 With 20.9 million COVID-19 cases recorded and no end in sight, it is unclear when travel will become normal again – the International Air Transport Association (IATA) expects the global airline industry to lose $84.3 billion USD in 2020. Currently, countries around the world are suspending incoming and outgoing flights to impose nationwide lockdowns to help contain the pandemic ravaging the global airline industry that makes up 10 percent of the world's GDP.
"Financially, 2020 will go down as the worst year in the history of aviation," said Alexandre de Juniac, IATA's Director General and CEO. The IATA reports that on average, the global airline industry will add $230 million to its losses every day this year. De Juniac goes on to note that "government financial relief was and remains crucial as airlines burn through cash."
In its latest quarterly report, Korean Air Co. revealed profits despite commercial travel in April falling 95 percent below the level seen during the same time last year, due to the Coronavirus pandemic. According to reports, the South Korean airline is reporting ₩148.5 billion KRW (approximately $125 million USD) in quarterly profits after pivoting operations towards its cargo business. From April to June, the carrier cut its commercial flights and strengthened its routes and operations for the shipping of goods around the world, pushing cargo sales by 95 percent.
In turning its focus to its cargo shipment business, Korean Air has taken advantage of falling fuel prices and the strong demand for medical supplies, fresh fruit and seafood coming out of South Korea. Korean Air has also utilized the country's strong tech exports to lead its against-all-odds rally. The quarter saw the carrier strengthen its cargo networks from Vietnam for devices and components made by Samsung and LG factories and expand partnerships with memory chips leader SK Hynix Inc.
According to Bloomberg, other airlines are set to follow Korean Air's lead. "The cargo business has come to the rescue… Countries will be in need of goods to restart their economies as many emerge from shutdowns," said Um Kyung-a, an analyst at Shinyoung Securities Co. The IATA is also hopeful that in 2021 the global airline industry's losses will be cut to $15.8 billion USD, with airlines functioning in a recovery mode well below 2019 levels. Despite the Coronavirus pandemic derailing how airlines traditionally operate, carriers can find avenues to survive and even turn a profit. But what will become of travel and tourism as the world adjusts to the "new normal"?
While demand for commercial flights has reached an all-time low, operational costs for airlines are falling as total expenses currently sit 34.9 percent below the 2019 average. Most important is the price of jet fuel, which averaged $77 USD per barrel last year, and now the IATA is forecasting an average of $36.8 USD. Unfortunately for airlines, non-fuel unit costs have risen 14.1 percent as these costs are spread over the few passengers flying now.
Cargo will certainly serve as a major part of dampening the economic downturn of the global airline industry. The IATA points out that as airlines pivot, cargo revenues will reach a near-record of $110.8 billion USD in 2020 from last year's $102.4 billion USD.
If the IATA and the economic analysts' forecasts of an industry shift to cargo is correct, airlines will respond to passenger revenues falling to a forecasted $241 billion USD (down from $612 billion USD in 2019) by retrofitting planes to carry more cargo and make up for losses with cash from surging air freight rates.
Prospective travelers can expect increased ticket prices as the burden of fixed costs remain constant and shared by fewer passengers, pushing travel further into the luxury realm. Limited seating could lead to the breakdown of traditional "class" seating arrangements. Competition amongst airlines will intensify as ticket prices remain high for the foreseeable future, pushing carriers to establish inventive incentives to drive business. If airlines can uphold contact measures and present an overall safe outlook for travel, governments may be more confident in opening borders with appropriate quarantine practices – facilitating a possible increase in commercial flight demand.
"Airlines will still be financially fragile in 2021. Passenger revenues will be more than one-third smaller than in 2019… The cut in losses will come from re-opened borders leading to increased volumes of travelers. Strong cargo operations and comparatively low fuel prices will also give the industry a boost," said de Juniac.
Informed by the reliance on strong exports and strengthened networks seen in Korean Air's approximately $125 million USD quarterly earnings, national airlines will need to partner with governments to facilitate trade in some way. Nations with exports higher in demand should flourish as lead times on shipments will slowly return to normal as businesses shuffle into new working patterns. It is also possible within these new initiatives that shoppers will further build on their current reliance on e-commerce and find comfort in reliable deliveries.
This prospective outlook of the global airline industry will inevitably bar the general public from travel; domestic tourism will serve as a substitute as global travel is restricted to those willing to pay exorbitant ticket prices. As long as most borders remain closed and travel becomes an increasing luxury, many will need to look towards new modes of travel to explore cities in their respective nations.
If assisted by government tourism initiatives, domestic tourism could offer a further boost to economies and aid in filling the void left by global tourists as the global airline industry pivots efforts to cargo. Airlines would then be able to cut losses to the IATA's expected net profit margin of negative 2.6 percent, introducing the new challenge of 2022: how to adapt reduced losses into profits to pay off debts that will amount during the ongoing pandemic.