Nasir Mazhar Is Bringing Radical Change to Retail
The designer's East London studio-cum-store is a celebration of creativity and community.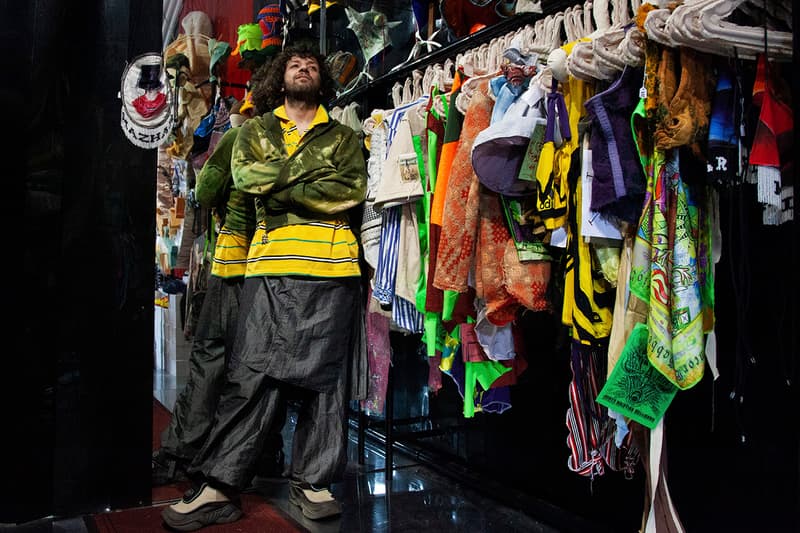 Fantastic Toiles isn't where you'd expect a boutique to be. Located in a railway arch in Forest Gate, a long way from Soho and central London, it's accessed through a rather imposing large metal door that belies the fact that it's open to all (with walk-ins available over the weekend, and by appointment during the week.) The small space — packed with theatrical headwear, one-off pieces and experimental items from a range of designers and creatives — is the front section of Nasir Mazhar's studio, which he has given over to his friends and collaborators to sell their work alongside his.
The store, if you can call it that, is split between designers and creatives that Mazhar respects, whether that's friends, his teachers or those he teaches at Central Saint Martins. Most of the designers are based in London, although Fantastic Toiles also sells a small selection of work by Brazilian designers. "There are 42 labels in here, I don't think any of them show at fashion week, but the level of creativity and experimentation is top," he explains.
"Fantastic Toiles is about style, not fashion. Fashion is about people who think to look good you have to wear labels and here is the complete opposite of that. It's about experimenting with style and how you look, I think that's something that's been lost."
"Fantastic Toiles is about style, not fashion."
As it forms part of his studio, the space technically belongs to Mazhar, but his relationship with the 42 designers is far more collaborative than the traditional stockist and designer dynamic. Mazhar personally chooses who to invite to the space, but he doesn't direct their design choices. "There's no middle men, no corporate people telling you what to do," he adds, "I choose who I wanted to be in here and they say 'this is what I want to make.' It's up to them what they do."
Operating a small studio/store in Forest Gate is different world from where Mazhar was in the early 2010s. Back then, as the designer of his eponymous label, he was arguably the buzziest name at London Fashion Week. Skepta walked in his shows, Rihanna wore his pieces and he designed costumes for the London 2012 Olympics opening ceremony. By 2015, already the star of London, Mazhar was nominated for the LVMH Prize alongside Demna Gvasalia, Virgil Abloh, Craig Green and Simon Porte Jacquemus — then rising stars, and now arguably the biggest names in fashion.
Mazhar's aesthetic was ahead of its time in blurring the lines between high fashion and the everyday. His collections are most commonly remembered for his signature Bully caps and the reappropriation of tracksuits. "I started what I was doing because there was a lack of diversity, there was a lack of people talking about tracksuits, about garage and about grime," he remembers. "I was saying it was actually fashion, what people wear in this world I'm from is fashion, and you can't look down on it."
Just over a year after his LVMH Prize nomination, though, Mazhar decided to walk away following his Spring/Summer 2017 show. Disenchanted with the fashion industry, Mazhar stopped showing at London Fashion Week, ceased working with almost all of his stockists and moved his studio to Forest Gate.
"I started realizing that everyone was starting to cast shows like I did, everyone was starting to talk about what I was talking about, everyone started doing the same product range," he says. "I had a lot to say and I had a viewpoint, but it just got boring, so I had to stop." Mazhar found a new outlet for his creativity by opening Fantastic Toiles in 2019.
As well as showcasing the creativity of the community around him, Fantastic Toiles also offers a new direction for the industry: a future of designers cooperatives away from finance and business-minded restrictions. "I'd rather work with my friends than with corporate people," he explains of Fantastic Toiles. "It's a different world of people, it doesn't breed culture it just breeds capitalism. When friends are all on the same wavelength and there's mutual respect that's actual magic. That's how culture is made."
"For change to happen, you need to sacrifice things. You can't live that nice comfortable life and expect to be part of a revolution."
Before he took a step back, Mazhar had become increasingly exasperated with retailers focusing on logos rather than creativity. While he was pushing his eponymous label in new and exciting directions, stockists were expecting Mazhar to deliver more and more collections of the same. "Creatively it was really frustrating, I knew that I didn't just do tracksuits, I wasn't just a streetwear designer."
Although walking away from regular production was the right move for Mazhar, the decision also required sacrifices. "I hadn't saved any money," he remembers, "I just knew that we could make something happen."
It's been almost a year since Fantastic Toiles opened, and Mazhar is confident that sacrificing the career he had was worth it. "There are so many things wrong, and so many people moan without doing anything. We all need to lead by example. For change to happen, you need to sacrifice things. You can't hold onto that job, hold onto that house, go to those bars, live that nice comfortable life with new trainers every month and expect to be part of a revolution."
Life on the outside of the fashion industry is working well for Mazhar. As well as pouring energy into Fantastic Toiles, Mazhar has designed costumes for theatre and dance productions — he worked alongside theatrical hatter Mark Wheeler for two years early in his career, and has recently produced work for the English National Opera and Ballet Lorent in Newcastle — and wants to work more in film. "Your work is to create and illustrate a fantasy or to tell a story," he says of costume design. "The point of it is not to make money or to sell it or to make people want to buy it, the point is to tell the story and I think that's much purer."
The fact he is no longer showing on schedule or stocked at stores like Selfridges and Machine-A has not dampened Mazhar's opinions about the fashion industry. Now sitting outside of that world, he has strong views on where it is now and the direction it needs to take. "How do I see it? Lost," he says of fashion nowadays. "There are very few brands that I think are worth watching, that have their own thing going on, their own identity, something to say with design and style. A lot of it is just copied, regurgitated high-street clothing. There's way too many business people involved, way too many people with no creative talent."
"There's way too many business people involved, way too many people with no creative talent."
This situation doesn't mean that the whole system as we know it needs to be scrapped. Rather, Mazhar believes that there needs to be alternatives, and the option for designers to explore routes other than the traditional seasonal collection and show format. "The business model is set up for big brands," he says. "Loads of designers can't keep up with that system of churning things out constantly. There should be an alternative for people who don't fit into that but are still creating. When there's just one thing it's stale."
For Mazhar, Fantastic Toiles is the first step towards one of these new systems. In an ideal world, there would be more locations following the same model of supporting creatives in other parts of the world. "Then you start exchanging," he adds, "you take a couple of their designers and put them in your space, and then you get this international crossover of independents."
Mazhar is hopeful that other designers and creatives are aware of the change that is needed, and that Fantastic Toiles — while not exactly a cooperative — will act as an example for others. One day, Mazhar hopes that the boutique will be part of an international network of similar independent outposts, fostering experimentation and encouraging grassroots culture. All of this comes back to Fantastic Toiles' central messages of creativity and community. "As artists, we have so much power," he explains. "We are so, so powerful when we're together."