Mike Tyson and Roy Jones Jr. Announce Eight Round Exhibition Fight
The all-time greats are returning to the ring this September.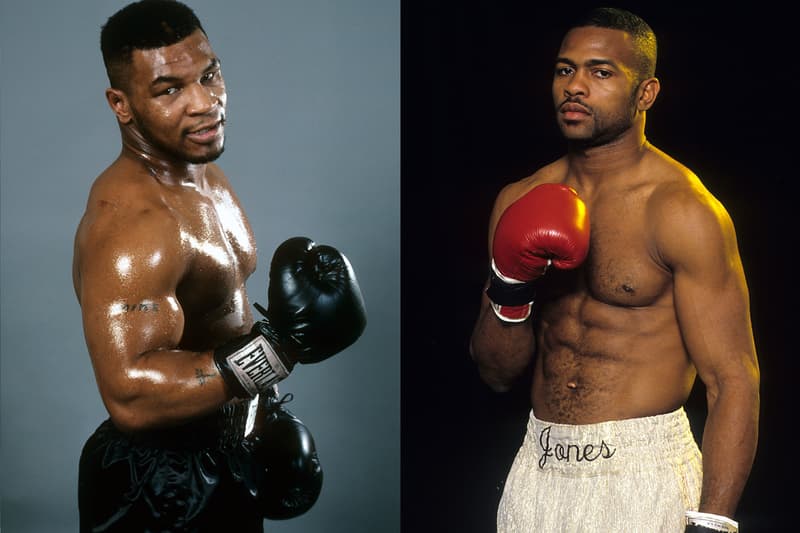 Mike Tyson and Roy Jones Jr., two of the greatest boxers ever, have announced that they'll be coming out of retired for an eight-round exhibition fight on September 12 at Dignity Health Sports Park in Carson, California. The bout will air as a pay-per-view broadcast as well as on multimedia platform Triller. Triller will also show a 10-part docuseries leading up to the match.
Tyson, 54, has gone viral a few times over the last year after reminding people of his lightning fast and powerful punching ability, whether it was offering some fighting tips to fans out in public, or announcing he returned to training after years away from the ring. The former undisputed world heavyweight champion last fought in 2005, in a loss against Kevin McBride.
Tyson appeared on ESPN's First Take on Thursday, explaining his reasoning for a return to the ring.
"It's because I can do it. And I believe other people believe they can do it too. Just because we are 54, it doesn't mean that we have to start a new career and our lives are totally over. Not when you feel as beautiful as I do, and I'm sure that other people feel the same way.
"I never took that many punches. After the last fight I had, I left and I lived my life, and I've been through some experiences, and now I'm back here. I feel like I took better care of my body and my state of mind than most of the fighters before me that retired and came back."
Jones, 51, was also a supremely brilliant fighter in his own right, winning titles at middleweight, super middleweight, light heavyweight and heavyweight during his 20-year career, employing a mix of speed, intelligence and force. For him too, this comeback is all about having fun and returning to his passion. "We always wanted to see it, but I would've preferred it back then," said Jones. "Tyson is a hell of a specimen still. Still a problem to deal with. But at the same time, life is life, you only live once. You want to know what it's like, you go in there and see. You still gotta see it."
It was also announced, despite no one asking for it, that former NBA player Nate Robinson and YouTube personality Jake Paul will fight on the undercard.
In other sports news, NFL's Washington franchise announced it'll go by the Washington Football Team until they decide on a name to replace Redskins.