Art for Your Home: Nikkolas Smith Painting, 'Noah Davis' Book & More
Including a new Denisse Ariana Pérez photography print for charity.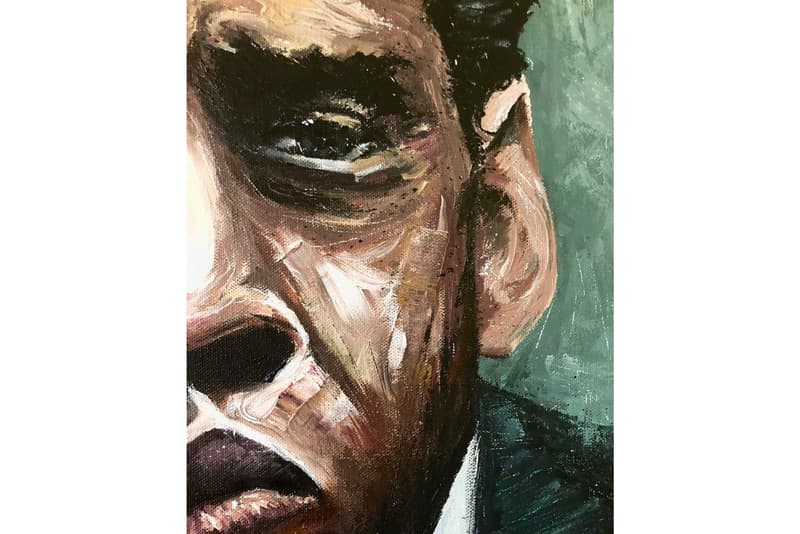 Every week we curate notable art releases by diverse artists, studios, and art platforms across the globe. Listed items typically encompass limited edition artworks, books, collectible figures and more. Amid the ongoing COVID-19 pandemic and nationwide protests following the death of George Floyd, we are highlighting the work of Black artists as a way to support and give visibility to the Black creative community. We hope these pieces will add visual interest to your space, while bringing awareness to works that evoke themes that are both universal and specific to the Black community.
For this week's installment: Nikkolas Smith has shared a painting of Jay-Z titled Mr. Carter, Denisse Ariana Pérez is releasing a photographic print as part of a new anti-racism fundraiser, Jeff Manning is supporting the Black Lives Matter movement with a We Shall Prevail print, Natasha Cunningham has turned her popular portrait-a-day series into art prints, and David Zwirner Books and The Underground Museum will release a comprehensive monograph on artist Noah Davis.
View the full list below.
Nikkolas Smith Mr. Carter Painting
Release Date: Available now on Nikkolas Smith's website
Release Price: $7,000 USD
Illustrator and Artivist Nikkolas Smith has unveiled an original painting titled Mr. Carter. Measuring 24 by 36 inches, the work depicts Jay-Z in the artist's gestural and highly emotive style. Smith is behind the widely-spread image of Ahmaud Arbery, the 25-year-old black man who was shot and killed while out for a jog, and the piece of George Floyd that was commissioned by Black Lives Matter for a billboard and video tribute to victims of police brutality. Over the years, Smith has celebrated and mourned Black lives in his work.
Denisse Ariana Pérez Photography Print
Release Date: Available now on The Time is Now's website
Release Price: Approx. $68 USD
Caribbean-born, Copenhagen-based photographer Denisse Ariana Pérez uses photography and storytelling to subvert traditional depictions of men of color and redefine masculinity. Her recent series titled Men and Water show the more vulnerable side of Black men. Pérez's work will be part of a new anti-racism fundraiser called The Time is Now, an initiative created by Paper Journal and Galerie Number 8 in aid of Black lives. All proceeds will be split equally among the Stephen Lawrence Charitable Trust, Pay The Rent, La vérité pour Adama and the Marsha P. Johnson Institute.
Jeff Manning We Shall Prevail Print
Release Date: Available now on Jeff Manning's website
Release Price: $45 to $185 USD
Philadelphia-based graphic artist Jeff Manning released a print titled We Shall Prevail amid the Black Lives Matter protests. Ranging from 12 to 30 inches, the work depicts fists raised in solidarity in front of an American flag. The phrase "Black Lives Matter" is written on the wrist in the center of the collage-like image. "Sick and tired of us having to go through emotional wars due to the senseless violence and killings of BLACK men and women…" Manning wrote. "How much longer do we have to go through this !?? This MUST end, America. Justice shall prevail!"
Natasha Cunningham Day 42 Art Print
Release Date: Available now on Portrait Design Co.'s website
Release Price: $40 USD
Jamaican graphic designer and illustrator Natasha Cunningham's popular portrait a day series combines images of people with elements of flora and fauna. Her Day 42 art print features a person in black and white against a minimalist background, while lush flowers and plants emerge from their body. Each portrait is "a celebration, interpretation, documentation or story of a person/persons which can sometimes take on a figurative meaning." Prints are available to the U.S., Trinidad and Tobago, and within Jamaica.
David Zwirner Noah Davis Book
Release Date: Available to pre-order now on David Zwirner's website
Release Price: $65 USD
David Zwirner Books and The Underground Museum have joined forces on an upcoming publication celebrating the work of American painter Noah Davis. The comprehensive catalogue, titled Noah Davis, is being published on the occasion of the artist's January 2020 exhibition at David Zwirner, New York, which is traveling to The Underground Museum in Los Angeles — a space that Davis founded with his wife and artist Karon Davis — in the upcoming year. Through the eyes of his close friends and colleagues, the monograph captures Davis's skill, spirit and sense of responsibility that has placed him in the canon of great American painting.