Balenciaga Accused of Appropriation by Graduate Fashion Designer
Tra My Nguyen claims the French-owned Spanish fashion house stole her work.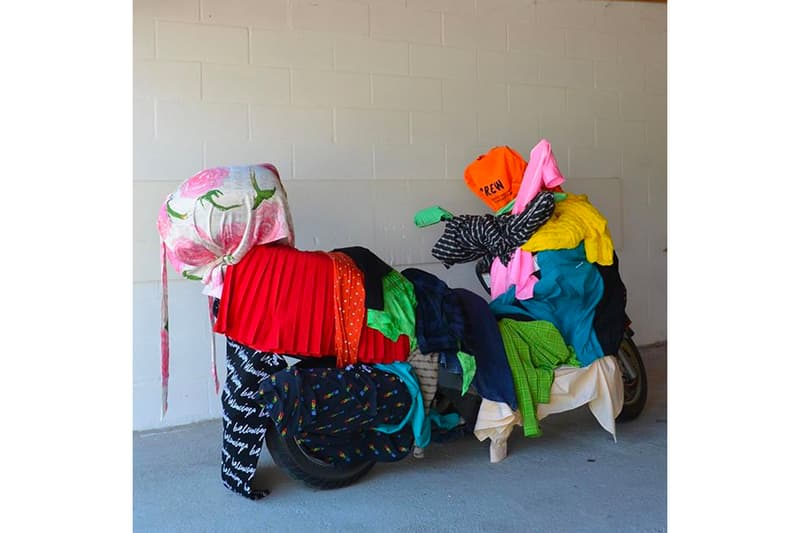 No stranger to controversy, Balenciaga was recently accused of appropriation by a Berlin University of the Arts graduate student.
Tra My Nguyen recently took to Instagram to reveal some striking similarities between an image posted by the French-owned Spanish fashion house and work found in her portfolio. Accusing the brand of "stealing, appropriating and profiting from POC (people of color) artists' ideas." Balenciaga's image features a motorbike covered in an array of colorful garments.
Nguyen, who is based in Berlin and of Vietnamese heritage, claims that Balenciaga drew heavy influence from her master's project which explores Vietnam's female motorbike culture. It is also interesting to note that a Balenciaga recruiter that visited the Berlin University of the Arts requested to see her portfolio.
A screenshot also shows an email exchange that reveals a Balenciaga employee requesting Nguyen's portfolio with interest in taking on the student as an intern. Ultimately communications ceased and Nguyen was "angry and speechless" when she saw the work that looks extremely similar to her efforts.
Nguyen notes that she wanted to make her situation public to shine a light on the "exploitation of young creatives," more specifically Black, Indigenous and people of color (BIPOCs). "Not only (do big brands) steal students' artistic ideas and intellect, but also expect them to work for free as interns," she said. Accepting that the situation is part of the "systematic exploitation" that has "become normality in the fashion industry."
Speaking to CNN, Nguyen believes that an apology would be an appropriate response. "Furthermore, I expect them to acknowledge their toxic design practice of appropriating 'low/read culture' and trying to make it 'high fashions," she added. Finally, calling on universities to step up and protect the intellectual property rights of their students.
View this post on Instagram
In case you missed it, Steven Victor recently discussed the potential of a Pop Smoke x Dior collaboration.