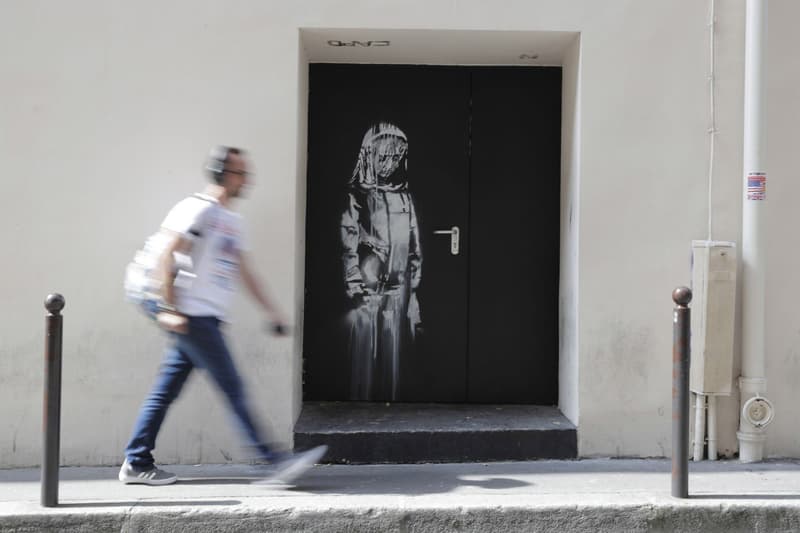 Six Suspects Arrested Over Theft of Banksy Mural From Bataclan
The work was discovered in a farmhouse in Italy earlier this month.
---
On June 10, Italian authorities recovered a Banksy mural depicting a girl in mourning that was stolen from the Bataclan concert hall back in 2019. The work, which was cut out and removed from one of the emergency exit doors of the venue, was recovered in Italy near the Adriatic coast. Now, six individuals have been placed in custody in connection with the theft.
Two people have been put under investigation for organized theft, while the other four are accused of concealing the theft. All are currently awaiting trial. The crime caused widespread anger in France, as the work honored the victims of the Bataclan shooting and 2015 Paris terrorist attacks that left 130 dead. The work was later found in "good condition" in the attic of a farmhouse. One of the French police officers who had intervened during the Bataclan theater attack was present when the door was rediscovered and "was overcome with emotion," the Evening Standard reported.
The work was shown to the public at the beginning of this month following its recovery. "It belongs to the Bataclan," said Christophe Cengig, a liaison of the French embassy, at the event. "It belongs to all of France, in a sense." He added that the Bataclan theater owners "were thrilled, very happy" that the work had been found.
Stay tuned for more information regarding the theft.
In other news, all four Tate galleries will reopen on July 27 following the United Kingdom's COVID-19 guidelines for social distancing.