Radiohead Delivers 'Com Lag' Album Art Jigsaw Puzzle
Insert "Jigsaw Falling Into Place" reference.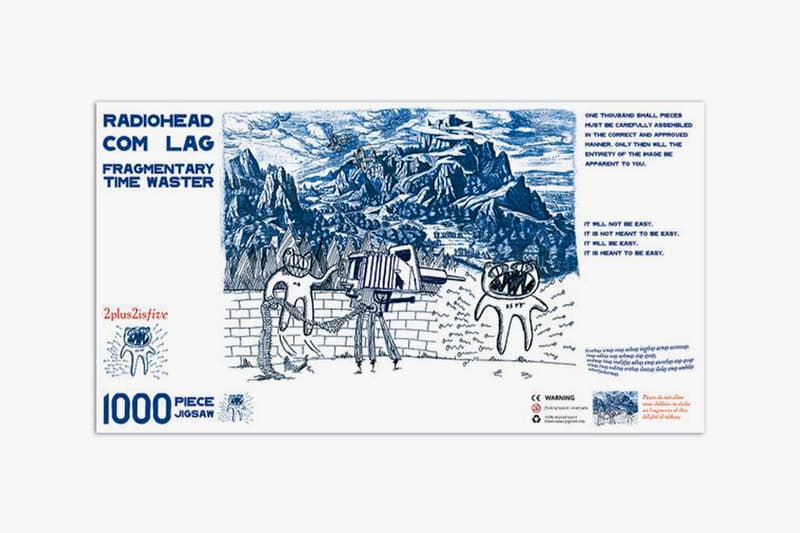 Radiohead has been providing fans with their full-length concert videos ever since quarantine protocols were put in place due to the coronavirus. To further keep you productive, the five-piece is now offering a special jigsaw puzzle merchandise of their Com Lag album artwork.
Comprised of 1,000 pieces, the "Radiohead Fragmentary Time Waster" is made from 100% recycled material, with the image printed on an FSC paper source that utilizes water-based inks. The pieces are kept in a cotton cloth bag for easy storage, and the complete puzzle of hues in blue and white will measure at 66cm by 50cm.
The English band announced the jigsaw puzzle via a humorous tweet, "Bored? Got nothing to do? Fed up? Nothing on the TV. No way! What you gonna do? Gonna get a jigsaw innit. Tell me more, tell me more! A Radiohead jigsaw. Has it got loads and loads of pieces? A thousand. Is it really difficult and will it take ages? I reckon so, yeah. Sounds great! Is it affordable? Depends on your finances. Is there a chance you could still be bored after completing it? Yeah probably. Sounds amazing!!!"
The Radiohead Fragmentary Time Waster is available now for pre-order on the W.A.S.T.E HQ webstore for $35 USD.
Pre-order the Radiohead Fragmentary Time Waster: https://t.co/z1I3BgLVpS pic.twitter.com/ZW43LJ9WgD

— Radiohead (@radiohead) June 17, 2020
Elsewhere in design, Hasbro Plus is releasing a life-sized talking Deadpool head.
Radiohead Fragmentary Time Waster 'Com Lag' Jigsaw Puzzle