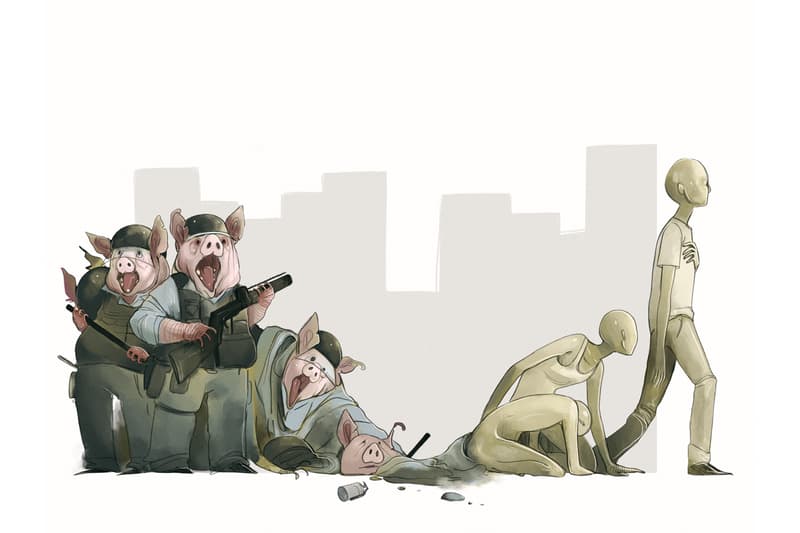 Lauren Tsai Releases Limited-Edition "Break From The System" Print to Benefit Black Lives Matter
100 percent of the proceeds will go toward the movement.
---
Lauren Tsai is the latest artist to use her creativity in support of causes geared toward fighting systemic racism. The illustrator has recently created a new print titled "Break From The System," of which all proceeds will directly benefit the Black Lives Matter movement via Advancement Project and the ACLU Foundation.
Tsai's print features an image of militant personnel depicted as pigs, who turn into everyday human beings once they shed their uniforms and lose their weapons. The image illustrates a transformation of sorts, symbolically speaking to the changes that the nation and world must undergo in order to address the social justice issues at the heart of the ongoing protests driven by the disproportionate killings of Black people due to racial bias.
"There is a lot of work to do and a lot of change to be had on all levels to better our country, but I believe that we'll make it there together, no matter how long it takes," Tsai stated.
100 percent of the proceeds from the piece — which will be printed on archival cotton-rag paper in Denver by Pressure Printing — will go toward Black Lives Matter. Additionally, all of the copies will be signed by Tsai.
"Break From The System" measures 12 inches by 18 inches and is priced at $75 USD. It will be available for sale for a limited time at Lauren Tsai's website.
For more news, read about how different artists are launching initiatives that benefit Black Lives Matter and other justice organizations including Christopher Martin prints and HUF benefit T-shirts.