Kyrie Irving and Dwight Howard Voice Major Concerns Over Return of NBA
In regards to the COVID-19 pandemic and #BlackLivesMatter protests.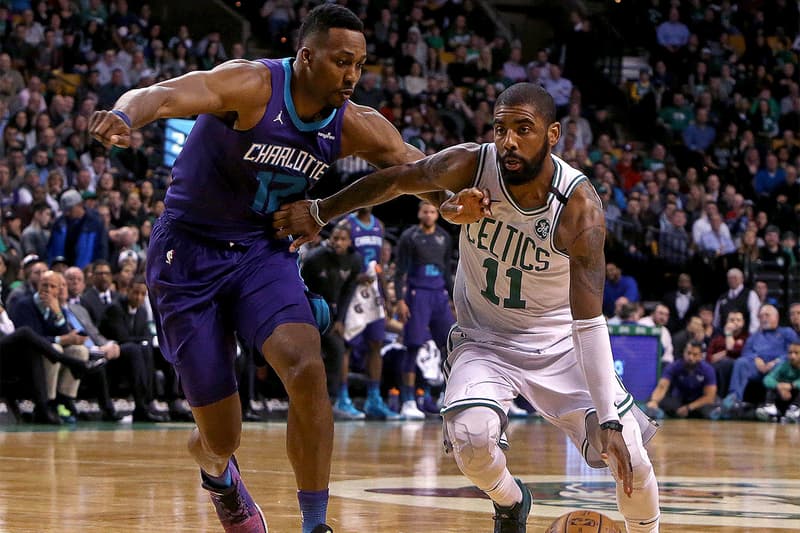 The 2019-2020 NBA season is scheduled to resume this July after four months, however, players Kyrie Irving and Dwight Howard have publicly voiced their hesitations about returning to the court.
According to reports, Irving explained his uncertainty about the season's resumption with more than 80 league players as he led a lengthy Zoom call in early June. Among those present were Carmelo Anthony, Joel Embiid, Chris Paul, Kevin Durant and Howard, and they supposedly discussed the timing of the NBA's return in regards to both the Coronavirus (COVID-19) pandemic and the socio-political environment spurred on by the recent murders of George Floyd, Breonna Taylor and Ahmaud Arbery. While Melo put an emphasis in remaining united with their decision, Irving expounded his side and was not approving of the league's Black players traveling to cities under quarantine and entertaining the world, noting that it could steal the spotlight from the Black Lives Matter movement. "I don't support going into Orlando. I'm not with the systematic racism and the bulsh****. Something smells a little fishy," Irving said per Shams Charania of The Athletic. He was reportedly backed up by other players included in the call, adding, "I'm willing to give up everything I have (for social reform)."
If the season is fully canceled, players as a group may lose $300 million USD in salary. Team owners will also be forced to restructure the current Collective Bargaining Agreement and players may lose a lot of future money in the process. Although the league is not fining individuals who choose not to play in Orlando, the players will not be paid either.
Howard shared a lengthy statement supporting Irving, noting that basketball or any form of entertainment "isn't needed at this moment, and will only be a distraction." He continues, "Sure it might not distract us the players, but we have resources at hand majority of our community don't have. And the smallest distraction for them, can start a trickle-down effect that may never stop. Especially with the way the climate is now. I would love nothing more than to win my very first NBA Championship. But the unity of My People would be an even bigger Championship, that's just too beautiful to pass up. What better time than now for us to be focusing on our families?"
"This is a rare opportunity that, I believe, we as a community should be taking full advantage of. When have we ever had this amount of time to sit and be with our families? This is where our Unity starts. At home! With Family!! European Colonization stripped us of our rich history, and we have yet to sit down and figure us out," Howard added. "The less distractions, the more we can put into action into rediscovering ourselves. Nations come out of families. Black/African American is not a Nation or Nationality. It's time Our Families became their own Nations. No Basketball till we get things resolved."
Despite the powerful statement, Howard's agent Charles Briscoe confirmed with ESPN that the player has not made a final decision regarding going to Orlando. "The statement was about social injustice and racism," Briscoe said. "Yet everybody is still talking about whether basketball should be played. He isn't saying that basketball shouldn't be. He's just saying that you should not be taking attention away from what's going on in the country to talk about basketball. Basketball is just a sport, at the end of the day. But what's going on with people dying in the streets, that's something real. That statement, it had nothing to do with sports. It had everything to do with racism and social injustice."
Kyrie Irving told NBA players on call Friday, sources tell @TheAthleticNBA @Stadium: "I don't support going into Orlando. I'm not with the systematic racism and the bullshit. Something smells a little fishy."

— Shams Charania (@ShamsCharania) June 13, 2020
Kyrie Irving on players call Friday, per sources: "I'm willing to give up everything I have (for social reform)."

— Shams Charania (@ShamsCharania) June 13, 2020
Dwight Howard statement, provided by his agent, to CNN: pic.twitter.com/sk9uSSHlpp

— Jill Martin (@ByJillMartin) June 14, 2020
Elsewhere in sports, the NFL donated $250 million USD to combat systemic racism.