Stay Home Snaps: ADISH
Founders Amit Luzon and Eyal Eliyahu are still productive in isolation.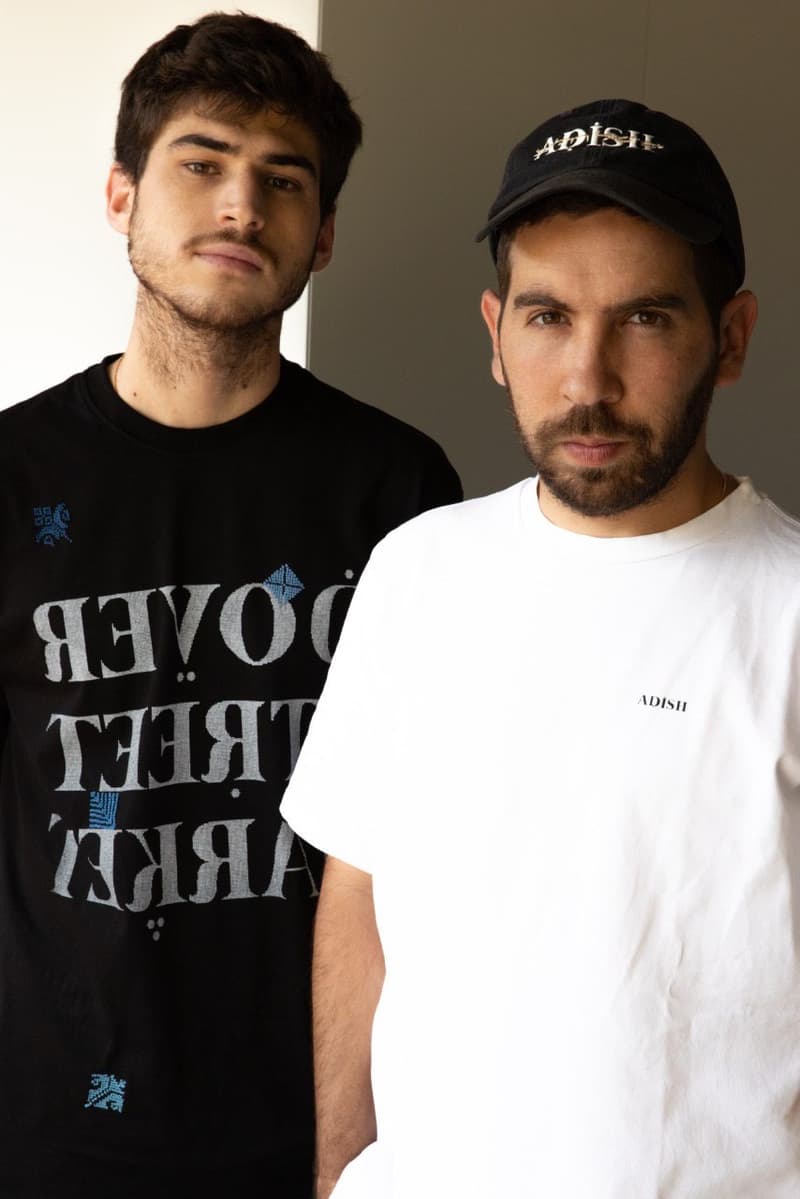 Stay Home Snaps: ADISH
Founders Amit Luzon and Eyal Eliyahu are still productive in isolation.
As coronavirus quarantine and self-isolation continue across much of the planet, designers and boutiques alike have had to change the way they work. This is certainly the case for Israeli brand ADISH, facing a world in which its entire production and distribution chain — from workshop to retailer — is disrupted.
Admittedly, co-founders Amit Luzon and Eyal Eliyahu are no strangers to challenging working conditions — ADISH's collections are produced across the Israeli border in Ramallah, Palestine by local craftswomen — the COVID-19 pandemic has presented an entirely new set of difficulties.
With the brand finding new ways of working and staying positive during this difficult time, we caught up with Luzon and Eliyahu to discuss classic soul music, morning rituals and the power of community.
What's your daily routine?
Amit Luzon: I get up at 7:45 a.m. everyday, water my plants and take a shower, then get something to drink like green tea with lemon and ginger and sit to read the some articles and news before heading to the studio.
Eyal Eliyahu: Wake up around 7:30 a.m. and go for a run with my dog in the field near my home, take a quick shower then eat my usual eggs with iced coffee. Head to a full day of work in my studio at home with Amit. Later, my girlfriend and I cook ourselves a light healthy dinner.
Where in your home do you like to work?
Very early in the situation we thought it might take some time until we will go back to usual so since we live very close to each other, we decided to set up an alternative studio in Eyal's garage so we can still work together and have some space for everything we need at this period. It's much smaller than our studio but better than working separately.
What do you wear while working from home?
Amit: Even though we work from Eyal's house I'm taking advantage of the opportunity and dress up like it's a normal working day in the studio. It also started getting a bit warmer in Israel so it's usually chino pants, ADISH T-shirt and Nike sneakers.
Eyal: [This is] my only excuse to wear the ADISH shorts with a basic white T-shirt, since summer just started in Israel. It's extremely appealing to just throw on something cozy at home but I try to keep myself in a work environment as much a possible, so I take the opportunity to dress for a regular day at the studio.
What are you eating now?
As we have more time and a proper kitchen in the studio we cook more often. Not something crazy though, mainly fresh vegetables, rice, pasta, stuff like that. However, this week was Passover, so we are probably going to eat leftovers for the rest of this isolation period.
How do you stay in a good headspace while in isolation?
Although there is a lot of uncertainty nowadays, many of our projects are on hold and the workshops and production facilities are closed, we feel it's very important to stay productive; to keep planning and be creative, but also to work as much as we can so when this crisis is over we will come out a stronger brand and company.
It's also important to read a lot and get updates on the situation from industry papers so you don't get left behind. We are trying to to work out and catch up with our old friends from high school as well. We just started to play poker all together via Zoom, it's pretty cool and works very well!
What are you listening to and watching?
Amit: My girlfriend and I just finished Unorthodox on Netflix, which was really good and moving. In terms of listening, these days I'm enjoying mostly old Mizrahi songs, but also classics such as Marvin Gaye are in the playlist.
Eyal: These days James Brown is at the top of my playlist, as well as authentic Israeli music, Santana, classic rock and the podcast, Houston We Have a Podcast. I'm also using this time to catch up on some of the classics starting with The Wire.