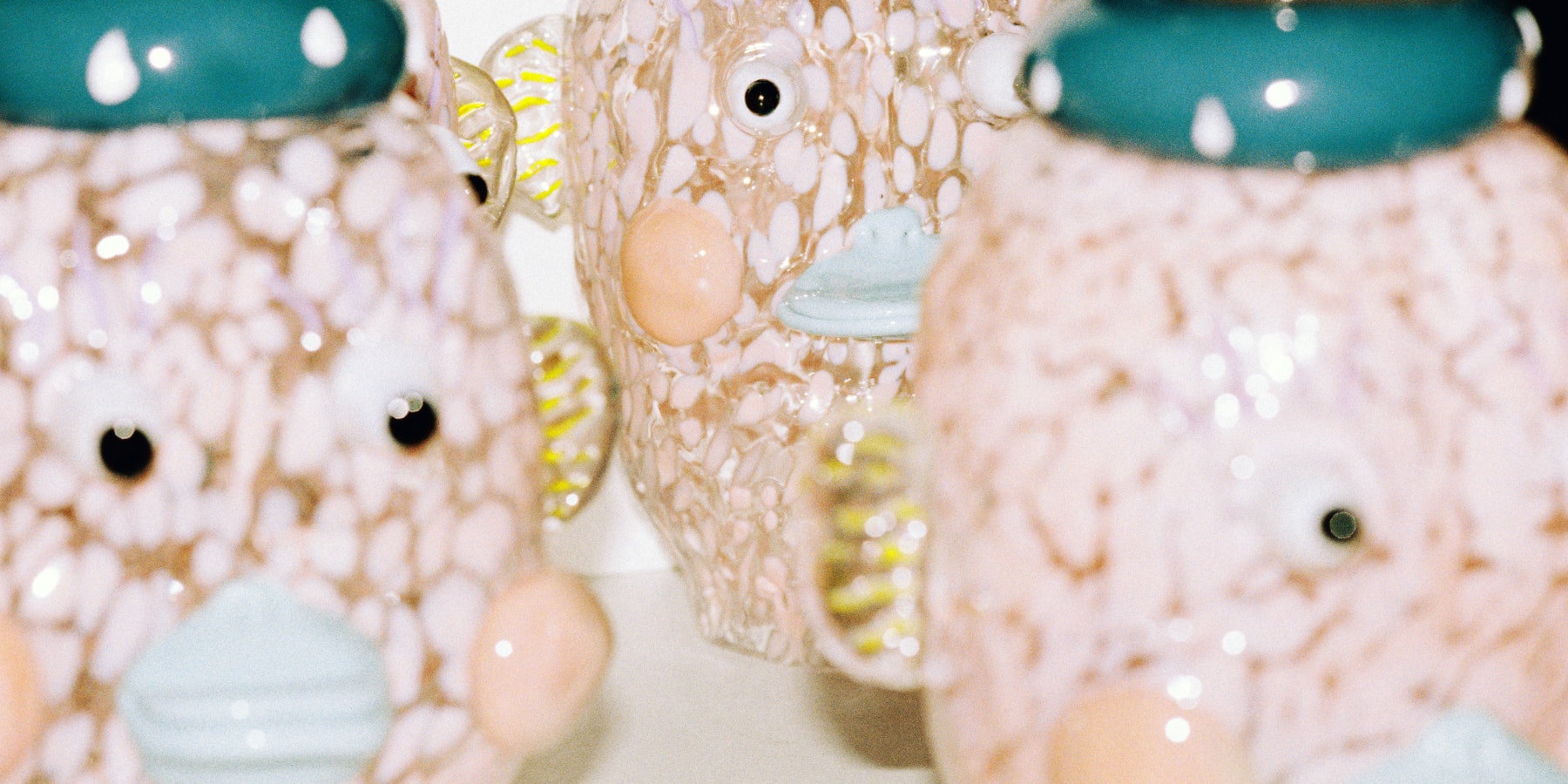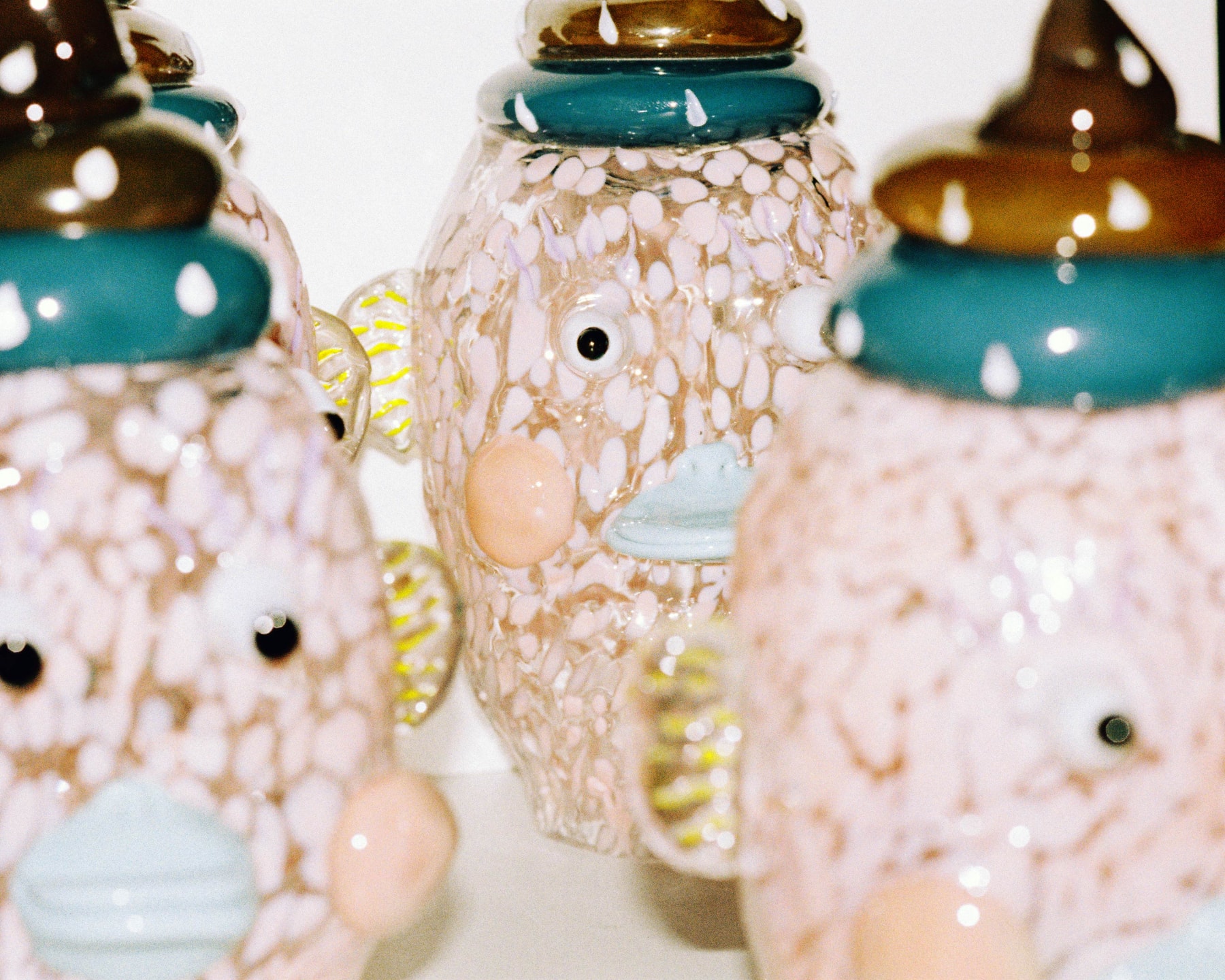 Joakim Ojanen Welcomes You to His Fever Dream
The artist investigates the depths of human experience with his beloved cast of wackos in Hypebeast Magazine Issue 29.
Joakim Ojanen's work is a feverish childhood dream immortalized in oil paintings, charcoal drawings, ceramic sculptures, and installations. Over the years, the Swedish artist has played maker to a cast of humanoid creatures and their wacko companions.
Despite their outlandish appearances, they seem to lead devoutly mundane lives—some are depicted mid-smoke-break in pensive solitude, while others are shown chugging beers alongside fellow oddballs. Judging from their expressions, however, they appear satisfied in these everyday scenarios.
Ojanen injects these other-worldly characters into everyday scenarios to make the strange seem familiar. His figures almost lean towards childishness at first glance, yet their faces show a nuanced complexity as their emotions range from dejection to ecstasy. There is also a sense of nostalgia, as each figure is hand-painted in delicate color palettes which call to mind vintage dolls perched on the shelves of many a grandmother's home. The artist largely counts personal experiences and growing up in his hometown of Västerås, Sweden, as inspiration for the forms observed in his work.
When Ojanen approaches painting or sculpture, he first comes up with a crumb of a concept and wings it from there. This process is emphasized in his relationship with the materials: Ojanen favors a textured, roughed-up canvas instead of a crisply painted one, and prefers bulgy, wonky molds instead of clean, symmetrical shapes for his sculptures.
The artist also enjoys holding exhibitions which have no direct references or narratives. In March 2019, Ojanen launched his most ambitious solo show to date at The Hole gallery in New York City. Titled Snake Pit, the exhibition included a series of large-scale paintings and ceramic works that featured a range of the artist's quirky monsters, from snakes swimming in lava across a floor mural to sweaty dogs dangling from the ceiling, the crazed squad of characters seeming to invade the white-walled space.
"I always find small things that I add to my 'library,' and it's constantly growing."
His most recent exhibition in Hong Kong's AISHONANZUKA gallery channels the same explosive energy with the artist deploying new droopy-eyed monsters across sculptures and paintings in a nature-based narrative. "The overall theme of this exhibition is the same that I've been working with always. It's trying to find who I am, what it is to be a human today: relationships, loneliness, expressing feelings, self-doubt, among other things," he says.
We connected with the artist to discuss the relationship between his paintings and sculptures, the evolution of his aesthetic, and his creative beginnings.
You create ceramics, charcoal drawings, and oil paintings. Which of these mediums came first? And how did you eventually go on to do the other two?
It started with drawings, mainly doodles in sketchbooks with fineliners. I published small zines with these drawings and did some screen prints based on them. After a while, when I felt they didn't evolve any longer, I started to look at other mediums. The paintings, I think, came just before I started with the ceramics but about the same time. At that point I got so into both of them that I pretty much stopped with the drawings. Two years ago, I picked up drawing again after three to four years of barely doing any drawings. I started to use charcoal and fell in love with it.
Of those mediums mentioned, which one do you find yourself mostly occupied with? And is there any particular reason why?
I would say I spend about 70 percent of my time doing ceramics. Thirty percent is a mix of paintings, drawings and bronze sculptures. It depends a lot on what kind of mood I'm in. The paintings take a really long time and a lot of energy to finish. The way I usually paint is really repetitive. If I do it for too many days in a row, that can cause some shoulder problems. If that wasn't the case, I would probably spend a little more time painting.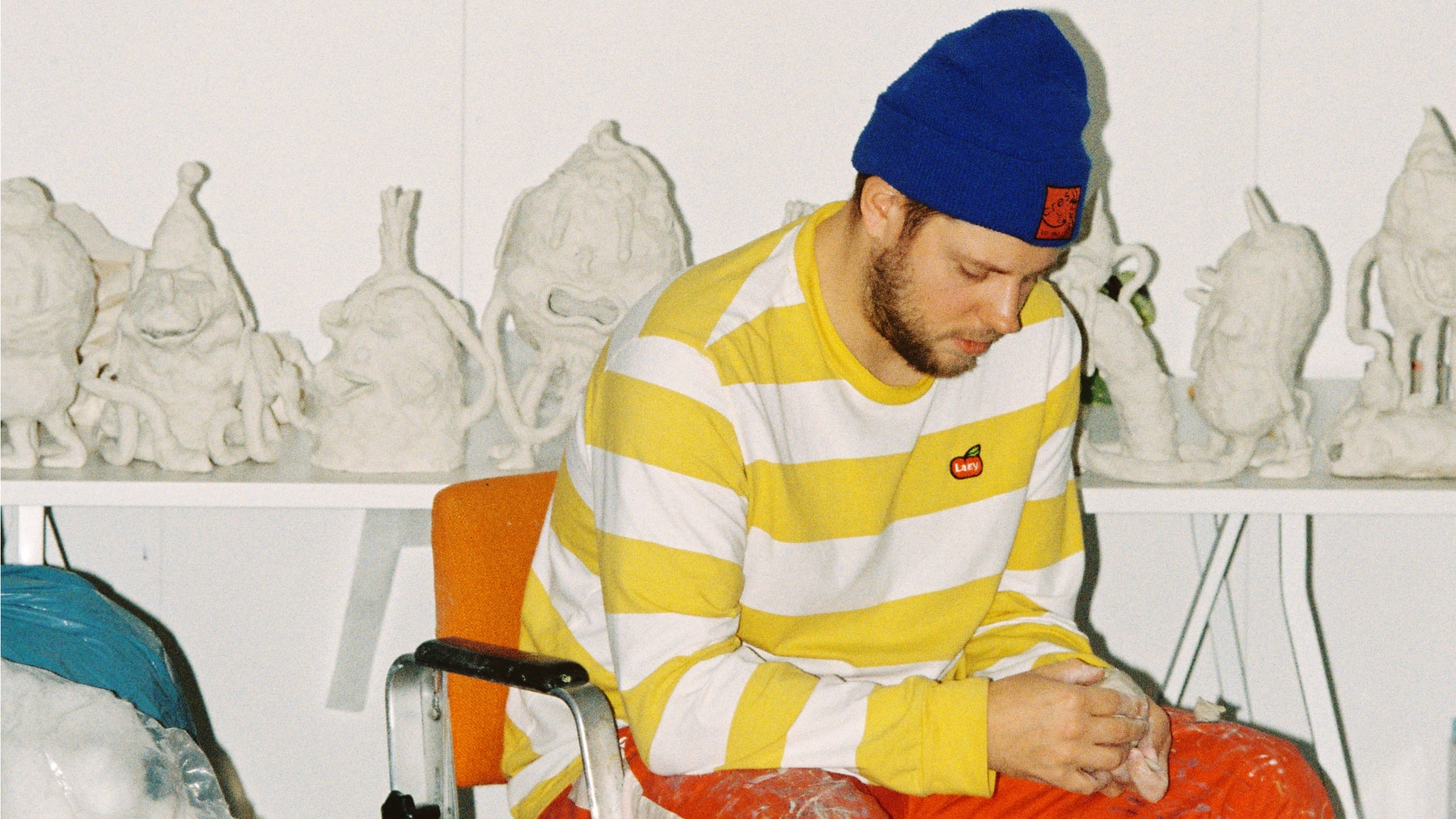 Your work features mutated bodies and grotesque subjects in playful forms. What are the influences behind the subjects you create?
I think it's a fascination with pushing limits. It's a matter of asking myself how far I can go with these different forms and body parts without losing the connection to the characters. I've also always been inspired by comic and animation artists, especially how they are able to distort characters and other things to introduce certain feelings.
Your artwork titles are equally interesting as their forms. How do you come up with the names—"A Bossy Bird Claimed My Nose in the Park," for example?
It has been a lot of fun naming them. I think both the titles and the sculptures have been getting more playful and it's nice to see them evolve together.
"It's a matter of asking myself how far I can go with these different forms and body parts without losing the connection to the characters."From start to finish, describe your creative process in developing paintings and ceramics. What's the most challenging step?
The paintings usually start with a small black-and-white sketch to get an idea of how I want the composition. Afterwards, I sketch the lines onto the canvas and then it becomes a paint-by-numbers process. I initially choose three main colors, and once I get them on the canvas, I can see what's missing and decide on new colors for the rest of the parts.
As I mentioned earlier, it's quite repetitive to make the shadows and the highlights. It's built up by a lot of small lines, almost like the way you would shadow a drawing. It can sometimes feel like I'm in a trance while I'm painting.
The sculptures and drawings are improvised as I'm making them. I start with a vague idea and build from that. One thing leads to another. I take a step back, see what's missing, and then I continue to build on them until I feel satisfied. The coloring of the sculptures is quite similar to the way I do the paintings: I choose about three main colors and build the color palette from there.

How has your style developed over time? Were your earliest creations extremely different from what you're making currently?
The core of my style hasn't changed a lot, but it's slowly evolving all the time. I always find small things that I add to my "library," and it's constantly growing. Some things I get tired of and stop using, but sometimes I can go back a few years and pick up something again that I haven't done for a while and make it in a new way.
My skills are constantly getting better and better, so I can do more complex stuff now that I couldn't do before. And once you learn how to do something new, that will lead to more fresh ideas for what you could do next time.
Are you self-taught or did you attend art school? Tell us more about your creative journey to where you are now.
I'm pretty much self-taught. I did go to art school and got an MFA 2014 in Illustration at Konstfack – University of Arts, Crafts and Design in Stockholm. But I never took any classes in ceramics or painting. I did a lot of screen printing at school and did painting and sculptures during evenings and weekends. My brother, Jakob Ojanen, who is five years older than me, is a painter too, so he has pushed me in this direction. We do quite different things. He does abstract painting and puts together found objects into sculptures which are really nice. But the most inspiring thing for me is probably just the fact that I've had someone close that has been brave enough to apply to art school, get in, and then pursue an art career.

How do you approach galleries to showcase your work and vice versa?
This is hard. It's only a few times that the galleries that I contacted have been interested in doing something, and I think in those cases I sort of knew they were already interested. But that's something I've done a couple of times when a gallery I really like has, for example, liked my work on Instagram. Instagram has been a really good indicator if a gallery is interested or not in my work.
"I think the contemporary art scene is quite fun right now…There is also a lot of interest in trying different materials and seeing how to make new things with old techniques."What is the contemporary art scene like in Sweden? What are your thoughts on the contemporary art scene as a whole? Any trends you're noticing?
Almost all the commercial galleries are based in Stockholm. I think the gallery scene is pretty good for the size of the city and has quite a good mix of different styles. Stockholm has its own little art bubble, and a lot of times people seem interested only in what happens in Stockholm. But there can be a lot of people showing up at openings, and a few times a year it can feel quite vibrant and fun.
As a big fan of visual language, I think the contemporary art scene is quite fun right now. There's a lot of good painters and sculptors coming up all the time that are trying to push boundaries. There is also a lot of interest in trying different materials and seeing how to make new things with old techniques. It can be very liberating and free when people succeed, and, of course, many times it can also feel pretty forced and opportunistic. But I guess you can't have one without the other.

1 of 2
2 of 2
You have a show at AISHONANZUKA. Can you describe the new works on display?
The exhibition is called A Day in the Woods. It will consist of some ceramic sculptures that are in the same vein as the ones I've been doing the last one or two years. I'm constantly trying to push them forward and make them evolve into something new. There will be some new paintings. I took a six-month break from painting before this because they take so much energy from me to finish. For the last two years, I've been doing a lot of charcoal drawings. It's been so much fun doing them, and there will be some new drawings in the show as well. For this exhibition, I've also done a big wood sculpture, and we also produced a smaller version of it for an edition. This has been totally new for me and a lot of fun!
Other than AISHONANZUKA, what other projects are you currently working on?
I have two solo exhibitions coming up after this one. I'm doing my third solo show with Richard Heller Gallery in Los Angeles this fall. In 2021, I'm planning a big solo exhibition at the art museum in my hometown, Västerås, in Sweden. That will be my biggest presentation so far.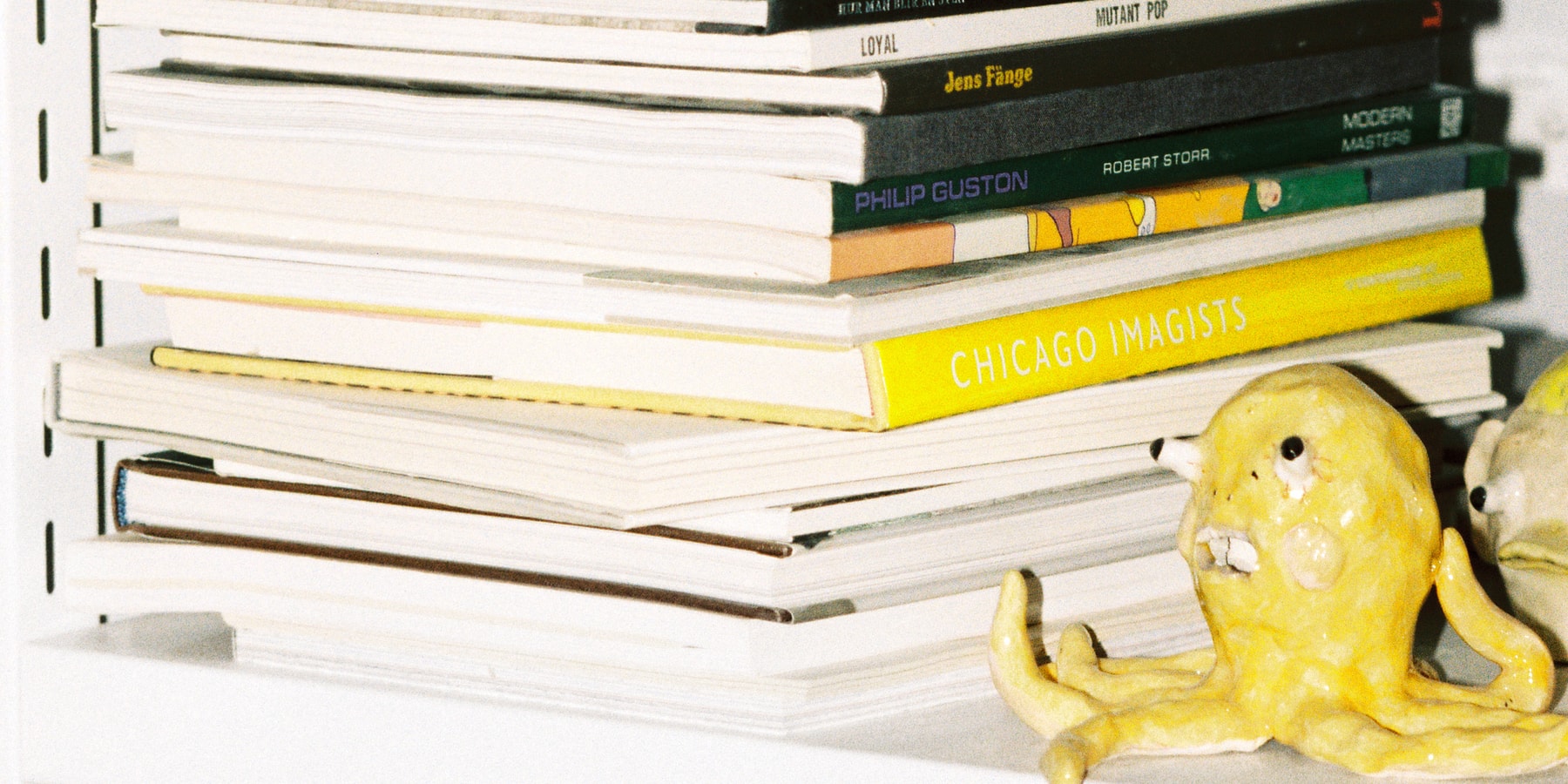 THIS STORY WAS ORIGINALLY PUBLISHED IN HYPEBEAST MAGAZINE ISSUE 29: THE NEW ISSUE AS "JOAKIM OJANEN'S BELOVED WACKOS." PICK UP A COPY HERE.
---