Museum Curators Are Sharing the Creepiest Objects in Their Collections
An executioner's mask, a doll missing an eye, and more.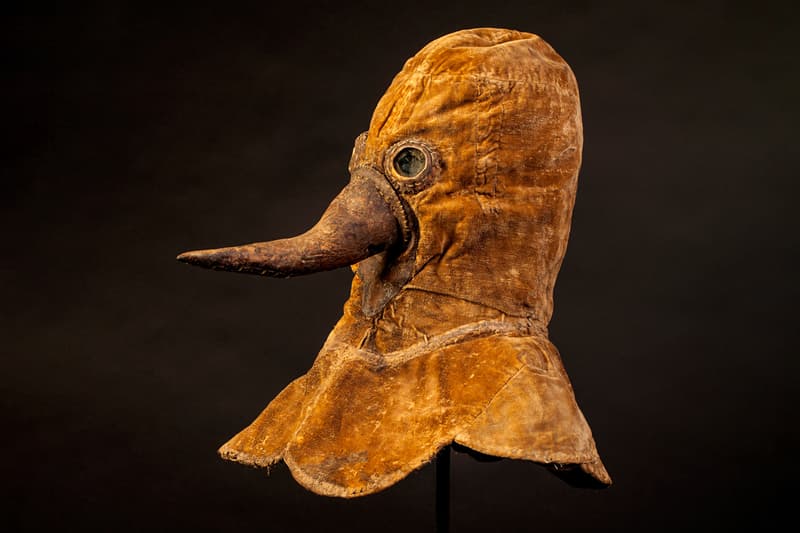 With a majority of art institutions closed across the globe due to the COVID-19 pandemic, house-bound museum staffers are planning all sorts of ways to share art from their respective programming. For one, the Yorkshire Museum recently posted an open call on Twitter requesting for museum specialists to share images of the most unsettling objects in their collections using the hashtag #CreepiestObjects.
The Yorkshire Museum got the ball rolling by posting a photo of a hair bun that belonged to a Roman woman in the third or fourth centuries. The bun features a pair of pins sticking out of it. Museum experts followed up with equally weird ephemera including a blood-soaked doll missing an eye, a severed leg that transformed into a strange creature, a plague mask from the 16th century, and more.
The #CreepiestObject competition was part of the Yorkshire Museum's weekly #CuratorBattle series. The project was created so that institutions can connect with each other during lockdown. Check out select objects below.
In other stories, take a look at this week's list of art for your home.
MUSEUMS ASSEMBLE! It's time for #CURATORBATTLE! ?

Today's theme, chosen by you, is #CreepiestObject!

We're kicking things off with this 3rd/4th century hair bun from the burial of a #Roman lady, still with the jet pins in place…

CAN YOU BEAT IT? ? pic.twitter.com/ntPiXDuM6v

— Yorkshire Museum (@YorkshireMuseum) April 17, 2020
Our #CreepiestObject has to be this 'mermaid'… ???‍♀️ #CURATORBATTLE #TroublingTaxidermy pic.twitter.com/GMSosyuqIX

— Natural Sciences NMS (@NatSciNMS) April 17, 2020
Thanks for thinking of us @HottyCouture and wow, will we be having nightmares tonight with all these #CreepiestObject|s ! Here is the one we just can't hide from you, one of our many creepy gems – our Plague Mask (1650/1750)! #curatorbattle pic.twitter.com/JrMjqAJSIM

— Deutsches Historisches Museum (@DHMBerlin) April 17, 2020
GUYS we know we have already won. This severed lower leg by Kerry Jameson has sprouted its own legs and a rather beastly head. @COCAYork #RethinkCeramics pic.twitter.com/Ip84aNacUX

— York Art Gallery (@YorkArtGallery) April 17, 2020
Live from the Toy Museum of Penshurst Place, we present the Drinking Bear. Feed it a 2 pence piece and it'll pretend to drink from its cup as it stares into your soul. #CuratorBattle #CreepiestObject pic.twitter.com/ohNl2974UJ

— Penshurst Place (@PenshurstPlace) April 17, 2020
Turn the creep up to ? and check out this iron mask that was exhibited in the @TowerOfLondon as an Executioner's Mask. However, due to its grotesque appearance, we think it's more likely part of an elaborate scold's bridle – an iron muzzle designed for public humiliation ? pic.twitter.com/1nG4mMZRex

— Royal Armouries (@Royal_Armouries) April 17, 2020
Just when you thought it couldn't get any worse, we present ….

MC 294

No need to thank us, it was honestly our pleasure #CURATORBATTLE #CreepiestObject pic.twitter.com/kgAA2ePMIr

— Egham Museum (@EghamMuseum) April 17, 2020
Can I offer up the 18th century diving suit from Raahe museum in Finland? pic.twitter.com/mP9FqB9uly

— Chris Beresford (@OuluRover) April 17, 2020
@RedHeadedAli how can we ignore such a call to arms?

This particular item has caused a few nightmares for our followers this week.

Our #CreepiestObject is…this pincushion! Complete with tiny children's heads. You're welcome, Twitter.#CURATORBATTLE pic.twitter.com/0YdmCE5dYD

— Norwich Castle (@NorwichCastle) April 17, 2020
Sheep's heart stuck with pins and nails and strung on a loop of cord. Made in South Devon, circa 1911, "for breaking evil spells", @Pitt_Rivers collections #CreepiestObject #CuratorBattle pic.twitter.com/z5vdCFCU4S

— Dan Hicks (@profdanhicks) April 17, 2020
Bringin' our A-game for this #CURATORBATTLE! What is it? Just a CURSED CHILDREN'S TOY that we found inside the walls of a 155-year-old mansion. We call it "Wheelie" – and it MOVES ON ITS OWN: Staff put it in one place and find it in another spot later on…. #Creepiestobject pic.twitter.com/FQzMzacr8a

— PEI Museum (@PEIMuseum) April 17, 2020