9 Emerging Korean Fashion Brands You Need to Know
A roster of new names offering abstract, streamlined and sustainable designs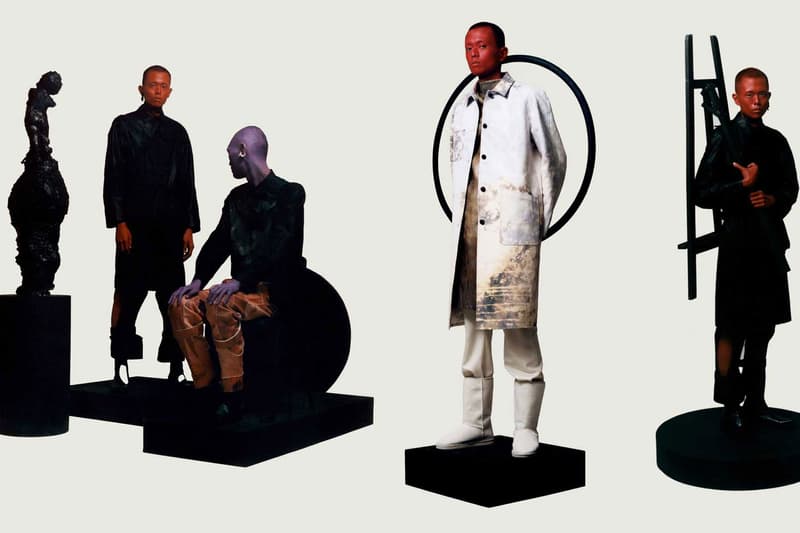 There aren't many Korean brands basking in the limelight in the fashion industry. JUUN.J, Wooyoungmi and sunglasses brand Gentle Monster have consistently been stocked at major luxury shops and concept retailers — and have been around since before the streetwear boom and the rise of the K-Pop scene as a global fashion influence. Other Korean brands to receive that level of recognition are few and far between — but that is changing.
More recently, newcomers KANGHYUK by Kanghyuk Choi and Sanglak Shon from South Korea have presented collections in Paris, and were a 2019 LVMH Prize nominee. On the streetwear side of things, G-Dragon's PEACEMINUSONE label continues to gain traction amongst die-hard Korean style followers, and the house has even garnered some sneakerhead fandom with its latest Nike Air Force 1 collaboration.
We also have founder Bajowoo breaking through the fray with his wild style-inspired 99%is- label. Designer Hyein Seo, worn by Rihanna, and fledgling brand ADER Error have also amassed cult followings and are now stocked at retailers such as SSENSE and Farfetch.
With that said, there are more brands bubbling in South Korea's clothing cauldron just waiting to breakout. At HYPEBEAST, we have curated a lists of brands to watch, owing to their design, social media presence and stockists. We expect it won't be long until they get acclaim from a wider audience. Check out our list below.
EASTLOGUE
Launched way back in 2011, Lee Dongki's EASTLOGUE is still refining its vision of timeless outdoor garments as interest from international stockists increases. The brand derives inspiration from sportswear, with function-driven sources of inspiration like fishing, hiking and militaria. The brand's ever-evolving output hybridizes these various concepts, as EASTLOGUE issues twists on staples like cargo-pocketed vests, fishtail parkas, hardy work pants and trim tailoring. As it prepares to celebrate its 10th anniversary, the label's latest collection, "WATERCOURSE," is a distillation of its preferred styles, elevated by a sophisticated color palette and complementary accessories.
Official Website: eastlogue.com
Youth Lab
The in-house label of the taste-making Obscura Store, Youth Lab is sold by a variety of influential Korean retailers, including Beaker, IAM-SHOP and 29CM, underscoring its widespread appeal. It specializes in understated wardrobe staples, gently reinvented with progressive textiles and generous silhouettes that fit neatly into any wardrobe. Trench coats, drizzler jackets, sweaters and jeans are perfected and ethically crafted in Youth Lab's native Seoul. Must-have essentials — boxy tees and field jackets — anchor the label's more adventurous pieces; for instance, this season include fringed shirting, wrinkled poly-nylon slacks and striped T-shirts with warped sleeves seams.
Official Website: youth-lab.kr
POST ARCHIVE FACTION (PAF)
Launched in 2018, POST ARCHIVE FACTION (PAF) has maintained its defiant prototype-theme while showing exponential maturity in just a few short years. In opposition to the norms of the established fashion sphere, the fledgling label has developed its own design language through an in-depth study of its growing archive. Its creations fall either into PAF's conservative conventional "RIGHT" category, or into the "CENTER" or experimental "LEFT" garment series. Now three seasons in, the standout South Korean label has made a name for itself on the global stage with its asymmetrical cuts, subtle sportswear inspirations and avant-garde expressions of technical design.
Official Website: postarchivefaction.com
JOEGUSH
Originating as a "remake" brand, JOEGUSH has evolved to deliver expansive seasonal collections that continue its exploration of a handcrafted aesthetic. Despite its growth, JOEGUSH has continued to be informed by style codes of past punk movements and Americana-tinged alternative rock. These tied inspirations often shine through detail reimaginings of classic silhouettes and iconic items. The label's latest Fall/Winter 2020 effort, titled "Chaos Rest In Paradise," saw a display of contrasting and opposing elements meshed together to create one harmonious collection in line with JOEGUSH "remake" roots.
Official Website: joegush.com
JICHOI
Establishing itself in Seoul's budding fashion landscape, JICHOI has continued to build its fan base through one-off jxcxxx releases that supplement expansive seasonal collections. The one-off drops have come to help flesh out the story of the brand through evocative imagery and understated functionality. With its latest "Great Day" Fall/Winter 2020 range, JICHOI delivered a unisex mix defined by workwear codes and technical styling. Indebted to distinct sportswear elements, the collection touches on JICHOI's latest exploration of uniforming with concise textile choices and tonal looks that reference a distinct muted dark color palette.
Official Website: jichoi.net
BLACKMERLE
Headed by designer Terry Shin, Seoul-based imprint BLACKMERLE is a riotously-imagined maximalist vision. In line with the brand name's definition of "a dark-coated dog with irregular streaks and species," its unorthodox design principles speak for themselves. Shin's works feel as if they've been created for the most dystopian of sci-fi films, utilizing unfamiliar textures and materials in the form of transformable, customizable and interchangeable silhouettes. The brand's mainstays are its otherworldly outerwear — refastened takes on bombers, military parkas, track jackets, and workwear-styled outers — and its trousers, whereby flips of cargos, woolen suit trousers and head-turning takes on track pants take center stage.
Official Website: blackmerle.com
KUSIKOHC
Founded by renowned photographer Cho Gi-seok, KUSIKOHC remains an immaculate, avant-garde take on the sartorial. Due to the nature of Cho's own creative past, the brand offers some of the most vivid lookbooks available on the market, with the clothes themselves replicating his unmatchable vision. He separates each collection into three categories: Showpiece, Ready-to-wear, and Jewelry. The first features bespoke, artwork-like pieces, with luxuriously crafted patchwork parkas and ponchos, printed dresses and jacquard suits. The RTW line dives into the production-based staples, offering up jackets, vibrant mockneck knits, cut-out paneled trousers and accessories. Within his jewelry line, he continues his distinct approach to design with pieces like an oversized, blood-stained silver horn earring. While the pieces are currently only available via the brand's webstore, a brick and mortar location in Seoul is currently in development.
Official Website: kusikohc.com
WE11DONE
WE11DONE, pronounced "well done," comes from Seoul with close ties to K-Pop star G-Dragon. Its founders Dami Kwon (Dragon's sister) and Jessica Jung started the label as an extension of their concept shop Rare Market which was started in 2014. The label has already gained a strong fanbase in Korea but has yet to capture a wider global following, but that's sure to change. Inspired by '90s and early 2000s fashion, WE11DONE's aesthetic is a mix of street and sophistication so look to clever logo applications, oversized cuts and progressive tailoring in the mix as exemplified by some of its more dynamic trouser silhouettes. The mens and womenswear brand is already carried at shops such as SSENSE, Farfetch and Browns and it looks like a more massive stockist expansion is on the way.
Official Website: we11-done.com
young n sang
young n sang is a fairly newcomer to the scene. The label started in 2017 and is helmed by couple Youngshin and Sanglim who consider young n sang a high-end sustainable menswear brand. In 2015, both Youngshin and Sanglim were recognized at the CFDA Awards and soon became renowned for their inventive pattern combinations, vivid color stories and off-key cuts. HYPEBEAST quickly took notice of the brand with their SS20 collection which exhibited a visionary ambition and flair for whimsical styling. While still new to the fashion game, young n sang has a lot of promise behind them as the industry looks towards more sustainable, but also avant-garde brands.
Official Instagram: @youngnsang