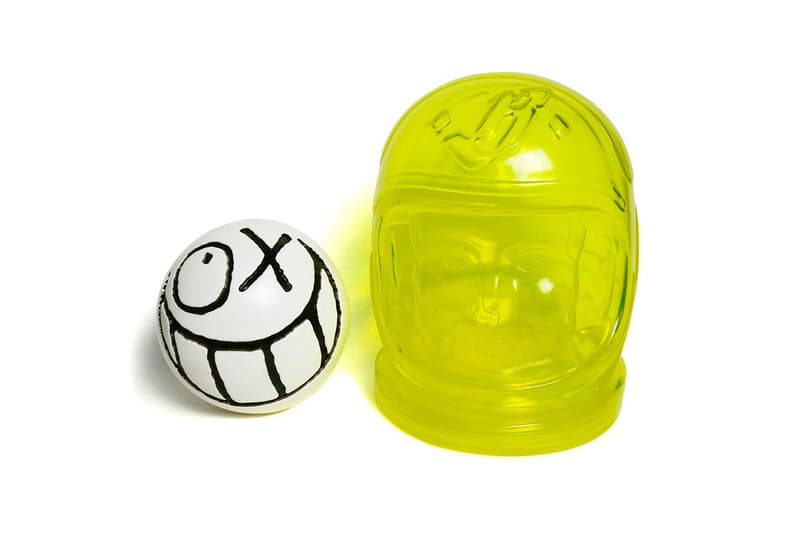 Art for Your Home: André Saraiva Toys, Andy Warhol Polaroids & More
Including a one-of-a-kind, customized sculpture by Matt Gondek.
---
Every week we curate notable art releases by diverse artists, studios, and art platforms across the globe. Listed items typically encompass limited edition artworks, books, collectible figures and more. We hope these pieces will add visual interest to your space and elevate your aesthetic sensibilities.
For this week's installment: André Saraiva and Billionaire Boys Club have reunited for a brand new astronaut helmet toy, Matt Gondek teams up with Josh Mayhem for a customized sculpture of Donald Duck, Christie's is auctioning off a range of Andy Warhol polaroids to provide emergency relief to artists in need during COVID-19, B. Thom Stevenson launches Working Hard In The Sun All Day print in collaboration with Wilder, and Stephen Riekeles offers a behind-the-scenes look at anime's most striking building structures in the book Anime Architecture.
View the full list below.
André Saraiva x Billionaire Boys Club Astronaut Helmet Toy
Release Date: Available May 1 on Billionaire Boys Club's website
Release Price: $120 USD
Billionaire Boys Club has tapped André Saraiva for a brand new collectible toy. The two have reimagined BBC's astronaut motif in the form of semi-translucent helmet figures, which come with the artist's signature Mr. A balls. Available in green, purple and yellow, each helmet has been modeled to fit the aforementioned balls snugly inside. The toy helmets boast a light see-through tint that complements the color of the ball.
Matt Gondek Anger Issues Sculptural Figure
Release Date: Tickets go on sale May 1 at 3 p.m. EDT on Matt Gondek's website
Release Price: N/A
Los Angeles-based artists Matt Gondek and Josh Mayhem have joined forces for a colorful sculpture, titled Anger Issues, based off of Donald Duck. Standing 12 inches tall, the sculptural figure receives Mayhem's signature "blown away" effect, as strands of resin and layers of acrylic paint create gravity-defying drips that create the impression of a strong wind. Beginning Friday, raffle tickets for the piece will go on sale for 48 hours only. One winner will receive the one-of-a-kind customized sculpture.
Andy Warhol "Better Days" Polaroids
Release Date: Available from April 28 to May 6 on Christie's website
Release Price: Estimate: $2,000 USD+
Christie's and the Andy Warhol Foundation are providing emergency relief to artists in need during the coronavirus pandemic with their sale "Andy Warhol: Better Days." The collection is made up of 60 original photographs by Andy Warhol, who often used photography as a basis for his artwork. From self-portraits of the artist to images of landscapes and flowers he used for inspiration, each photograph was chosen for its ability to "transport the viewer to better days," the foundation said.
B. Thom Stevenson Working Hard In The Sun All Day Edition Print
Release Date: Direct message Wilder on Instagram to purchase
Release Price: $100 USD
Emerging Brooklyn-based artist B. Thom Stevenson recently launched a screen printed edition with interior design studio Wilder. Titled Working Hard In The Sun All Day, the 18 inch by 24 inch silkscreen was inspired by Stevenson's memories of working with his dad and grandfather growing up — picking stones, clearing brush and bailing hay. The burnt orange tones contrast with black silhouettes of a man on a horse, birds in a tree and an owl perched upon a branch. The print is available in an edition of 50.
Stephen Riekeles Anime Architecture Book
Release Date: General release is scheduled for Fall 2020
Release Price: Approx. $95 USD
Author, curator and producer Stephen Riekeles has compiled anime's most awe-inspiring building structures in the book Anime Architecture. Readers are taken on a behind-the-scenes exploration of the futuristic megacities and urban centers portrayed in beloved anime titles like AKIRA, Ghost in the Shell, Patlabor and Neon Genesis Evangelion. Utilizing original background paintings, storyboards, drafts and film excerpts, Anime Architecture takes fans on a journey from the early conception stages all the way to the final scenes as shown in the anime.