Tupac Shakur's Bandanas and Hotel Bills up for Auction
A variety of memorabilia from the late rapper's estate are now for sale.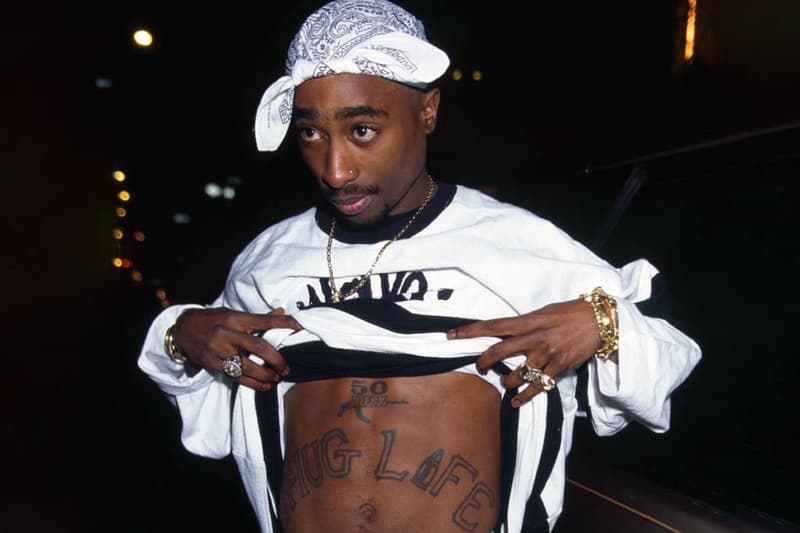 In late 2019, Gotta Have Rock and Roll launched The"Rock & Roll Pop Culture Auction," which included a vast array of collectible memorabilia from artists that included Michael Jackson, Lil Kim, the Beatles and Banksy. The sale has now received a fresh array of goods, including seven new Tupac pieces that range from recognizable to niche.
Frequently seen wearing one of his many bandannas, Tupac's headwear of choice became a signature of sorts, making the two examples including in this auction the collection's crown jewels. Provided by "a very close family friend of Tupac's," blue pre-tied and untied red options are both on hand, each estimated to sell for $2,000 USD to $4,000 USD.
Elsewhere, the auction offers a Polaroid photograph of Tupac with his Outlaw Immortalz group (estimated to sell for at least $2,000 USD), a handwritten envelope that held a letter sent from Tupac to a woman named Simi Chouhan ($2,000 USD), an original Death Row Records press release for "All Eyez On Me Book 1 & 2" ($200 USD) and bills from Tupac's 1996 Mondrian Hotel stay, complete with signed receipt ($200 USD). Each item is accompanied by a certificate of authenticity.
View the new Tupac items on Gotta Have Rock and Roll's website, with bidding set to end at the beginning of April. At time of writing, only three of the seven lots have bids, meaning several are likely to remain available until a buyer surfaces.
Most recently, Shakur's "Me Against the World" re-emerged for its 25th anniversary in a new vinyl edition.