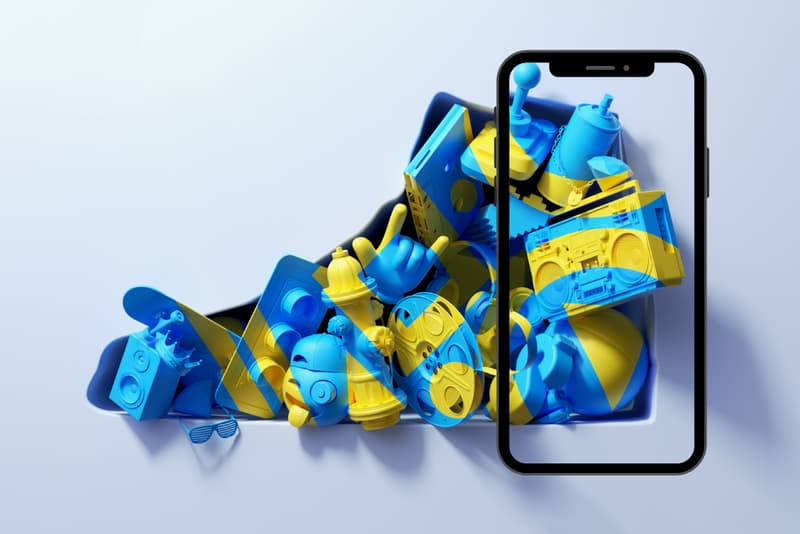 Ben Fearnley Hides Elements of 'Sneaker Culture' in Augmented Art Print
The digital layers will only be revealed through a mobile app.
---
With an increase in online viewing rooms and AI exhibitions, the art world is witnessing how digital technology is impacting the way art is created and shared. Paper and Fabric, a platform that features limited edition prints and apparel by artists, is teaming up with CG artist Ben Fearnley for an augmented art print, entitled Sneaker Culture. Like the title implies, the work incorporates objects and symbols that make up sneaker culture today. Viewers are able to download the ART HOUSE mobile app and reveal the hidden digital layers of the physical print.
Sneaker Culture showcases how augmented reality brings stories "below the ink" to the surface. Objects like skateboards, boomboxes, spray paint cans and more fill the silhouette of a sneaker in bright blue and yellow hues. With AR, these signifiers of music, art, sports, and film burst into the seams, exploding out of the confines of the shoe and outwards towards the viewer. Both the 2D work and 3D animation, designed by Fearnley, represent the power of a multi-dimensional culture in connecting audiences to art on a deeper level.
Releasing in an edition of 50, Sneaker Culture will drop on March 10 at 12 p.m. EST. Reservations are open now on Paper and Fabric's website.
In case you missed it, these are the best artworks releasing this week.