How Footaction is Supporting Emerging Designers from Historically Black Colleges and Universities
The footwear company unveiled the winners of its latest initiative during NYFW.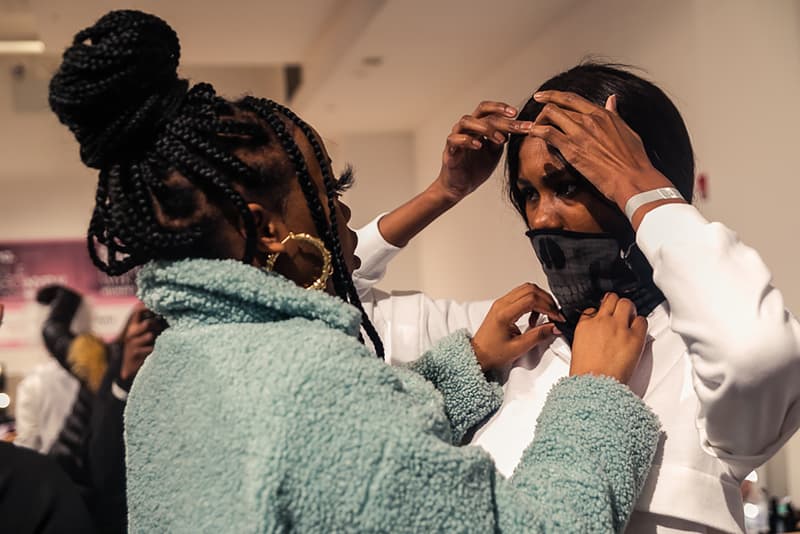 The No 1 Way Design Competition is an initiative by Footaction to provide young designers from Historically Black Colleges and Universities with the resources to learn not only footwear and apparel design, but also how to thrive in a competitive industry. In partnership with PENSOLE and the Functional Apparel And Accessories Studio (FAAS), the competition's finalists gained hands-on experience in developing and presenting a collection. FAAS founder, Angela Medlin former design lead at Levi Strauss & Co, The North Face, Eddie Bauer and Nike, served as the lead instructor during the competition.
The competition began in the fall of 2019 with over 150 applicants from more than 85 HBCUs submitting their original designs for consideration. From that group, 10 winners went on to work online with Medlin to refine their concepts. The top five were flown out to FAAS in Portland for a three-week crash course with Medlin on real-life practices, such as how to incorporate sustainability into their designs, how to work in teams and overall professional development, skills they wouldn't get in a traditional design school. "Acting as that bridge between traditional design school and corporate, we gave them all of what they would need to start in the industry successfully," Medlin told HYPEBEAST.
On Tuesday, the five finalists, Le'Nora Gray, Nachae Davis and Sharonda Richardson, all from Clark Atlanta University, as well as Brianna Thomas of Dillard University and Chakierrah Stinson of Tuskegee University, presented their collections for review during New York Fashion Week. Their collections featured functional, sustainably-made athleisure with multi-functional elements such as invisible inner kangaroo pockets, adjustable drawcords, gusseted hoods for hair protection, body control functionality, and protective coating. Industry insider and HBCU grad Kahlana Barfield Brown served as the judge and announced the winners.
We spoke to the finalists, including the top three prize winners made up of Brianna Thomas, who won the third-place prize of $5,000 USD, second-place winner Chakierrah Stinson, who took home $10,000 USD, and the first-prize winner Nachae Davis, who earned $15,000 USD and will see her designs featured in select Footaction stores and online at Footaction.com beginning Fall 2020. The aspiring designers shared their experience in the competition, what they've learned and where they hope to go from here.
Brianna Thomas, Dillard University
How did you learn about the competition?
We have a very close campus community, so someone who saw a post on social media told me about it. I won the Top Emerging Designer at New Orleans Fashion Week, so [Angela Medlin] thought I would be good for it.
How did you feel about doing the competition while in school?
It feels really great to be here. My school has been really good about experiencing opportunities that we can't get on campus.
What have you learned from FAAS?
Every day Ms. Angela really helped me to have a new best. I've never been to fashion school. Everything I learned I more so taught myself or have very minimal training on it. So I learned a lot about pattern making, sketching, things that really make a product cohesive. Not only to get your ideas out on paper, but also creating a roadmap so that it can be produced.
Where are you hoping to go from here?
I would love to be in fashion because I realized while I was here that this is really something I'm passionate about. It doesn't feel like work. It feels great to get my ideas out, and I think my background in marketing really helps me to convey my ideas to other people.
Chakierrah Stinson, Tuskegee University
What have you learned from FAAS?
I don't come from a design background. I'm a self-taught designer who focuses on reworking unconventional objects into apparel. So I didn't have the conventional way of thinking and I got there Ms. Angela taught me the proper way to do things, and how to make my apparel more functional, while keeping the consumer in mind.
What have you learned from a sustainability perspective?
Ms. Angela has been teaching us about raw materials and how a lot of them use waste that's bad for the environment, like plastics for example. So my designs are made of an eco-friendly fleece that's made from plastic bottles.
How do you describe your design aesthetic?
I combine streetwear and sportswear. Utilitarian is something I'm really big on.
How do you feel about being a finalist and the overall competition experience?
I was really excited to be around people so similar to myself. Being around other Black female designers and New York Fashion Week. This isn't something I ever thought I would see so I'm really thankful.
Le'Nora Gray, Clark Atlanta University
Three of the finalists are from Clark Atlanta University. How does that feel?
We get overlooked a lot by other schools like SCAD for example, so the fact that three of us are from Clark was an amazing feat, not just for us but for our school.
How do you describe your design aesthetic?
I like things that are beautiful, so I would say wearable art.
What have you learned from FAAS?
I'm a luxury designer, so learning about functional apparel, and working with Ms. Angela, we've learned so much about performance apparel and how it works in people's day to day life. Learning more about how to make luxury apparel more functional, how to design with purpose, how to contrast different fabrics. How to build out a consumer brief, carve out a niche, and how to create products that are sustainable and long-lasting.
Where are you hoping to go from here?
I want to build a luxury brand that's also wearable and functional, a brand that outlasts me, and provides generational wealth.
Sharonda Richardson, Clark Atlanta University
What did you gain from the competition?
I normally don't normally do competitions because I fear failure, but that's how you create yourself, is through failure. I learned a lot about myself, a lot about people, how to design in the industry, and make something functional. I'm a bridal and formal wear designer and I want to take that and apply it to my gowns.
Describe your design aesthetic.
I wanted to create a piece that would give my consumer multiple wearing opportunities, which is my piece does so many things, so the consumer can get multiple looks out of it, without doing too much.
Where are you hoping to go from here?
I am hoping to network and connect with more people. I would like to have a corporate job that would allow me to learn the industry a bit more. I'm hoping to launch my own brand in August as well.
Nachae Davis, Clark Atlanta University
What have you learned from FAAS?
My time at the studio was amazing. I went into the competition thinking it was going to be solely a competition, but I learned so much. The most interesting part was working with software that allowed us to make 3D versions of our designs. I didn't learn that in design school.
How do you describe your design aesthetic?
My design style is all about empowering women and being inclusive, which is reflected in the design that I created. I really wanted to make something that would fit any woman of any background and any body type. I'm all about making people feel beautiful. I think where a lot of people are falling short in the industry is that they're not doing their research to find out what people really want in their clothing.
What have you learned from a sustainability perspective?
Including sustainability in any aspect of the design is so important because the fashion industry vastly impacts the environment. For my design, I wanted to research something that wasn't very obvious, but that would grasp the sustainability aspect. So I found out about a coat called Polygiene, that goes on clothing and reduces the number of times you have to wash the clothing. So you're not using as many laundry cycles.
What are you hoping to gain from this competition?
Leaving here today, I want to have the network and the capital to build my own brand. Winning this would really catapult that and afford me opportunities that I wouldn't have had. I'm really grateful for Ms. Angela and Footaction's No 1 Way Program. It's been life-changing in ways I couldn't have imagined.