Inside Liverpool's Record-Breaking Title Challenge
How the team got back on track to win the Premier League 30 years after its heyday.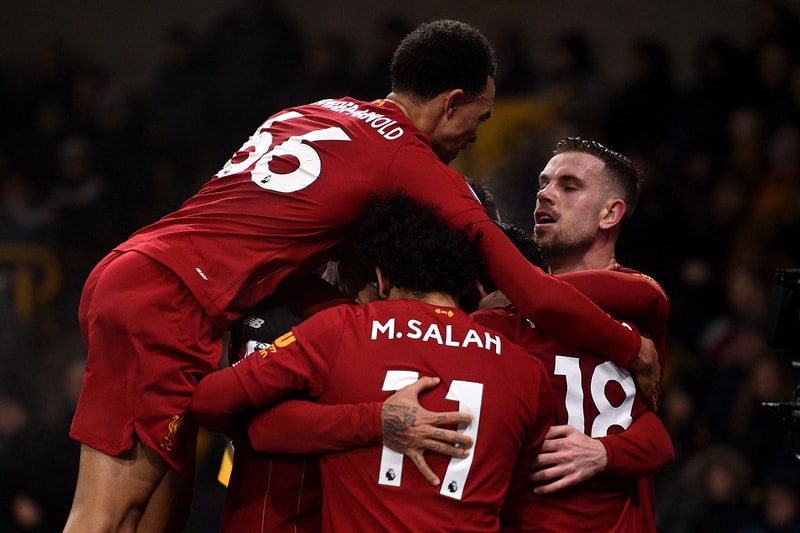 There is a whole generation of Liverpool fans who have never seen their team win the Premier League. Stories of the club's dominance throughout the late '70s and '80s — when it won the league 10 times in 15 seasons — have almost been forgotten. This season though, Liverpool is finally on track to take the title. With two thirds of the season behind them, Liverpool sits 22 points clear of Manchester City, a record-breaking distance between first and second. The team is also fighting on two other fronts, with hopes that they could win the Champions League and FA Cup to crown a once-in-a-generation season.
"Jurgen Klopp," Liverpool midfielder Gini Wijnaldum answers quickly when asked what is behind the team's return to the top. "I think he's made a team who really believe in what they can do. Even though we have good results, he still keeps both feet on the ground so we perform better. I think he's unbelievable." Klopp began managing Liverpool in 2015 and already this year has has driven the team to the UEFA Super Club and the club's first-ever FIFA Club World Cup, while Wijnaldum was one of a remarkable seven Liverpool players shortlisted for the Ballon D'Or (four of whom finished inside the top seven).
If it isn't surprising that Liverpool is leading the league this season — last year they narrowly lost out, and took the Champions League — no one anticipated the gulf between them and their rivals. In addition to sitting 22 points clear ahead of Manchester City in second with just 13 games to go, Liverpool's current form of 24 wins in 25 games is the best start to a season by any team in Europe ever.
"Every season inspires you to do better," continues Wijnaldum, explaining that Liverpool's near miss last year has spurred on the players. "Last season helped us to develop even more. [It] showed that we need to do it even better, and that's what we brought to this season." It's a view shared by his teammate, Brazilian striker Roberto Firmino. "We could have done better, we lost important points," he adds. "But we learned from that, and it's the motivation to become stronger this season, and to avoid the mistakes from last season."
James Pearce, who covers Liverpool for The Athletic, puts the success down to "a clear strategy and an environment of excellence at all levels of the club," and also echoes the players' celebrations of their manager. "He has this special ability to get the best out of people," he explains. Pearce also thinks the legacy of last season has been an important driver of the team's performance last season, particularly the mixture of Premier League failure with Champions League glory.
"The love the fans have for the club is what motivates us, we want to give this back to them."
"It gave them a taste of success after a number of agonizing near misses and they have really kicked on from there," he adds of the final in Madrid. "They have shown their growing maturity and experience this season. They have won a lot of tight games. Whereas last season anxiety and nerves crept in, this time around they have such belief that they never panic. They always seem to find a way."
Speaking about Liverpool's resurgence under Klopp, players are also keen to discuss the togetherness of the squad. "It's always important if you have that in a team, because then you know what the other players are thinking, how they're feeling" says Wijnaldum. "It also means you're friends, so you want to do us well as possible for each other, you want to work for each other." Firmino agrees, adding that "this group feeling that we have is what's going to help us achieve results and crown the season in the end."
The team spirit has already paid dividends for Liverpool this season, with a high proportion of their games featuring narrow victories or last minute winners. "I think it really comes to the fore in the tight games when they have to dig deep," adds Pearce. There are no cliques, no big egos in the dressing room. They all get on well with each other and want to play for each other. That's testament to what Klopp has built. He makes even those on the fringes of the squad feel that they are an important part of this."
Both Wijnaldum and Firmino also know how important this season is for the team's fans, and how important they have been in getting so close to success. "They can help you when it goes bad, so you have more confidence, you feel the support from the fans and you can do more," says Wijnaldum. Firmino agrees, "It's an incredible atmosphere and passion they bring," he continues. "The love they have for the club is what motivates us, and we want to give this back to them."
The whole city is aware of what the coming weeks could mean, especially after a near miss last year and decades of heartbreak in between. "To be on the brink of winning the title for the first time in 30 years, the buzz around the city is incredible," adds Pearce. "It's going to be a party that lasts for months. After some false dawns, Klopp has finally put Liverpool back at the pinnacle of English football and the fans are in dreamland."
"To be on the brink of winning the title for the first time in 30 years, the buzz around the city is incredible."
To lose their grip on the title now would require an historic collapse in form. Instead, it seems more likely that Liverpool will win the title at the earliest time ever — breaking Manchester United's 19-year record — with matches against Everton, Crystal Palace and Manchester City earmarked as potential crowning victories. After months of refusing to indulge title talk or believe it was happening, Liverpool fans have finally started to speak openly about what could happen over the next few weeks and months. "It feels almost surreal to have waited so long," Pearce continues, "and then to win it so easily."
Liverpool's 2019/20 season has thus far seen them break records to take the position generations of fans think is rightfully theirs. Players, fans and experts are all in agreement that Jurgen Klopp is the driving force behind this title challenge, which will now surely end with them named Premier League champions. At the end of 2019, Klopp signed a new long-term deal at Liverpool, stressing the need for stability and building a new generation. With Liverpool currently champions-elect, the club's fans will be hoping that this is just the start of a new era of dominance.