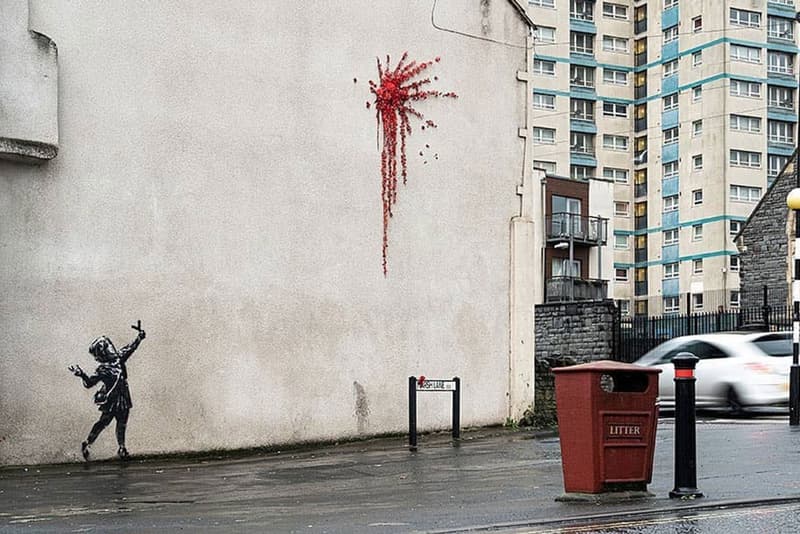 A Banksy Valentine's Day Mural Depicting a Cupid With a Slingshot Has Appeared in Bristol
Alongside an explosion of flowers on the side of a house.
---
Banksy has confirmed that a piece of graffiti painted onto the side of a house in Bristol, England is indeed one of his after uploading the artwork to his Instagram page.
The piece draws from one of the artist's signature motifs, depicting a cupid with a slingshot alongside a smattering of "roses" on the wall. This explosion of flowers was created by painting ivy on the side of a house, and is joined by a small number of flowers on the nearby road sign.
Banksy's new piece follows on from the recent Christmas mural Season's Greetings, drawing just as much attention from locals this time around. As stated by The Guardian, the family who lives in the house are hoping to preserve the Valentine's Day piece by covering it in glass. The family has said, "There's been a lot of debate if it is a Banksy or not. Most people I've spoken to think it 100% is, and they're naming it the Valentine's Banksy. It's incredible and beautiful."
Elsewhere in the world of art, Futura 2000 and BMW have unveiled their M2 Art Car.
Today in Barton Hill, we woke up with this remarkable mural art painted on one of the houses of the area.

We hope it's Banksy's work.

Come and have a look yourself. Whoever painted, it's worth admiring their creativity.
Thank you@TristanCorkPost @bbcrb pic.twitter.com/ppEiKAaOrH

— Bristol Somali Community Association (@BSCAssociation) February 13, 2020