Sole Mates: Vandy the Pink and the Reebok Beatnik
The bespoke footwear and clothing maven riffs on why Reebok's beloved clog is such an apt canvas for customization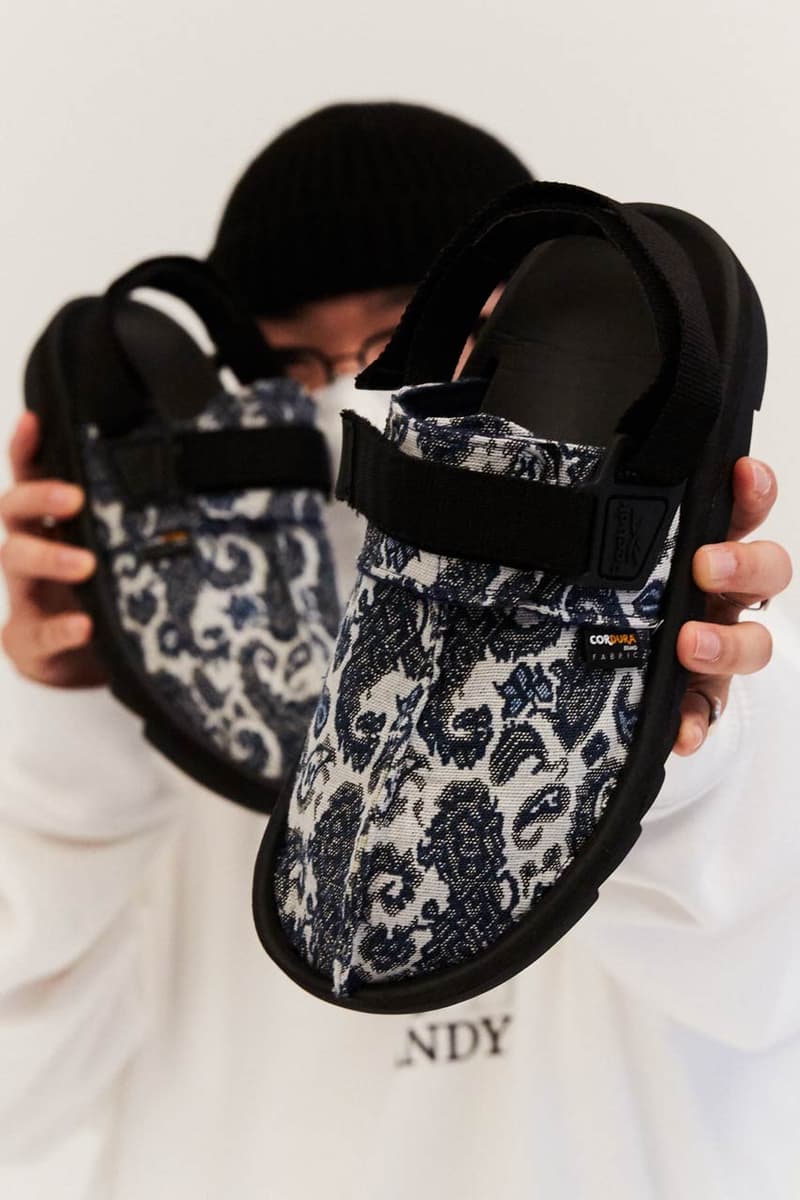 Sole Mates: Vandy the Pink and the Reebok Beatnik
The bespoke footwear and clothing maven riffs on why Reebok's beloved clog is such an apt canvas for customization
Sole Mates is a new HYPEBEAST series that asks, simply, "why do you love shoes?" Searching for a deeper meaning beyond hype, Sole Mates uncovers each subject's sneaker origin story, letting them wax poetic on why a particular shoe means so much to them.
---
Vandy the Pink is a maker in the truest sense of the word. Born in Korea and based in Virginia, Vandy's creative practice is equal parts experimentation, homage, and melding divergent pieces to create something new. Over his years in the game, Vandy has done everything from craft bespoke iterations of popular silhouettes like the Air Jordan 1 and Nike Dunk to make his own hamburger plush toys, original french fry-inspired sneakers and Dior oblique pattern-esque denim jackets and pants. He's also made waves on the collaborative front, working with popular Instagram archive page Hidden NY on co-branded apparel.
Of course, any bespoke creator holds a deep appreciation for the product that inspired them, and Vandy has a special love for Reebok, especially the Beatnik. Though he grew up obsessing over the Club C and Classic Leather, he discovered the Beatnik during a trip to Japan as an adult. Fascinated by the Beatnik's unique clog-meets-hiker silhouette and its endless customization possibilities, Vandy began experimenting with the cult favorite style, covering its upper in everything from NIGO and Virgil Abloh's LV² denim to traditional Japanese fabrics. This provided a creative release of sorts for him, as in his own words the market for more traditional customs was becoming "oversaturated" at the time.
Vandy recently met with HYPEBEAST to speak about his early sneaker memories, just why he has so much fun working on the Beatnik and if he thinks the footwear world's current obsession with clogs is a mere trend or has real staying power. See his thoughts, opinions, and a brief explanation of his customizing process directly below.
HYPEBEAST: Who or what got you into sneakers?
Vandy the Pink: I've loved sneakers since i was a little kid, but got into them like crazy when I was in high school, thanks to this famous Korean rapper named Dok2. I lived in Korea then, and the sneaker culture there wasn't so centered on Nike or adidas — it was a bunch of different brands, and Reebok was the one I gravitated to. Shortly after high school I moved to the US, and as you can imagine things picked up from there.
Growing up a Reebok fan, were you into basketball shoes like Allen Iverson's line, casual kicks like the Classic Leather or a little bit of both?
I liked them both, but leaned a little more towards the casual side of things. I do like the Classic Leather, but my favorite was the Club C — a shoe that Eric Emanuel, my favorite designer from New York collaborated on recently. Currently I'm really into KANGHYUK's latest Road Modern collab as well.
Do you remember the first time you became aware of the Beatnik?
So the first time I saw it was when I was visiting Japan several years ago, and I didn't even realize it was a Reebok right away! Fast forward to this March, right when the coronavirus started getting really serious. I was at home, in lockdown, taking stock and realized that since 2016 I'd been working on a lot of custom Air Jordan 1s and Nike Dunks — and had been feeling that the market was a bit oversaturated.
Around the same time, Reebok announced that the Beatnik was coming back, and I said to myself "wow, this is perfect timing." People were cooped up at home and wanted comfortable shoes like clogs. I figured I'd try to have fun with them, customize them, add luxury fabrics and see where they went.
What about the Beatnik makes it fun to work on as opposed to standbys like the Air Jordan 1 and the Nike Dunk?
They're so simple, and I love the shape, structure and straps. If you look at the forefoot, it's two main pieces of fabric stitched together with one seam. That means there's a lot of unaltered surface area to work with, and no matter if I'm using Nigo x Louis Vuitton denim or Dior oblique patterned fabric you'll get to see a lot of it.
Do you have a personal favorite pair that you've done, or is that like being asked to pick a favorite child?
Hmmmm [looks at the five pairs surrounding him]. It's tough, but if i had to pick I'd choose the LV denim joints, the NIGO and Virgil Abloh collaboration. I bought a couple pairs, and cut them up to make bags. I had a good amount of scraps left, and I used them to make these [gestures at shoes]. They've got the same stitching as the jeans, and I added a bunch of different monogram and Damier panels for a patchwork look.
Since you're so hands-on in making these, is it hard to sell them? Do you feel an attachment to each one?
Yes, most of the time it's really hard for me to let 'em go. Air Force 1s, Air Jordan 1s, so many customizers do the same thing with the same materials. If you look at the Beatnik, you actually have to cut into the sole to adjust the fabric on the upper. After that, you make a template with the new fabric and carefully reconstruct it. There's a lot of work that goes into making a shoe that looks this simple, so I spend a lot of time with each one. In the rare occurrences that I do sell them, it's usually to friends.
With consumers looking more towards comfort than ever before, cozy garments like sweatpants, hoodies and clogs seem to be more popular than ever. Of course, the Beatnik has had a loyal following for over 20 years and is here to stay — but do you think that the clog trend as a whole has legs, or the Beatnik will go back to being a cult classic?
I really think a lot of it depends on the coronavirus.
True.
However, I think it will continue growing. For example, there's this Instagram page I've been following for a while called Muleboyz. [The page has] been growing really fast for a while, and to me that shows clogs and mules aren't a trend: they're part of a lifestyle. The Beatnik isn't the only one either. Crocs and Jacquemus have been pushing the envelope as well.
What do sneakers and the stories they hold mean to you personally?
Personally, shoes are my passion, my motivation. I respect the stories they hold, and want to add my twist to those stories — tell those tales Vandy style by making something unique.