Formula 1 Driver Romain Grosjean Survives Horrifying Crash and Explosion After Car Splits in Half
The French driver only suffered minor burns.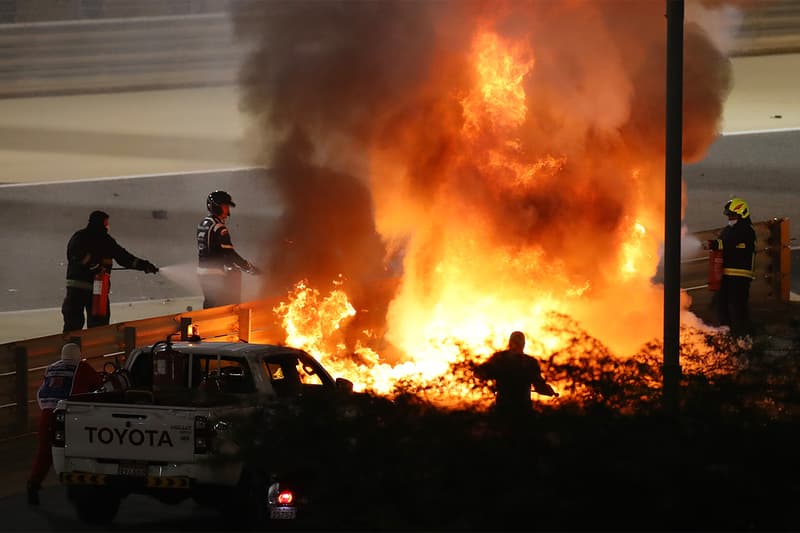 A horrifying incident during the opening lap of the Bahrain Grand Prix saw Formula 1 driver Romain Grosjean's Haas car completely split in half, with the penetrated fuel cells causing an explosion followed by the driver being engulfed in flames. Thankfully, the French driver escaped without any major injuries, only suffering minor burns to the back of his hands.
Following the dramatic crash, Grosjean took to Twitter to reassure fans of his wellbeing, and explained that the incident has now changed his mind on the halo protection system, which has previously attracted many drivers' and fans' criticisms but has now proven to be the one key measure that saved the Haas driver's life. "I wasn't for the halo some years ago but I think it's the greatest thing we brought to Formula 1 and without it I wouldn't be able to speak to you today," he says in a video of him taken from the hospital bed. "Thanks to all the medical staff at the circuit, at the hospital, and hopefully I can soon write you quite some messages and tell you how it's going."
After the race, many other fellow drivers also took to social media to highlight the dangers of the sport and wish Grosjean a speedy recovery. "After what happened today, you really put everything into perspective," writes Racing Point's Sergio Perez. "For me, one podium more, one podium less. It doesn't matter. The most important thing of the day is that [Grosjean] is with us!"
"Solid performance out there for us tonight, but what matters most is that Romain walked away from that accident," added Williams' George Russell. "A big thank you to everybody who works so hard to make sure that's the case, week in, week out. Any debate over the halo ends tonight."
View this post on Instagram
An update from Romain himself. Pleased to see you're in good spirits! We hope you make a speedy recovery ? pic.twitter.com/njnjjH4GBi

— Haas F1 Team (@HaasF1Team) November 29, 2020
View this post on Instagram
Elsewhere in sports, concerns have been raised following Jake Paul's victory over Nate Robinson.