Music Projects You Missed This Week
Featuring Drakeo The Ruler, Masego, Rico Nasty and more.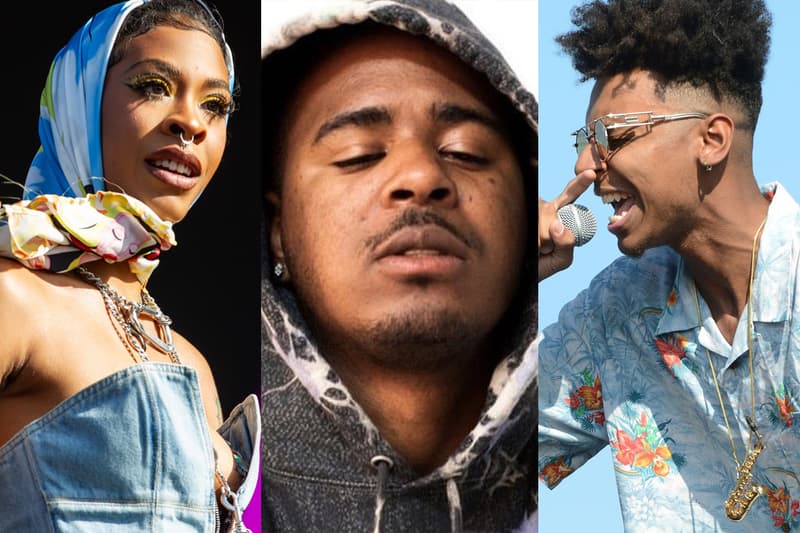 As we power through another week, HYPEBEAST has rounded up a carefully curated list of the best music projects you shouldn't miss.
This selection includes cuts from Drakeo The Ruler, who dropped off his brand new single less than a week after being released from prison. Fusion artists such as Masego and Rico Nasty also offer their fresh releases, as well as interesting visuals from tobi lou, East Bay Area collective AG Club, Doe Boy and Southside and Olamidé and Omah Lay.
---
Drakeo The Ruler – "Fights Don't Matter"
Drakeo The Ruler is definitely making up for lost time, releasing his newest single "Fights Don't Matter" less than a week after his release from prison. The rapper has spent the last three years battling what he calls "the corrupt LA court system," and the newest track is an announcement that celebrates his return.
Listen: YouTube
Masego x Don Toliver "Mystery Lady"
Masego continues to tease his upcoming Studying Abroad project with "Mystery Lady" featuring Don Toliver. The crispy and flirty cut is a smooth ride through love-filled dreams verbalized by by Jamaican-American's crooning and the Cactus Jack rapper's wordplay.
Listen: Spotify | Apple Music
tobi lou x Dreezy – "OKAY"
tobi lou has been more than generous with the amount of music he's recently released, this time enlisting fellow Chicago actress, rapper and singer Dreezy for "OKAY." The new cut is a more upbeat continuation of "NOTICE ME" and arrives with a passion stronger than its predecessor, with lou sampling Missy Elliot's famous "Work It" line, "Is it worth it? Let me work it/I put my thing down, flip it and reverse it."
Listen: Spotify | Apple Music
Rico Nasty – "OHFR?"
Shortly after announcing the new release date of her debut studio album Nightmare Vacations, Rico Nasty dropped off another album single entitled "OHFR?" The 2019 XXL Freshman reunites with 100 gecs for the hard-hitting cut, telling Apple Music's Zane Lowe that their process was "so natural." She added, "We didn't even…. it wasn't time spent writing and worrying about, just the normal sh*t you worry about when you're making a song. It was just go in there. As soon as I heard the beat, I heard eight seconds and I just went right in there."
Listen: Spotify | Apple Music
AG Club – "COLUMBIA"
Rising East Bay Area collective AG Club (the AG standing for Avant-Garde) followed up their NLE Choppa and A$AP Ferg collab "Memphis, Pt. 2" with "COLUMBIA." The five-person group goes on a wild adventure with an otherworldly companion in the accompanying music video, complementing the track's high energy and their out-of-this-world vision.
Listen: Spotify | Apple Music
Doe Boy x Southside – "Stimulus Check"
Fresh off the release of their collaborative DEMONS R US project, Doe Boy and Southside delivered an accompanying visual for the track "Stimulus Check." The music video is shot entirely in a home by Armin, reflecting Doe Boy's witty pandemic-inspired line, "I need social distance, give me six feet/Don't come too close, that's risky, might end up six feet/How he tote that big a*s gun, he ain't even six feet."
Listen: Spotify | Apple Music
Davido x Lil Baby – "So Crazy"
Summer might officially be over, but Davido and Lil Baby are still enjoying pool parties in their newest collab "So Crazy." The fun and relaxing cut hears Lil Baby dive into Davido's world of Afrobeats, trying his hand at the genre and coming up with a surprisingly pleasant sound.
Listen: Spotify | Apple Music
Olamidé x Omah Lay – "Infinity"
Nigerian hip-hop star Olamidé and collaborator Omah Lay shared a rhythmic visual for their Carpe Diem cut, "Infinity." The track hears a fusion of Olamidé's distinctive street rap flow and Lay's smooth, Afro-R&B crooning, arriving as an undeniably catchy tune from the artistic partners.
Listen: Spotify | Apple Music