Impossible Foods Is Now Developing Milk That Tastes Just Like the Real Thing
Along with a crackable faux egg.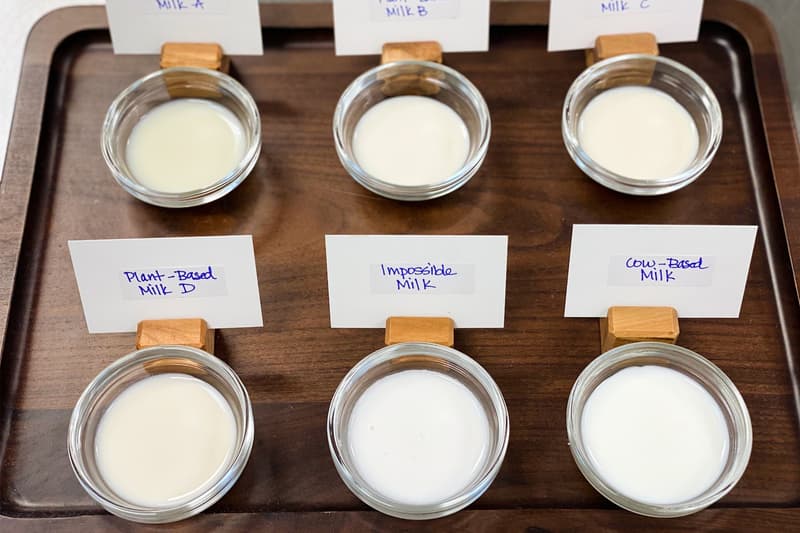 During a recent press conference, plant-based food pioneer Impossible Foods announced plans to expand beyond its current faux meat lineup. According to the company, they are currently developing a faux milk, dubbed Impossible Milk. Differing from the plant-based alternatives on the market already, Impossible Milk will look to replicate cow's milk.
In a brief showcase, the company's food lab showed Impossible side by side soy/nut-based milks and traditional cow milk. Aside from looking like real milk, Impossible Milk is just as creamy, does not curdle in hot beverages and can be frothed.
To ramp up development, Impossible Foods is looking to double the size of its research and development team over the next 12 months. The company will also be launching the "Impossible Investigator" project which aims to draw scientists from all over the world to join its team, noting all chosen participants will have the "facilities, resources and innovative environment to create an entirely new technology platform to replace animals as our technology for turning plants into meat, fish and dairy foods." Really pushing its aim to innovate in the plant-based food industry, Impossible Foods also teased its current development on a crackable faux egg.
For more food and beverage news, Ethical Spirits REVIVE Gin is made from 80,000 recycled Budweiser beers.